Obama Admits: It's My Fault Democrats Lost Midterm Elections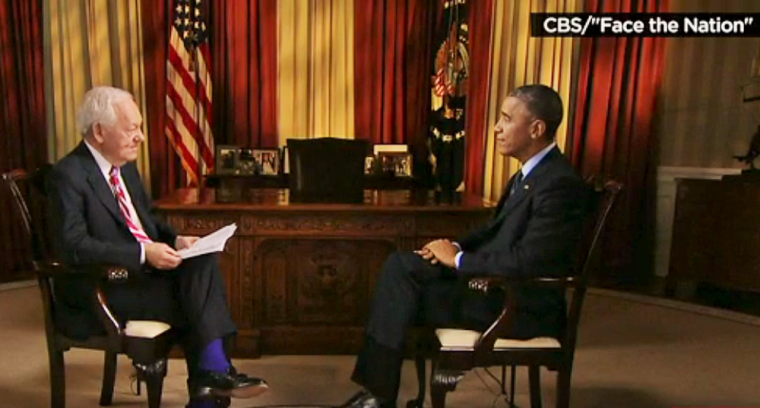 President Obama said Sunday he takes responsibility for the Democrats' defeat in the midterm elections, admitting that he and his party need to do a better job at reaching out to members of the Republicans Party and also be more persuasive.
"The buck stops right here at my desk," Obama said in an interview on CBS' "Face the Nation" on Sunday. "And so whenever, as the head of the party, it doesn't do well, I've got to take responsibility for it."
The Republican Party gained the necessary number of wins to take control of the U.S. Senate from Democrats, giving them majorities in both houses of Congress.
The president said one thing that he needs to constantly remind himself and his team of is that "it's not enough just to build a better mousetrap. People don't automatically come beating to your door. We've got to sell it. We've got to reach out to the other side and, where possible, persuade."
According to CNN exit polls, 55 percent of the electorate disapproved of how Obama is handling his job, and of those 83 percent voted Republican and only 15 percent voted Democrat (using the House vote as a proxy for the national vote). Dissatisfaction with Republican leaders was even higher, at 59 percent, but one-third, 33 percent, of the voters who said they were angry or dissatisfied with Republican leaders voted Republican.
"I think that what you'll see is a constant effort to improve the way we deliver service to customers...experimenting with ways that I can reach out to Republicans more effectively, making sure that we're reaching out and using the private sector more effectively," Obama added.
The president also admitted that he needs to be better in communicating his positions to Republicans and also to the people at large.
"I think there are times, there's no doubt about it, where, you know, I think we have not been successful in going out there and letting people know what it is that we're trying to do and why this is the right direction," he said. "So there is a failure of politics there that we've got to improve on."
Obama also shared what he has learned from the defeat.
"The message that I took from this election, and we've seen this in a number of elections, successive elections, is people want to see this city work. They see Washington gridlocked and they're frustrated. And they know one person in Washington and that's the President of the United States."
The president went on to say that he needs to understand that campaigning is different from governing the nation.
"When you start governing there is a tendency sometimes, for me, to start thinking, 'As long as I get the policy right, then that's what should matter.' And people have asked, 'What do you need to do differently going forward?' And I think you do that gut check after every election."
A strategy that worked well for Democrats in 2012 didn't cut ice in 2014. Democrats who ran heavily on the notion that Republicans are "waging a war on women" were rejected by voters this year.
In the Colorado U.S. Senate race, for example, incumbent Democrat Mark Udall was dubbed "Mark Uterus" by a female Denver Post reporter for running a single-issue campaign with the "war on women" theme. And, the Denver Post endorsed his Republican challenger, Corey Gardner.
On his inability to work with the other party, Obama said, "I think that what is also true is that no matter how frustrating it can sometimes be for any president to deal with an opposition that is, you know, pretty stubborn and where there are really strong differences, you've just got to keep on trying."
The president also said he will bring in "new folks" at the White House "because people get tired, you know, it's a hard job."