Obama Cries, Quotes Scripture in Speech on Conn. School Shooting
Sandy Hook Elementary School Massacre Moves President to Tears During Press Briefing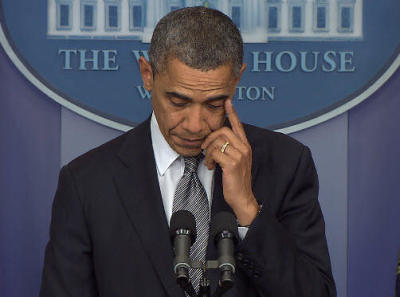 President Barack Obama was brought to tears, seeking the help of Scripture when he addressed the country regarding the tragic shooting at Sandy Hook Elementary School in Connecticut on Friday morning.
Obama said in the White House press briefing on Friday that during tragedies such as the one which rocked Sandy Hook Elementary School, he reacts as a parent first.
SEE FULL LIST OF SANDY HOOK SHOOTING VICTIMS
"Our hearts are broken today," Obama told the reporters present, pausing to gather himself and wipe away tears as he spoke.
"Each time I learn the news I react not as a president, but as anyone else would -- as a parent. And that was especially true today," Obama told the press.
Obama went on to speak about the sadness he feels regarding the age of the children who were killed this morning, all of them being between five and ten years old.
"They had their entire lives ahead of them -- birthdays, graduations, weddings, kids of their own," Obama said.
Although Obama did not make a direct reference to future gun control legislation, he did say: "We're going to have to come together and take meaningful action."
The president, who shares two daughters with the first lady, also pointed to the importance of Scripture during such tragic times, specifically quoting Psalm 147:3: "He heals the brokenhearted and binds up their wounds."
Obama's blatant show of emotion was surprising to many news anchors witnessing his speech live.
One news anchor speaking with CNN's Wolf Blitzer said: "I've never seen the president that emotional. Publicly he has never cried like that."
On the morning of Friday, Dec. 14, a gunman killed 26 people, most of them children, at Sandy Hook Elementary School in Newtown, Conn., about 65 miles from New York City, according The Associated Press.
SEE NAMES OF 26 SANDY HOOK SHOOTING VICTIMS
Police have identified 24-year-old Ryan Lanza as a suspect in the shooting. Lanza was found dead from a self-inflicted gunshot wound on the school premises.
Lanza's younger brother is reportedly being held for questioning by police, and the mother of the two boys, Nancy Lanza, a teacher at Sandy Hook Elementary School, is presumed dead at the scene of the crime.
Another relative, currently unidentified, was found shot to death at a home in Newtown, according to NBC News.