Obama Denies Wiretapping Donald Trump's Phones at Trump Tower During Campaign
Obama Denies Wiretapping Donald Trump's Phones at Trump Tower During Campaign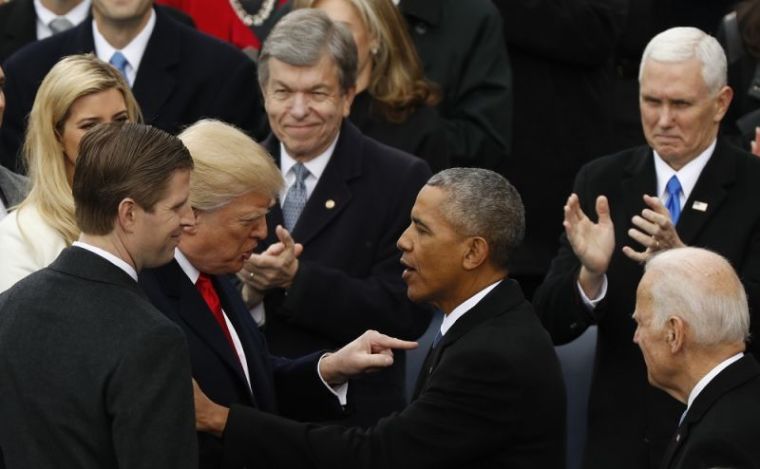 Former President Barack Obama denied President Donald Trump's accusation that he tapped Trump Tower phones during the late stages of the 2016 election campaign. Meanwhile, former intelligence officials revealed that the outgoing administration sought to ensure that the investigation into Russian election meddling would not die when Trump took office.
"Neither President Obama nor any White House official ever ordered surveillance on any U.S. citizen. Any suggestion otherwise is simply false," Kevin Lewis, a spokesman for the former president, said in a statement Saturday, after President Trump made the accusation in a series of tweets.
"Terrible! Just found out that Obama had my 'wires tapped' in Trump Tower just before the victory. Nothing found. This is McCarthyism!" the president tweeted early Saturday. "Is it legal for a sitting President to be 'wire tapping' a race for president prior to an election? Turned down by court earlier. A NEW LOW!" he wrote in another tweet.
President Trump further tweeted, "Good lawyer could make a great case of the fact that President Obama was tapping my phones in October, just prior to Election!" And then he wrote, "How low has President Obama gone to tap (sic) my phones during the very sacred election process. This is Nixon/Watergage. Bad (or sick) guy!"
Last year, a U.S. intelligence report said Russia sought to interfere in the presidential election by hacking and leaking Democratic emails during the election campaign. However, Russia has denied it, and Trump has accused the Obama administration of seeking to discredit him by hyping the issue. Trump at the time blamed the hacking on "gross negligence" by the Democratic National Committee.
Republican Senator Lindsey Graham told South Carolina residents Saturday that he would "get to the bottom" of President Trump's accusation.
"I'm very worried that our President is suggesting that the former President's done something illegally," he said at a packed town hall meeting, according to CNN. "I would be very worried if, in fact, the Obama administration was able to obtain a warrant lawfully about Trump campaign activity with foreign governments. So it's my job as a United States senator to get to the bottom of this. I promise you I will."
Meanwhile, former American officials revealed that White House officials in the last days of the Obama administration sought to spread information about alleged Russian efforts to undermine the presidential election and alleged contacts between associates of then President-elect Trump and Russians across the government, according to The New York Times.
Before President Trump's inauguration, some Obama White House officials began asking specific questions at intelligence briefings, knowing the answers would be archived and could be easily unearthed by investigators — including the Senate Intelligence Committee, which in early January announced an inquiry into Russian efforts to influence the election, the Times noted.
"At intelligence agencies, there was a push to process as much raw intelligence as possible into analyses, and to keep the reports at a relatively low classification level to ensure as wide a readership as possible across the government — and, in some cases, among European allies. This allowed the upload of as much intelligence as possible to Intellipedia, a secret wiki used by American analysts to share information," the newspaper added, attributing the information to former American officials who requested anonymity.
There was also an effort to pass reports and other sensitive materials to Congress, it added.
"In one instance, the State Department sent a cache of documents marked 'secret' to Senator Benjamin Cardin of Maryland days before the Jan. 20 inauguration. The documents, detailing Russian efforts to intervene in elections worldwide, were sent in response to a request from Mr. Cardin, the top Democrat on the Foreign Relations Committee, and were shared with Republicans on the panel."