Obama Gun Photo Goes Viral: White House Releases Photo Amid Gun Debate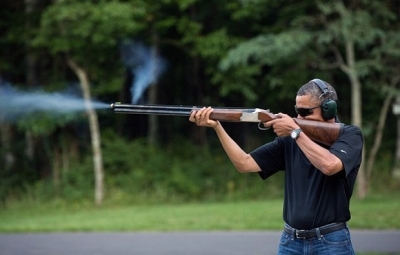 A photo of President Barack Obama firing a gun has gone viral after being released by the White House.
The photo shows Obama skeet shooting and apparently is an attempt by the Administration to silence criticism of the president in the ongoing gun control debate.
The photo was released by the White House on Friday but was taken at Camp David in August 2012. Its distribution came after Obama admitted in an interview that he enjoyed and admired "the tradition of hunting."
The interview in question was with The New Republic, and was published on Jan. 27. Obama was questioned about whether he had ever fired a gun himself, to which he replied he does "skeet shooting all the time" at Camp David.
The president said, "Yes, in fact, up at Camp David, we do skeet shooting all the time. Not the girls, but oftentimes guests of mine go up there. And I have a profound respect for the traditions of hunting that trace back in this country for generations."
He added, "I think those who dismiss that out of hand make a big mistake."
Obama's comments and the release of the photo have been seen by some as the Administration's way of showing conservatives in the gun debate that the president understood their situation, and the tradition of gun use in the United States.
The president has received strong backlash from gun rights advocates after his Administration called for new measures to curb gun violence in the wake of the Sandy Hook Elementary School shootings in Newtown, Connecticut on Dec. 14. That incident was one of the worst gun tragedies the nation has ever seen and claimed the lives of 26 people, including 20 first grade children aged just six and seven.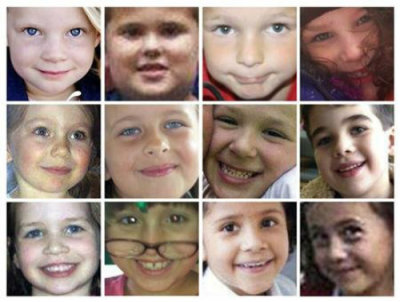 The news also comes as a Gallup study released on Friday showed that gun owners in the country tend to be male, white, married and living in the south.
The analysis of surveys for the last five years also showed that Protestants were more likely to own guns than Catholics.
In the study, an average of 30 percent of Americans said they personally own a gun and another 14 percent said they did not personally own a gun but live in a household with someone who does.
The analysis of Gallup surveys compiled data from some 6,000 U.S. adults from 2007 to 2012.
The study also found that men, at 45 percent, are three times more likely than women, at 15 percent, to personally own guns.
Gun ownership also varies significantly by region, with Southerners, at 38 percent, more likely to own guns than those living in other regions of the country – East at 21 percent, Midwest at 29 percent and West at 27 percent.
Marriage is also a strong predictor of gun ownership, with 37 percent of married people likely to own guns compared with 22 percent of those not married.
Here is a video of President Barack Obama speaking on gun controls in the aftermath of the Sandy Hook School shootings: