Obama State of the Union 2015 Text Transcript and Full Video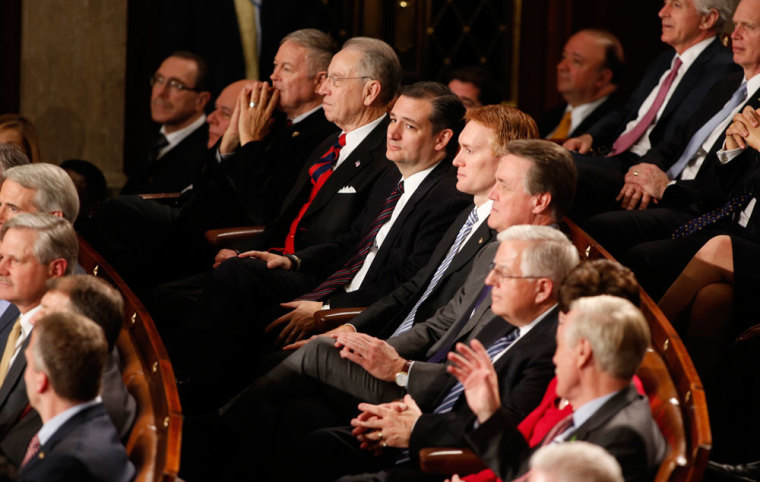 That's what middle-class economics is — the idea that this country does best when everyone gets their fair shot, everyone does their fair share, and everyone plays by the same set of rules. We don't just want everyone to share in America's success — we want everyone to contribute to our success.
So what does middle-class economics require in our time?
First — middle-class economics means helping working families feel more secure in a world of constant change. That means helping folks afford childcare, college, health care, a home, retirement — and my budget will address each of these issues, lowering the taxes of working families and putting thousands of dollars back into their pockets each year.
Here's one example. During World War II, when men like my grandfather went off to war, having women like my grandmother in the workforce was a national security priority — so this country provided universal childcare. In today's economy, when having both parents in the workforce is an economic necessity for many families, we need affordable, high-quality childcare more than ever. It's not a nice-to-have — it's a must-have. It's time we stop treating childcare as a side issue, or a women's issue, and treat it like the national economic priority that it is for all of us. And that's why my plan will make quality childcare more available, and more affordable, for every middle-class and low-income family with young children in America — by creating more slots and a new tax cut of up to $3,000 per child, per year.
Here's another example. Today, we're the only advanced country on Earth that doesn't guarantee paid sick leave or paid maternity leave to our workers. Forty-three million workers have no paid sick leave. Forty-three million. Think about that. And that forces too many parents to make the gut-wrenching choice between a paycheck and a sick kid at home. So I'll be taking new action to help states adopt paid leave laws of their own. And since paid sick leave won where it was on the ballot last November, let's put it to a vote right here in Washington. Send me a bill that gives every worker in America the opportunity to earn seven days of paid sick leave. It's the right thing to do.
Of course, nothing helps families make ends meet like higher wages. That's why this Congress still needs to pass a law that makes sure a woman is paid the same as a man for doing the same work. Really. It's 2015. It's time. We still need to make sure employees get the overtime they've earned. And to everyone in this Congress who still refuses to raise the minimum wage, I say this: If you truly believe you could work full-time and support a family on less than $15,000 a year, go try it. If not, vote to give millions of the hardest-working people in America a raise.
These ideas won't make everybody rich, or relieve every hardship. That's not the job of government. To give working families a fair shot, we'll still need more employers to see beyond next quarter's earnings and recognize that investing in their workforce is in their company's long-term interest. We still need laws that strengthen rather than weaken unions, and give American workers a voice. But things like child care and sick leave and equal pay; things like lower mortgage premiums and a higher minimum wage — these ideas will make a meaningful difference in the lives of millions of families. That is a fact. And that's what all of us — Republicans and Democrats alike — were sent here to do.
Second, to make sure folks keep earning higher wages down the road, we have to do more to help Americans upgrade their skills.
America thrived in the 20th century because we made high school free, sent a generation of GIs to college, and trained the best workforce in the world. But in a 21st century economy that rewards knowledge like never before, we need to do more.
By the end of this decade, two in three job openings will require some higher education. Two in three. And yet, we still live in a country where too many bright, striving Americans are priced out of the education they need. It's not fair to them, and it's not smart for our future.
That's why I am sending this Congress a bold new plan to lower the cost of community college — to zero.
Forty percent of our college students choose community college. Some are young and starting out. Some are older and looking for a better job. Some are veterans and single parents trying to transition back into the job market. Whoever you are, this plan is your chance to graduate ready for the new economy, without a load of debt. Understand, you've got to earn it — you've got to keep your grades up and graduate on time. Tennessee, a state with Republican leadership, and Chicago, a city with Democratic leadership, are showing that free community college is possible. I want to spread that idea all across America, so that two years of college becomes as free and universal in America as high school is today. And I want to work with this Congress, to make sure Americans already burdened with student loans can reduce their monthly payments, so that student debt doesn't derail anyone's dreams.
Thanks to Vice President Biden's great work to update our job training system, we're connecting community colleges with local employers to train workers to fill high-paying jobs like coding, and nursing, and robotics. Tonight, I'm also asking more businesses to follow the lead of companies like CVS and UPS, and offer more educational benefits and paid apprenticeships — opportunities that give workers the chance to earn higher-paying jobs even if they don't have a higher education.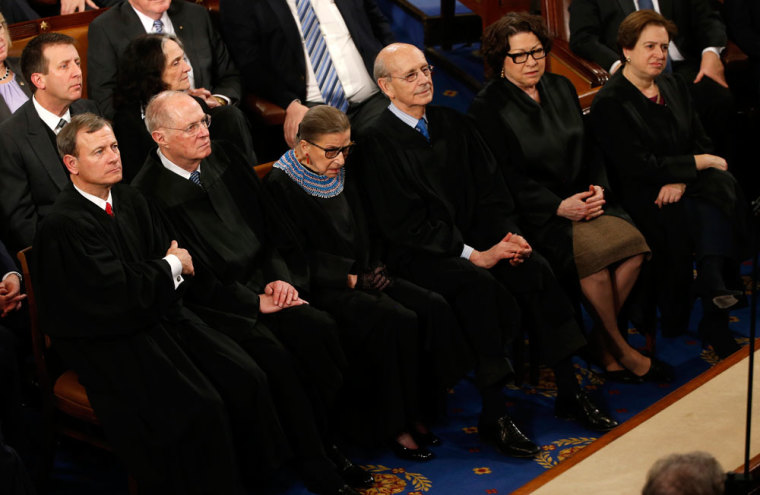 And as a new generation of veterans comes home, we owe them every opportunity to live the American Dream they helped defend. Already, we've made strides towards ensuring that every veteran has access to the highest quality care. We're slashing the backlog that had too many veterans waiting years to get the benefits they need, and we're making it easier for vets to translate their training and experience into civilian jobs. Joining Forces, the national campaign launched by Michelle and Jill Biden, has helped nearly 700,000 veterans and military spouses get new jobs. So to every CEO in America, let me repeat: If you want somebody who's going to get the job done, hire a veteran.
Finally, as we better train our workers, we need the new economy to keep churning out high-wage jobs for our workers to fill.
Since 2010, America has put more people back to work than Europe, Japan, and all advanced economies combined. Our manufacturers have added almost 800,000 new jobs. Some of our bedrock sectors, like our auto industry, are booming. But there are also millions of Americans who work in jobs that didn't even exist ten or twenty years ago — jobs at companies like Google, and eBay, and Tesla.
So no one knows for certain which industries will generate the jobs of the future. But we do know we want them here in America. That's why the third part of middle-class economics is about building the most competitive economy anywhere, the place where businesses want to locate and hire.
21st century businesses need 21st century infrastructure — modern ports, stronger bridges, faster trains and the fastest internet. Democrats and Republicans used to agree on this. So let's set our sights higher than a single oil pipeline. Let's pass a bipartisan infrastructure plan that could create more than thirty times as many jobs per year, and make this country stronger for decades to come.
21st century businesses, including small businesses, need to sell more American products overseas. Today, our businesses export more than ever, and exporters tend to pay their workers higher wages. But as we speak, China wants to write the rules for the world's fastest-growing region. That would put our workers and businesses at a disadvantage. Why would we let that happen? We should write those rules. We should level the playing field. That's why I'm asking both parties to give me trade promotion authority to protect American workers, with strong new trade deals from Asia to Europe that aren't just free, but fair.
Look, I'm the first one to admit that past trade deals haven't always lived up to the hype, and that's why we've gone after countries that break the rules at our expense. But ninety-five percent of the world's customers live outside our borders, and we can't close ourselves off from those opportunities. More than half of manufacturing executives have said they're actively looking at bringing jobs back from China. Let's give them one more reason to get it done.