Obama State of the Union 2015 Text Transcript and Full Video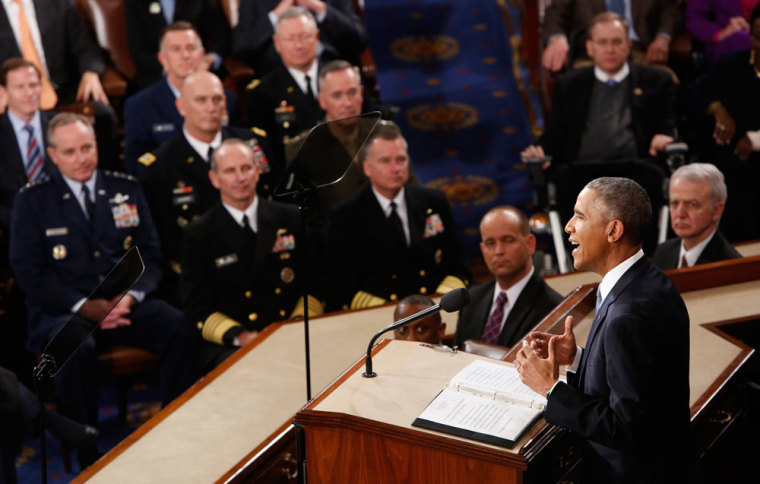 21st century businesses will rely on American science, technology, research and development. I want the country that eliminated polio and mapped the human genome to lead a new era of medicine — one that delivers the right treatment at the right time. In some patients with cystic fibrosis, this approach has reversed a disease once thought unstoppable. Tonight, I'm launching a new Precision Medicine Initiative to bring us closer to curing diseases like cancer and diabetes — and to give all of us access to the personalized information we need to keep ourselves and our families healthier.
I intend to protect a free and open internet, extend its reach to every classroom, and every community, and help folks build the fastest networks, so that the next generation of digital innovators and entrepreneurs have the platform to keep reshaping our world.
I want Americans to win the race for the kinds of discoveries that unleash new jobs — converting sunlight into liquid fuel; creating revolutionary prosthetics, so that a veteran who gave his arms for his country can play catch with his kid; pushing out into the Solar System not just to visit, but to stay. Last month, we launched a new spacecraft as part of a re-energized space program that will send American astronauts to Mars. In two months, to prepare us for those missions, Scott Kelly will begin a year-long stay in space. Good luck, Captain — and make sure to Instagram it.
Now, the truth is, when it comes to issues like infrastructure and basic research, I know there's bipartisan support in this chamber. Members of both parties have told me so. Where we too often run onto the rocks is how to pay for these investments. As Americans, we don't mind paying our fair share of taxes, as long as everybody else does, too. But for far too long, lobbyists have rigged the tax code with loopholes that let some corporations pay nothing while others pay full freight.
They've riddled it with giveaways the superrich don't need, denying a break to middle class families who do.
This year, we have an opportunity to change that. Let's close loopholes so we stop rewarding companies that keep profits abroad, and reward those that invest in America. Let's use those savings to rebuild our infrastructure and make it more attractive for companies to bring jobs home. Let's simplify the system and let a small business owner file based on her actual bank statement, instead of the number of accountants she can afford. And let's close the loopholes that lead to inequality by allowing the top one percent to avoid paying taxes on their accumulated wealth. We can use that money to help more families pay for childcare and send their kids to college. We need a tax code that truly helps working Americans trying to get a leg up in the new economy, and we can achieve that together.
Helping hardworking families make ends meet. Giving them the tools they need for good-paying jobs in this new economy. Maintaining the conditions for growth and competitiveness. This is where America needs to go. I believe it's where the American people want to go. It will make our economy stronger a year from now, fifteen years from now, and deep into the century ahead.
Of course, if there's one thing this new century has taught us, it's that we cannot separate our work at home from challenges beyond our shores.
My first duty as Commander-in-Chief is to defend the United States of America. In doing so, the question is not whether America leads in the world, but how. When we make rash decisions, reacting to the headlines instead of using our heads; when the first response to a challenge is to send in our military — then we risk getting drawn into unnecessary conflicts, and neglect the broader strategy we need for a safer, more prosperous world. That's what our enemies want us to do.
I believe in a smarter kind of American leadership. We lead best when we combine military power with strong diplomacy; when we leverage our power with coalition building; when we don't let our fears blind us to the opportunities that this new century presents. That's exactly what we're doing right now — and around the globe, it is making a difference.
First, we stand united with people around the world who've been targeted by terrorists — from a school in Pakistan to the streets of Paris. We will continue to hunt down terrorists and dismantle their networks, and we reserve the right to act unilaterally, as we've done relentlessly since I took office to take out terrorists who pose a direct threat to us and our allies.
At the same time, we've learned some costly lessons over the last thirteen years.
Instead of Americans patrolling the valleys of Afghanistan, we've trained their security forces, who've now taken the lead, and we've honored our troops' sacrifice by supporting that country's first democratic transition. Instead of sending large ground forces overseas, we're partnering with nations from South Asia to North Africa to deny safe haven to terrorists who threaten America. In Iraq and Syria, American leadership — including our military power — is stopping ISIL's advance. Instead of getting dragged into another ground war in the Middle East, we are leading a broad coalition, including Arab nations, to degrade and ultimately destroy this terrorist group. We're also supporting a moderate opposition in Syria that can help us in this effort, and assisting people everywhere who stand up to the bankrupt ideology of violent extremism. This effort will take time. It will require focus. But we will succeed. And tonight, I call on this Congress to show the world that we are united in this mission by passing a resolution to authorize the use of force against ISIL.
Second, we are demonstrating the power of American strength and diplomacy. We're upholding the principle that bigger nations can't bully the small — by opposing Russian aggression, supporting Ukraine's democracy, and reassuring our NATO allies. Last year, as we were doing the hard work of imposing sanctions along with our allies, some suggested that Mr. Putin's aggression was a masterful display of strategy and strength. Well, today, it is America that stands strong and united with our allies, while Russia is isolated, with its economy in tatters.
That's how America leads — not with bluster, but with persistent, steady resolve.
In Cuba, we are ending a policy that was long past its expiration date. When what you're doing doesn't work for fifty years, it's time to try something new. Our shift in Cuba policy has the potential to end a legacy of mistrust in our hemisphere; removes a phony excuse for restrictions in Cuba; stands up for democratic values; and extends the hand of friendship to the Cuban people. And this year, Congress should begin the work of ending the embargo. As His Holiness, Pope Francis, has said, diplomacy is the work of "small steps." These small steps have added up to new hope for the future in Cuba. And after years in prison, we're overjoyed that Alan Gross is back where he belongs. Welcome home, Alan.
Our diplomacy is at work with respect to Iran, where, for the first time in a decade, we've halted the progress of its nuclear program and reduced its stockpile of nuclear material. Between now and this spring, we have a chance to negotiate a comprehensive agreement that prevents a nuclear-armed Iran; secures America and our allies — including Israel; while avoiding yet another Middle East conflict. There are no guarantees that negotiations will succeed, and I keep all options on the table to prevent a nuclear Iran. But new sanctions passed by this Congress, at this moment in time, will all but guarantee that diplomacy fails — alienating America from its allies; and ensuring that Iran starts up its nuclear program again. It doesn't make sense. That is why I will veto any new sanctions bill that threatens to undo this progress. The American people expect us to only go to war as a last resort, and I intend to stay true to that wisdom.
Third, we're looking beyond the issues that have consumed us in the past to shape the coming century.
No foreign nation, no hacker, should be able to shut down our networks, steal our trade secrets, or invade the privacy of American families, especially our kids. We are making sure our government integrates intelligence to combat cyber threats, just as we have done to combat terrorism. And tonight, I urge this Congress to finally pass the legislation we need to better meet the evolving threat of cyber-attacks, combat identity theft, and protect our children's information. If we don't act, we'll leave our nation and our economy vulnerable. If we do, we can continue to protect the technologies that have unleashed untold opportunities for people around the globe.