Obama's Threats Over Transgender Law 'Sickest Example' of Effort to 'Fundamentally Transform Our Nation,' N.C. Lt. Gov. Says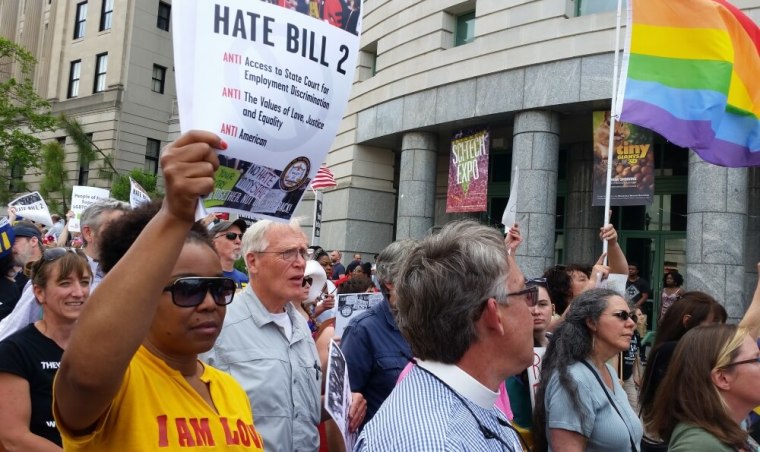 North Carolina's Lt. Gov. Dan Forest called the Obama administration's threat to withhold federal education funding unless the state repeals its controversial transgender bathroom law, the "sickest example" of how far Barack Obama will go to transform the nation.
"To use our children and their educational futures as pawns to advance an agenda that will ultimately open those same children up to exploitation at the hands of sexual predators is by far, the sickest example of the depths the Obama Administration will stoop to 'fundamentally transform our nation,'" said Forest in a statement.
In a letter to Republican Gov. Pat McCrory Wednesday, the U.S. Department of Justice said North Carolina's HB2 Transgender law violates Title IX, which prohibits discrimination in education based on sex, and Title VII of the Civil Rights Act, which bans employment discrimination.
If the finding is upheld, according to The Charlotte Observer, North Carolina could lose millions in federal education funding. State public schools received $861 million in the current school year while in 2014-2015, the University of North Carolina system got $1.4 billion.
The DOJ noted in the letter to McCrory that similar letters highlighting the violations of federal law had been sent to the North Carolina Department of Public Safety and the University of North Carolina.
In the letter to UNC, the DOJ warned that if the university does not provide assurances, by Monday May 9, that it will comply with DOJ's interpretation of Title IX, "the Department will take enforcement action."
Speaking to business leaders Wednesday night, McCrory called the DOJ's letter "something we've never seen regarding Washington overreach in my lifetime," according to The Charlotte Observer.
"This is no longer just a N.C. issue. This impacts every state, every university and almost every employee in the United States of America," he said. "All those will have to comply with new definitions of requirements by the federal government regarding restrooms, locker rooms and shower facilities in both the private and public sector."
North Carolina's House Speaker Tim Moore, said the state's GOP leaders are consulting attorneys about a response, and also called the letter "a huge overreach (by) the federal government."
"It looks an awful lot like politics to me," Moore said. "I guess President Obama, in his final months in office, has decided to take up this ultra-liberal agenda."
The North Carolina Values Coalition said in a statement that HB2 is in full compliance with federal law.
"The DOJ should be ashamed of itself for bullying North Carolinians, compromising the privacy and safety of our citizens, and spreading lies about what the clear language of Title IX and Title VII state," it said.
North Carolina's Republican-controlled General Assembly passed HB2 in March in response to Charlotte's extension of its anti-discrimination ordinance. That ordinance would have allowed transgender people to use the bathroom of the gender with which they identify and would have extended anti-discrimination protections to LGBT residents. HB2 pre-empted that ordinance and requires people to use bathrooms in government buildings that match what's on their birth certificate.