Obama Wishes 'Merry Christmas' Surprise Netizens Who Blame Trump Effect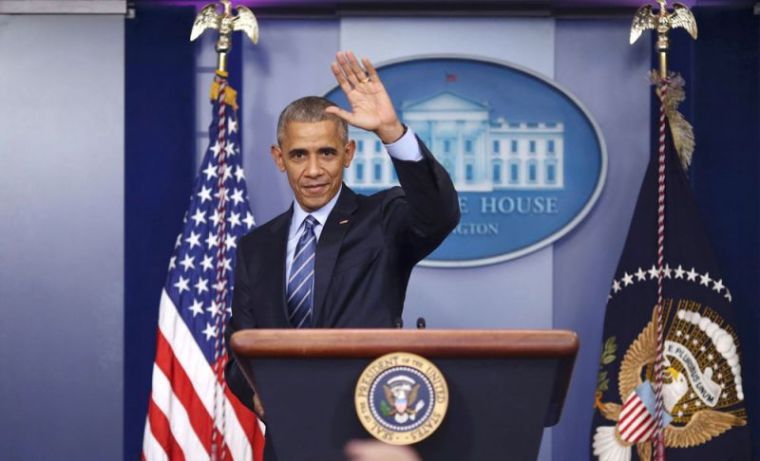 While the Christmas cards President Barack Obama sent from the White House failed to mention the word "Christmas," he chose to wish U.S. troop "a Very Merry Christmas" in his last news conference of the year Friday which led to several comments on social media, some of which called it "peer pressure" referring to President-Elect Donald Trump.
"In a season where the incredible blessings that we know as Americans are all around us, even as we enjoy family and friends and are reminded of how lucky we are, we should also be reminded that to be an American involves bearing burdens and meeting obligations to others," Obama said in his address to the nation. "American values and American ideals are what will lead the way to a safer and more prosperous 2017, both here and abroad. And by the way, you (ph) embody those values and ideals like our brave men and women in uniform and their families."
He then said, "So I just want to close by wishing all of them a very merry Christmas and a happy new year."
"Obama said Merry Christmas !!! Peer pressure works," wrote a Twitter user.
Another user wrote, "Trump effect even rubbing off on Obama. He said Merry Christmas in Press Conference. Of course it was after he said Russia hacked election," as tweets began to pour in soon after Obama's address.
Speaking in Iowa last October, Trump said, "I'm a good Christian. If I become president, we're gonna be saying Merry Christmas at every store ... You can leave happy holidays at the corner."
Many businesses like to say "happy holidays" instead of "merry Christmas," to be "politically correct," even as atheist and secular groups have routinely filed lawsuits against any display of Christmas on public land or buildings.
Last month, the Liberty Counsel released its 14th annual "Naughty & Nice" review of American retailers and their attitudes toward Christian themes during the Christmas season, saying it was monitoring cases across the U.S. where the celebration of Christmas is in danger in public and private spaces.
"These threats include atheist groups seeking to ban nativity scenes from public property, senior living centers that prohibit residents from singing Christmas carols, public schools that ban students from wearing the Christmas colors of red and green, school officials who censor religious words from Christmas carols, and retailers which profit from Christmas while pretending it does not exist," the group explained.
"The war on Christmas is still on!" evangelist Franklin Graham wrote in a post on his Facebook page last year, referring to the ACLU's lawsuit against a small Indiana town for putting a cross atop a Christmas tree on government property.
"I hope this town will stand strong and not let one man's objection override their celebration of the true meaning of Christmas. The ACLU wants to remove God from everything — our Constitution doesn't require that. Jesus Christ came to Earth to pay the penalty of sin for mankind on the cross. That's what CHRISTmas is all about!" Graham wrote.
However, Fox News commentator Bill O'Reilly said this year that the war on Christmas had been won as more and more retailers were choosing to recognize the holiday that celebrates the birth of Jesus Christ.
"Well that culture war issue ignited, and we won," he said on "The Factor."
"Most companies stopped the nonsense and 'Merry Christmas' became a common greeting once again… Many Americans celebrate Christmas because they believe that Jesus is the Savior and His birth should be honored. And because it is a federal holiday, there is no reason to diminish Christmas or insult those who believe in it. Don't like Christmas, ignore it. Companies and stores that embrace Christmas obviously will attract folks who feel the same way."