Obamas Attend Christmas Service in Hawaii
President Barack Obama and his family attended Christmas services Sunday with U.S. military members at the chapel of a marine base in Hawaii and later returned to the base to thank them for their service to the nation.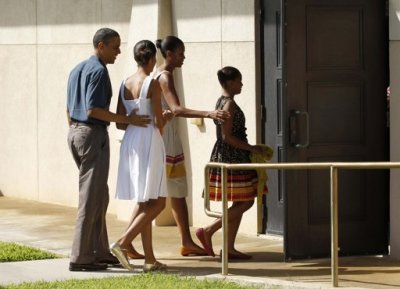 The Obamas made a short trip from their rented house in Kailua Beach near Honolulu to the chapel at Marine Corps Base Hawaii on the island of Oahu for church service, according to The Associated Press.
In Hawaii on vacation since Friday, Obama was dressed in dark khaki pants and a short-sleeve blue shirt Sunday. His wife Michelle Obama and daughters Malia and Sasha were wearing sundresses.
The Obamas started their day early to exchange gifts, the White House said. After breakfast, they sang Christmas carols and left for church.
After church, the first family spent a few hours at the rental home, and then the president and Michelle Obama went back to the base to meet hundreds of service members and their families, repeating a tradition Obama has followed since 2008.
The Obamas joined the service members for Christmas lunch, which included roast beef, salad and apple pie. A highlight of the president's visit was an eight-month-old son of a service man, who got closer to Obama than everyone else. He grabbed Obama's face and then stuck his fingers in the president's mouth. Obama joked saying the baby perhaps liked his "big nose."
Obama's visit to the base came 10 days after the complete withdrawal of U.S. troops from Iraq, which formally ended a war in which nearly 4,500 American soldiers lost their lives besides tens of thousands of Iraqis.
In the evening, Obama had dinner with friends and family in the Kailua house. The president is expected to stay in Hawaii until the New Year, and has not scheduled any public events.
The president had planned for a vacation since Dec. 17, but he had to postpone it due to payroll tax cut negotiations. Obama was born and raised in Honolulu.
Obama and his wife also thanked and urged prayers for U.S. troops and their families in their weekly address Saturday. "Let's take a moment to give thanks for their service, for their families' service, for our veterans' service," the president said in his Christmas message. "And let's say a prayer for all our troops standing post all over the world, especially our brave men and women in Afghanistan who are serving, even as we speak, in harm's way to protect the freedoms and security we hold dear."
Later on Saturday, the president made telephone calls to 10 service members stationed in various parts of the world.
The Christian Post Daily Report 12.26.11