Okla. Brothers Win American Bible Challenge; to Donate $140,000 Winnings to Missions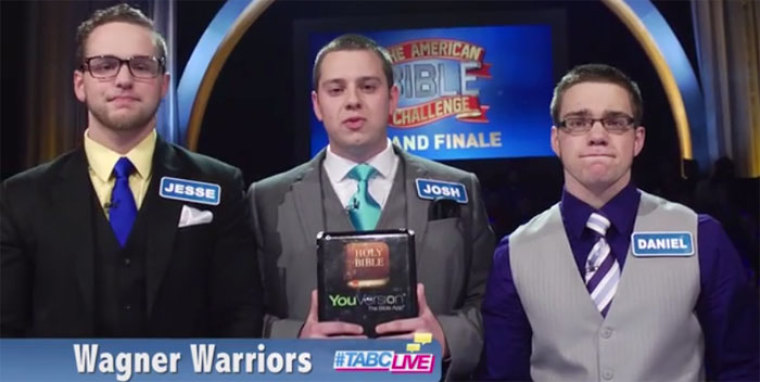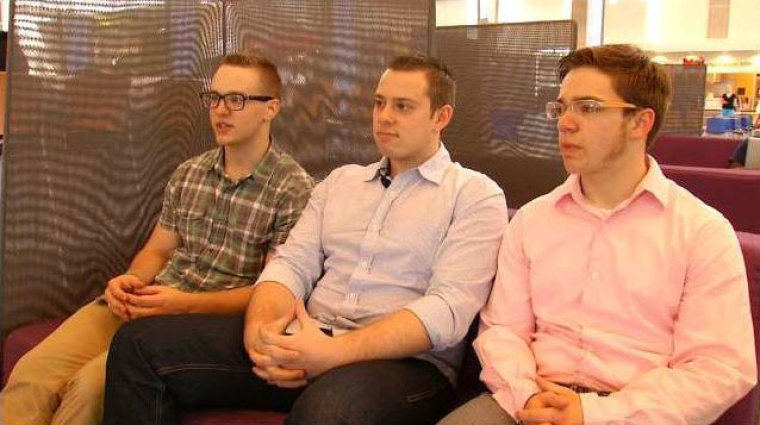 View Photos
Three brothers from Oklahoma won the Game Show Network's "American Bible Challenge" that broadcasted Thursday night, and will donate their entire winnings of $140,000 to their family's ministry, Wagner International Ministries.
The Wagner brothers – Joshua, 23, Jesse, 21, and Daniel, 19 – said growing up in the family's ministry and training for the Assemblies of God Bible Quiz prepared them well. "All of us have memorized books of the Bible," Jesse told The Christian Post on Friday. "I have memorized 11 books, Josh has memorized 9, and Daniel, 14." Jesse said he has memorized many of Paul's epistles, the Gospels of Mark and John, and the book of Acts, as well.
"My favorite book to memorize was the Gospel of John. That's always been my favorite Gospel," Jesse said.
He noted that participating in the Bible quiz show "was a really fun experience."
GSN's "American Bible Challenge" features comedian and television personality Jeff Foxworthy who quizzes 18 teams composed of three persons in unique and challenging ways to test their biblical knowledge. The three Wagner brothers formed a team called "The Wagner Warriors." In each episode, three teams compete to win $20,000 for a charity of their choice. Runner-ups win $2,500 or $5,000. The tournament's grand prize is $100,000.
During the competition, one round takes exactly 60 seconds, where the team answers as many questions as it can on one specific book of the Bible. "Thankfully for us, Josh had memorized the book of James a couple years ago. We got ten questions right in 60 seconds – that was the most that anyone had gotten the whole season," Jesse said.
Jesse said Wagner Ministries plans to use the $140,000 winnings to participate in "One Nation, One Day," a massive evangelistic effort headed by Dominic Russo in Honduras. "The whole vision of it is from Isaiah 66:8," Jesse explained. "Can a nation be saved in one day?"
"We are going to every single high school in the nation," he added. They will bring large amounts "of medical supplies, food, shoes. It's all going to culminate on the last day of the trip, July 20th."
Earlier this month, Russo received the support of Honduran President Porfirio Lobo Sosa to allow 2,000 Christians to visit Honduras for one week. "The momentum is unbelievable and the vision is that all of Honduras will be changed and impacted in one day," 29-year-old Russo told CP.
"Living a life with Christ, a life with Jesus, is amazing and fun," Jesse said, excited about the mission to Honduras. He praised his parents for "always making the ministry fun" for him and his brothers.
According to the Wanger International Ministries website, "since its inception in 1999, Wagner Ministries has ministered on four continents to over 2 million people with over 1 million of those people committing their lives to Christ!"
"We travel into Third World countries and bring the Gospel to people who have never heard the Gospel before," Jesse said. He shared the basic outline of Wagner Ministries: First, a pracher leads an evangelistic crusade, where the Gospel is preached and people are healed of numerous diseases. Then the ministers conduct Pastors and Leadership Conferences to train local leaders.
"We make sure the people who are saved get plugged into the local churches," Jesse explained. Wagner Ministries takes Christ's call to "make disciple of all nations" literally – even leading Women's Conference and Teens Conferences to build Christians up once they've committed their lives to Christ.
Jesse estimated that he and his brothers have "probably been to about 15 countries each," and that he has visited India "about 12 times." "My dad started taking all of us boys along with them when we were about 13-14 years old," he said. "The first crusade that I led was in Pakistan. I was 19 years old."
He remembered one man in Pakistan who had been crippled for six years. "He waited until the Crusade was all done, and everyone had gone. We simply prayed for him. I told him to stand up and he was shocked. I just sort of grabbed him and pulled him up." While the man was limping that night, the next day "I saw him running up to the stage, jumping up and down," the 21-year-old Bible champion recalled.
In January, the Wagner brothers won $40,000 and were awarded another $100,000 for winning in the finals recently.