One Direction Clashing; Harry Styles Wants 'Cooler' Image?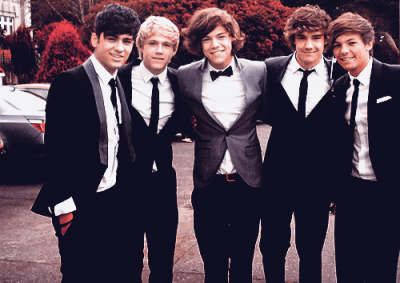 British boy band One Direction is reportedly at odds over Harry Styles' alleged plans to transform the group's sound.
In November the pop group successfully debuted "Midnight Memories," their third studio album, and in coming months they will kick off their Where We Are Tour. A new report claims Styles, 19, wants his bandmates to implement drastic changes after they wrap up their third headlining tour in October, however they are not all on the same page.
"Harry loves being in the band and respects and loves his bandmates. But he's very ambitious and thinks they should be growing up more and becoming more credible," a source told the Daily Star UK.
"They all have different ideas on what direction they want to take musically and they are becoming more and more vocal about it," the source explained.
Styles reportedly wants the group to ditch their songwriting team and change its image and sound in a bid to appear "cooler."
"Their third album Midnight Memories was already a lot less pop but Harry wants to push it further. He thinks their next album is the perfect time to create a much edgier and more rock 'n' roll image and he's already writing songs that he wants them to include on the record," the insider revealed.
"The problem is the rest of the band fear if Harry starts changing their style he's going to take over the whole thing."
One Direction, which is one of world's highest-selling boy bands, was formed in 2010 by "X Factor" producer Simon Cowell. The group consists of Harry Styles, Zayn Malik, Niall Horan, Liam Payne and Louis Tomlinson.
"Niall and Louis especially are worried about turning their backs on a pop sound and changing a winning formula," the source said.
"The fear is that if Harry doesn't get his way he could end up walking out and going solo. He doesn't want to be five years down the line and still doing boyish pop tunes," the source added.
In 2013 Styles was the subject of solo rumors after reports claimed the pop singer was considering leaving the group to launch his own career. Sources claimed he had been recording music without his bandmates however a rep denied the reports.
"The boys sometimes work up ideas separately as well as working together, as they did last year," a rep said according to MTV.
Malik, 20, previously addressed split rumors during a 2012 interview with ABC's Barbara Walters. She had asked the group whether any of them had plans to launch solo careers.
"No way. It's not even, like, a question. We'd just be like, 'No, I'm not doing it,'" Malik told Walters.