'One More Day' Chants Define Final Push for Romney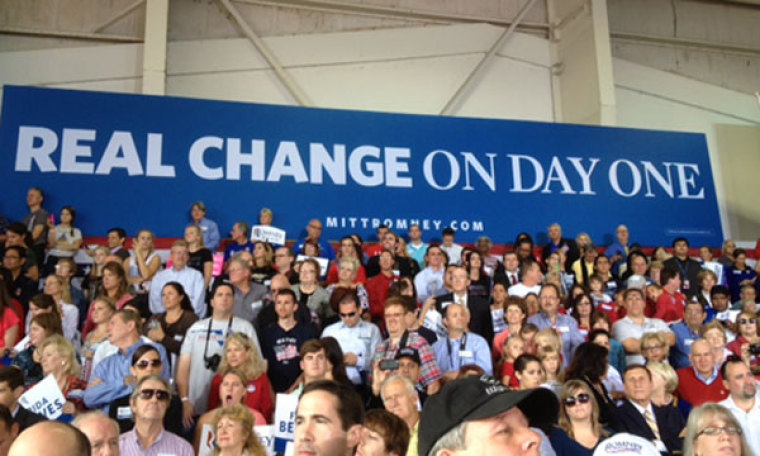 4 photos
(Photo: REUTERS/Jim Young)
SANFORD, Fla. – Mitt Romney began his final day of campaigning by addressing a standing room only crowd in an airport hangar in central Florida Monday morning. Chants of "one more day" reverberated from those who arrived in the early morning hours to help give their candidate one extra push to capture the must-win Sunshine State.
Romney took the podium just a couple of minutes before 9 a.m. for the first of five stops before voters go to the polls on Tuesday to end what has been a grueling and hard-fought 16-month campaign.
Romney was introduced by Rep. Connie Mack (R-Fla.) who is hoping to move to the upper chamber in his quest to win one of Florida's two Senate seats. Former governor Jeb Bush, who still gets shouts of admiration and current Gov. Rick Scott warmed up the crowd before Romney took center stage.
"Tomorrow, we begin a new tomorrow," Romney, told the crowd of over 1,000. "This nation is going to begin to change for the better tomorrow.
Florida is one of several key battleground states that both Obama and Romney need to carry in order to win the White House.
In what is probably the closest election in decades, the Real Clear Politics average shows the race at a drop-dead tie with Obama at 47.8 and Romney at 47.4. However, in Florida, Romney has a razor margin of 1.8 percent over Obama.
Cassandra Baker drove all the way from Washington, D.C., to go door-to-door for the Romney campaign and hopes her efforts pay off. "This is actually my first time to see Gov. Romney at a rally," said the young professional. "The momentum is amazing and people in Florida just love Mitt."
And like the hundreds of campaign stump speeches he has given, Romney's key theme was the state of the economy.
"I think you know that the president promised change but he couldn't deliver change," Romney said to cheers. "I not only promise change, I have a record of achieving it. I actually built a business. I helped turn around another business. I helped get the Olympics back on track."
As President Obama has traveled other swing states in an effort to mobilize Democrats, he has reminded voters that a Romney administration will only return America to the Bush years of corporate welfare and tax breaks for wealthy Americans. Plus, he says Romney will not be able to reach across the aisle to work with what most likely will be a Senate controlled by Democrats.
However, Romney maintains that is not the case because he worked with a legislature that was dominated by Democrats in Massachusetts.
"With a Democrat legislature, 85 percent Democrat, I helped turn my state from deficit to surplus, from job losses to job growth, and from lower take-home pay to higher take-home pay," said Romney.
"That's why I'm running for president. I know how to change the course the nation is on. I know how to get us to a balanced budget and how to build jobs and make rising take-home pay happen again. See, accomplishing real change is not just something I talk about. It is something I have done, and it is something I will do as the president of the United States."
The other major issue addressed by Romney was health care and some of those in the crowd feel that if President Obama wins a second term and continues in his quest to grown Obamacare, that access and affordability will actually decline for many Americans.
Linda Gadd and Sandy Stuart work as hospital nurses at Halifax Hospital in the Daytona Beach area and took the day off to come show their support for Romney. They see a decline in quality of health care if Obamacare is implemented.
"Health care as we know if will go down the tubes if Obama is reelected," said Gadd. "It will destroy medicine as we know it."
Stuart was even more direct, saying that many of the doctors she works with are considering reducing their staffs or in some situation, leaving medicine all together.
"If you want to know what the nurses and technicians think about Obamacare, just walk into a staff lobby. Most are scared to death," she said.
Romney stated, "If you believe we can do better, if you believe America should be on a better course, if you're tired of being tired then I ask you to vote for real change. Paul Ryan and I will bring real change to America from Day One."
Still others in the crowd are as equally concerned about the nation's national security, as they are the economy. Orlando residents Lisa Parks and Cindy Kalser are Jewish and despite many of their friends who support Democratic candidates including Obama, they see Romney picking up a much larger percent of the Jewish vote than McCain received in 2008.
"If we are not strong, then Israel cannot be strong," said Parks. "The reason many Jews support Democrats is because they feel strongly about social justice issues and believe the best way to achieve peace in the Middle East is to compromise with the Muslim community. But many of us know the only way to protect Israel from Iran is for the U.S. to take a stand in the Middle East. President Obama has not done that."
Romney will also hold rallies in Virginia, Ohio and New Hampshire before he and his wife Ann cast their own votes in Belmont, Mass., tomorrow.