Only 10 Christian Refugees From Iraq and Syria Admitted to US in 2018; Evangelicals Respond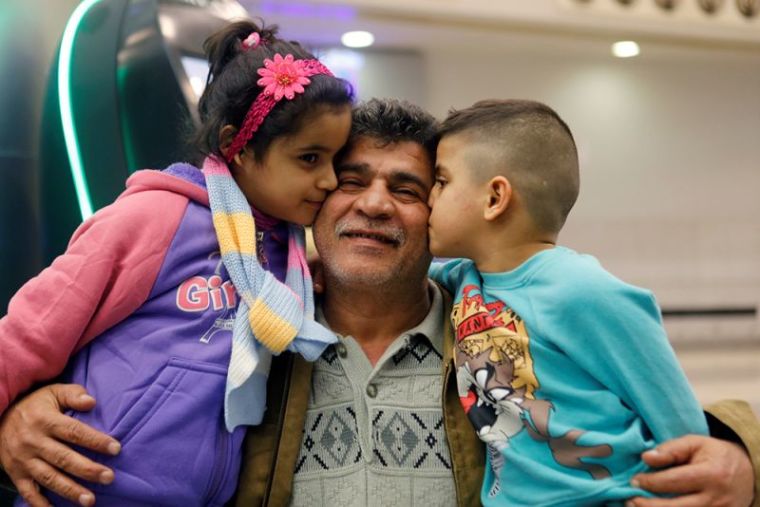 As the Trump administration has promised to help Christians and other religious minorities who faced genocide at the hands of the Islamic State, the U.S. government has resettled only 10 Christian refugees from Iraq and Syria since the beginning of 2018.
Female evangelical activists spoke out against the Trump administration's policies pertaining to the dramatic slowdown in refugee admissions during an Evangelical Immigration Table conference call Monday, two days before World Refugee Day Wednesday.
Kathryn Freeman, the director of public policy for the Texas Baptist Christian Life Commission, wasted no time in pointing out how the U.S. government has all but abandoned Middle East Christians looking to escape persecution in the Middle East.
"These persecuted Christians have almost been entirely shut out in the past six months, during which time just 21 Christians from the Middle East have been admitted to the U.S. as refugees," she stated.
A review of the Refugee Processing Center database's numbers on refugee arrivals between Jan. 1 and June 19 shows that eight of those Christians who were resettled to the U.S. were from Afghanistan, two from Iran, seven from Iraq, three from Syria and one from Saudi Arabia.
A total of 48 Christians have been resettled from the Middle East since the beginning of fiscal year 2018 — Oct. 1, 2017. Nineteen of those 48 refugees have come from Iraq or Syria.
The number of Muslims being admitted to the U.S. has also steadily declined, as only 468 Muslims were resettled to the U.S. from the Middle East since Jan. 1.
"I think it is also important to note that we feel the national slowdown in refugee resettlement is affecting refugees of all faiths," Freeman stated. "Muslim refugees are obviously disproportionately being shut out. Our concern as Baptists particularly and our history of being a religious minority, we believe in religious liberty for all. So we find that very troubling."
Although the Obama administration received much heat for resettling way more Muslims from the Middle East than Christians, the Refugee Processing Center database shows that his administration resettled a total of 1,315 Christians from the Middle East from Jan. 1, 2016 until June 19, 2016.
The U.S. is on pace to resettle less than 22,000 refugees for fiscal year 2018, which would fall well short of the 45,000 refugee cap set by Trump at the beginning of the year. At 45,000, even the cap set by Trump is lower than any refugee cap set since 1980.
In 2017, Trump's first year in office, his administration resettled just 29,725 refugees, compared to the 99,183 refugees resettled by the Obama administration in 2016.
"In the United States, immigrants are a significant and growing part of the body of our local churches. The Apostle Paul writes that one part of the body suffers, every part suffers with it," Trillia Newbell, director of community outreach at the Southern Baptist Convention's Ethics & Religious Liberty Commission, said during the call.
"So we are suffering when we see brothers and sisters in Christ persecuted for their faith and then turned away from the U.S. refugee resettlement program, when we see families fleeing horrific violence in Central America reach the U.S. in the hopes of finding safety only to have their children ripped from their arms."
Their comments come after Vice President Mike Pence declared a major policy change in which the U.S. government would bypass the United Nations and provide direct humanitarian assistance to persecuted Christians and other religious minorities that faced genocide at the hands of the Islamic State. Earlier this month, Pence assured conservative Christians that the Trump administration is still following through on its promise despite complaints that some religious minorities groups have not seen the promised aid.
Last week, the Southern Baptist Convention passed resolutions on the global refugee crisis and immigration that both received nearly unanimous support. The resolution on refugees urged the convention's members and churches to continue being involved in welcoming refugees to the U.S.
"Many of our churches have ESL programs and are actively engaged with the refugee community in Texas," Freeman explained. "We have churches that are led by refugee pastors now who are several generations removed from that and are leading ministries to more recent refugees."
In 2016, Freeman said that Texas resettled at least 9,000 refugees, more than any other state. But under the Trump administration's current rate, Texas will only resettle 1,500 in 2018.
"Other states are obviously experiencing similar declines," she said.
Shirley Mullen, president of Houghton College in New York and a board member of the Council for Christian Colleges and Universities, said during the call that refugees have had a tremendous impact when it comes to re-energizing struggling cities in upstate New York.
"We are very troubled by the dramatic slowdown in refugee arrivals because this will deeply effect Buffalo and Utica and also the surrounding area that has benefited so much by the creative and energetic work of these refugees who have come to these resettlement cities," Mullen said. "Many refugees arrive in this country without high school diplomas or without proficiency in English. One of the special ways that we as a college have become involved in both Buffalo and Utica is in providing an associate of arts program for refugees in their home cities."
"We want them to have an educational background that will allow them to get jobs and allow them to go onto higher education if they want to," Mullen continued. "We are in our fifth year of carrying out this program in Buffalo and in our second year in Utica. What has been impressive is that 80 percent of the students who have started in this program have completed the program on time. This is higher than the rations that would happen in a community college experience."
Although evangelical leaders have been vocal about their support for refugees, those views don't seem to have spilled over into the pews. Pew Research recently found that 68 percent of white evangelical Protestants believe that the United States is not responsible for accepting refugees.
"I used to think that people knew that refugees had been through this comprehensive [intelligence] screening process [to enter the United States]," Matthew Soerens, the director of church mobilization at the evangelical refugee resettlement organization World Relief, told CP last week. "It is clear that a lot of Americans didn't know that and maybe are even confusing these categories and don't understand that a refugee, by definition, has fled persecution and has gone through a vetting process and that they are less than one percent of the refugees globally that the U.S. has invited into the country."