2015 Deadliest Year for Christians Worldwide, Open Doors' World Watch List Finds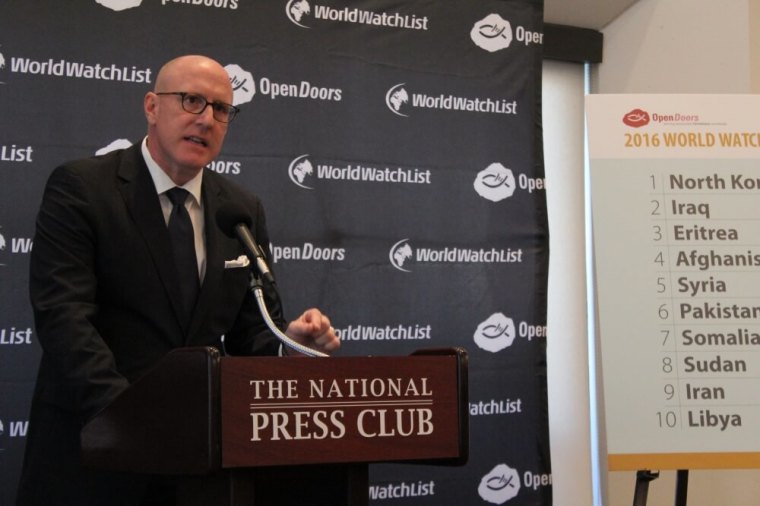 The Christian persecution watchdog group Open Doors has released its annual list of countries where Christians face the greatest persecution and found that it has reached unprecedented levels worldwide as over 7,000 Christians were killed for their faith between Nov. 1, 2014, and Oct. 31, 2015.
Although the California-based ministry, which works in over 60 countries, stated last January that 2014 was the worst year for Christian persecution than any other time in modern history, the organization said during the rollout of its 2016 World Watch List that 2015 surpassed 2014 as the deadliest year for Christians worldwide.
Open Doors found that over 3,000 more Christians were killed for faith-related reasons during its reporting period for the 2016 World Watch List than it found during the reporting period for the 2015 report. Additionally, over 2,400 churches were attacked, damaged or destroyed during the reporting period, which is more than double the number from last year.
"The 2016 World Watch List documents an unprecedented escalation of violence against Christians, making this past year the most violent and sustained attack on Christian faith in modern history," Open Doors CEO David Curry explained at a Wednesday press conference introducing the report. "This research has concluded that after the brutal persecution of Christians in 2014, 2015 proved to be even worse with the persecution continuing to increase, intensify and spread across the globe."
For the 14th consecutive year, North Korea was listed at No. 1 on the World Watch List, again making it the greatest persecutor of Christians in the world with a persecution rating of 92 out of 100. As the Kim regime continues its intolerance toward religion, between 50,000 to 70,000 Christians are suffering in regime labor camps.
While pariah states like North Korea, Sudan (No. 8) and Eritrea (No. 3) continue to stomp on the religious freedoms of Christians and others, the dramatic rise in the amount of persecution against Christians is in part due to the rise of Islamic extremist groups like the Islamic State, Boko Haram and Al-Shabaab.
As IS continues to have a stronghold on much of the historically-Christian Nineveh province in northern Iraq, Iraq is listed at No. 2 on the list.
With the emergence of the IS, thousands of Christians have been forced to flee their homes and villages or risk being killed for their love of Christ. Due to the mass exodus of Christians, the research finds that Christianity is "on the verge of extinction" from Iraq, a place where Christians have lived for two millennia.
Considering that IS also has control of chunks of Syria, Open Doors lists Syria at No. 5 on the list.
"Islamic extremist caliphates are solidified and expanding," Curry said. "The data shows that the Islamic State caliphate has effectively carried out genocide against Yazidis and Christians in Syria and Iraq, pushing hundreds of thousands of Christians into refugee camps in North Iraq and other countries."
Although IS gets most of the global media attention for its barbarity, Curry explained that it is the Boko Haram terrorist group in Nigeria (No. 12) that has killed more Christians in 2015 than any other terrorist group.
"Boko Haram in Nigeria threatened to control large parts of Nigeria, it does control large parts of Nigeria and its extending its territory into Niger and looking into Chad, as well," Curry said.
Another terrorist outfit that has contributed to the high death toll in Open Doors' 2016 report, is Somalia-based al-Qaeda affiliate Al-Shabaab, who last April attacked Garissa University in Kenya (No. 16) and massacred about 147 Christians.
Contact: <ahref="mailto:samuel.smith@christianpost.com">samuel.smith@christianpost.com,
@IamSamSmith
(Twitter)