Operation Christmas Child Rallies Believers to Reach 8M Children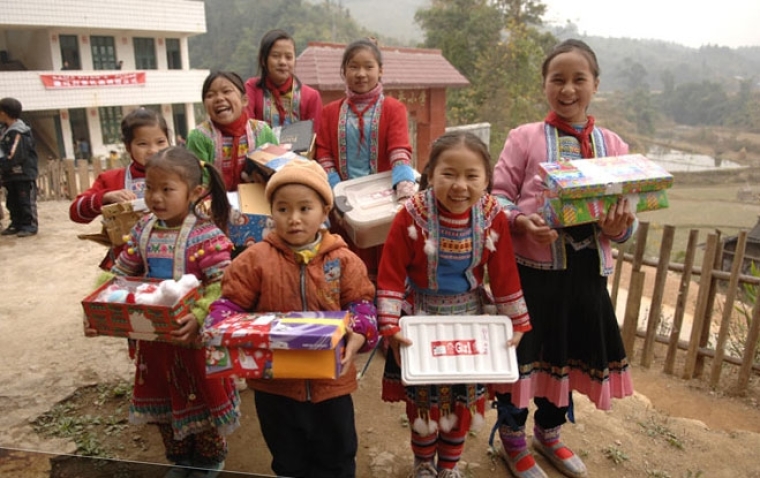 With Thanksgiving Day passed and the Christmas season now revving up, people across the nation are being encouraged to add a child they don't know to their list of Christmas gift recipients knowing that doing so could make a profound, lifelong impact.
Though National Collection Week for the annual Operation Christmas Child project officially concluded this past Monday, project coordinators are continuing to call upon people throughout the nation to join in the effort, noting that there's still time.
"Operation Christmas Child is underway RIGHT NOW," emphasized an announcement made Friday, "and volunteers hope to collect 8 million shoe box gifts for children suffering from poverty, war, disease, famine and natural disaster. "
Since international Christian relief organization Samaritan's Purse launched Operation Christmas Child in 1993, the project has collected more than 69 million shoe box gifts and hand-delivered them to needy children in more than 130 countries.
Last year, Operation Christmas Child celebrated for the first time the collection of 8 million gift-filled shoe boxes through the participation of churches and communities across America as well as 10 other countries. For the effort, more than 2,200 collection sites were set up throughout all 50 states in America and more than 130,000 volunteers worldwide – including some 100,000 volunteers in the United States – joined forces to prepare the boxes for transport to distant lands.
This year, there were more than 2,400 collection sites in the United States.
"It really was an amazing thing to see," commented Brenda Franklin, Operation Christmas Child relay center coordinator for the charity's drop off point in Big Spring, Texas, where 840 shoeboxes were collected.
"Last year we collected 685 shoeboxes, and this year we were shooting for 700, so it was really a pleasant surprise when we did the final count," Franklin told her local newspaper, the Big Spring Herald.
Though the items in the shoe boxes are usually simple – toothpaste, small toys and school supplies – donors are being reminded of the difference they could make in the life of a child who might be hurting for feeling forgotten. For many kids who receive a shoe box gift, it will be the first gift they have ever received.
"In a lot of other countries the kids have almost nothing of their own. So even simple things like stickers or colored pens or a ball are really special," commented Huda El-betjali, who received an Operation Christmas Child shoe box gift as a 9-year-old living in Jordan.
"They will remember that shoe box gift forever. I know I'll never forget mine," added El-betjali, who is now a student at Cal State San Bernardino and has begun packing shoe box gifts for other kids in need.
With National Collection Week having wrapped up on Nov. 23, Operation Christmas Child participants can no longer deliver their gift-filled boxes to their nearest drop off location. They can, however, mail them to the Boone, N.C., office of Samaritan's Purse.
In just a few weeks, the organization will begin hand-delivering the shoe boxes to children around the world, using whatever means necessary – sea containers, trucks, trains, airplanes, helicopters, boats, camels, even dog sleds.
A downloadable graphic of how anyone can participate in the project is available at the Samaritan's Purse website, www.samaritanspurse.org.
This year, Samaritan's Purse is using tracking technology that allows donors to "follow your box" to the destination country where it will be hand-delivered to a child in need.