Operation Warm: 9-Year-Old Races Marathons for Underprivileged Children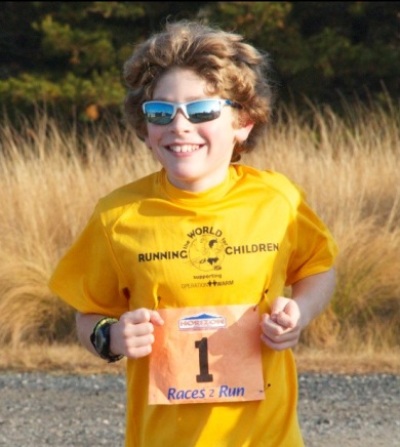 Nikolas Toocheck is a boy on a mission. The 9-year-old, who hails from West Chester, Penn., has made the altruistic commitment to run a marathon in each of the seven continents on behalf of his "Running the World for Children" campaign, which raises money for Operation Warm, a nonprofit organization which provides new winter coats for underprivileged children throughout the U.S.
Toocheck completed his first full marathon in December 2012 in Lewes, Del., and will be running again come Feb. 25, 2013 in the 26.2-mile White Continent Marathon & Half in Antarctica.
Throughout his world adventures, Toocheck hopes to raise $1 million for Operation Warm, which was founded by his grandfather, Richard Sanford, over a decade ago and successfully provided 200,000 children in 40 U.S. states with new winter coats in 2012-2013.
Toocheck told The Christian Post in a recent interview that he personally came up with the goal to run all seven continents, hoping to experience different climates.
"My family and I were talking about running in different climates, like the desert or the snow, and I kind of came up with the idea: wouldn't it be cool to run in seven continents," Toocheck told CP.
The avid runner, who says his favorite part of the marathon is running alongside his dad, went on to tell CP that what motivated him to begin this adventurous project was thinking of all the children, especially in the frigid east coast temperatures, who were living day to day without proper winter wear.
"Especially over the past couple of weeks it has been really cold and I've just been thinking of all the kids out there without coats to keep them warm. That keeps me motivated and that's why I wanted to do this," Toocheck told CP.
According to  Operation Warm, available records show that Toocheck is perhaps the youngest runner to ever compete in the upcoming Antarctica marathon.
Toocheck's grandfather, Richard Sanford, founded Operation Warm in 1998, when he was reportedly driving through Pennsylvania one winter day and witnessed children standing on the side of the street wearing t-shirts to shield them from the icy temperatures.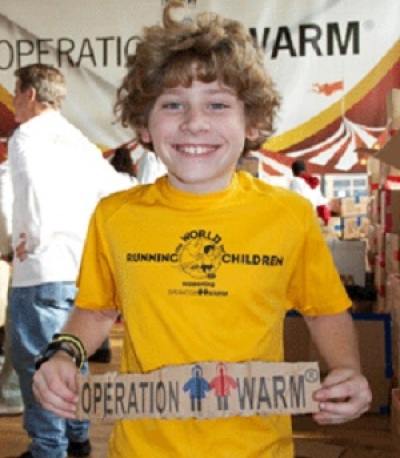 Sanford then ventured to a local shop, and originally purchased 58 coats, which he dispersed to children with the help of his local church.
"The children walked into the shop in t-shirts in the middle of winter. I couldn't believe it. The parents who were with them started to cry; … at that point I didn't understand the absolute devastation these people were facing in poverty," Sanford told CP, reflecting on the initial days of his nonprofit organization.
Since its humble beginnings, Operation Warm has now escalated into a national nonprofit organization, which has recently teamed up with U.S. and Canadian firefighters and served its 1 millionth child February 2012.
As Sanford told CP, Operation Warm is the largest nonprofit provider of brand new winter coats to underprivileged children in the nation.
The nonprofit provides brand new, custom coats in different colors and designs to children up to the sixth grade, using schools' free lunch program to determine which child will receive a coat.
Sanford affirms that he is most proud of his grandson for his willingness to help others at such a young age.
"I'm super proud of him for what he's done. What I'm really proud of is that a human being who is a child of nine is willing to help others. It's fabulous. Kids of this age don't usually do this," Sanford told CP.
"The important thing is that he is promoting something to help other human beings," Sanford added.
Toocheck told CP that after the Antarctica race, the family is contemplating heading to Mongolia for the young racer's third marathon, but no concrete plans have been made.