Oprah Speaks Out on Ferguson, Eric Garner; 'People Are Paying More Attention'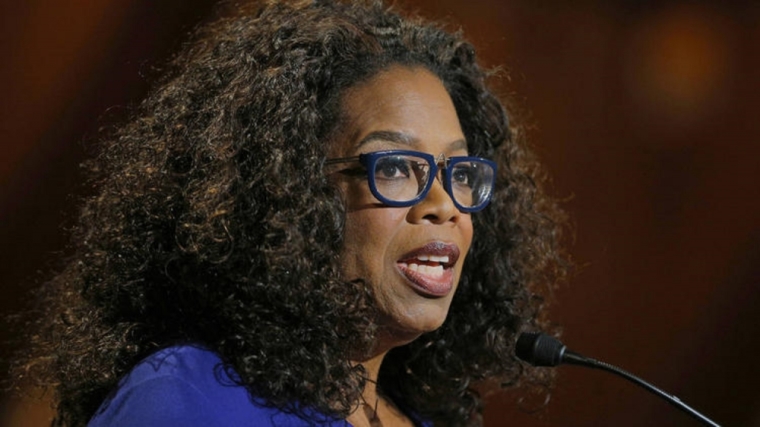 Media mogul and billionaire Oprah Winfrey says the ongoing national outrage over the deaths of Eric Garner and Michael Brown, as well as other black men at the hands of law enforcement officers, is an "exciting" sign that "people are paying attention."
"Even if we didn't know about a Ferguson, or an Eric Garner or a Michael Brown … they were going on," Winfrey told theGrio.com at the New York City premiere of the Martin Luther King Jr. inspired film, "Selma" Sunday night.
"The fact that they may have now become newsworthy or made national or international news doesn't mean there haven't been nameless Michael Browns or Eric Garners before," she noted.
"My feeling is everything is always happening exactly as it should and on time. There's no coincidence that this is happening now. But because it's happening now, people are paying more attention," she explained.
Thousands of protesters took to the streets of New York City and Washington D.C. Saturday to protest police violence against civilians, particularly against men of color. And they are expected to continue around the country.
"Life is always there to teach, enlighten, and open you up to the greater possibilities of what can be done, if you're willing to be awake and see it. What's exciting to me is that people are awake. If it took Eric Garner and it took Michael Brown and other instances to do that, then that's where we are in our evolvement as human beings," said Winfrey.
Winfrey, who plays a small role in "Selma" as a black woman who was repeatedly denied the vote in Alabama in 1965, told USA Today that once people are paying attention everything can be a wake-up call.
"I think everything is a wake-up call if you're paying attention. Everything is happening all the time to get our attention. And when you don't listen the first time, it becomes more and more forceful. So if you didn't listen to Ferguson, then along comes Eric Garner," she said.
"Selma" which opens in select theaters on Christmas Day and nationwide on Jan. 9 next year, traces a three-month narrative in 1965 when Dr. Martin Luther King Jr. protested with others to secure equal voting rights.
Actor David Oyelowo who plays King in Selma told USA Today that the film draws many parallels to what is happening now.
"In 'Selma,' it was voting rights," said Oyelowo. "Initially, it was a black problem. It wasn't until Bloody Sunday, and the world seeing Bloody Sunday, that it became an American problem. It's the same thing in Ferguson. When it was just Ferguson, it was a black problem. But when you see the undeniable injustice of this man being murdered on-screen in the shape of Eric Garner, similarly, the nation rallied."
And Winfrey agreed.
"It's the same thing that James Reeb (a white Unitarian minister who came from Massachusetts to join the 1965 protest and was killed two days later), says in the movie: 'I came because I saw injustice. And I thought it was wrong.' The same reason he came to Selma is the same reason black people and white people all over the country are marching now. They understand that adage of Dr. King is really true: That injustice anywhere is a threat to justice everywhere. And that's why people are marching in the streets," said Winfrey.
"What ('Selma') offers is an opportunity for people, particularly young people, to see that the marches were built out of a strategy and an intention. And that the leadership required to develop strategy and intention is necessary when you really want to make true progress. And there is power in peace," she added.