Oprah Winfrey Not Afraid of Backlash From New Series Exploring Black Megachurch in Soap Opera-Like Drama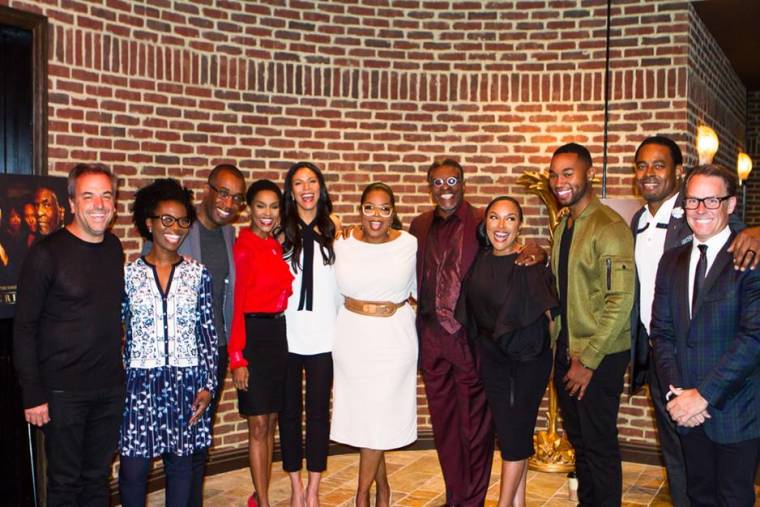 Oprah Winfrey is not worried about receiving backlash from the Christian community once they catch wind of the sex, lies and mayhem featured in her network's upcoming one-hour scripted drama "Greenleaf."
Instead, the 62-year-old media tycoon believes the upcoming series coming to her OWN network is doing something good.
"I'm not worried about it because of our intention. Our intention is to use this as a platform for telling great stories," Winfrey said during a press screening of "Greenleaf" attended by The Christian Post Wednesday. "Our intention is to be mindful and respectful of the church as an institution. Only good can come from that."
The family drama is centered around a Memphis megachurch called Calvary Fellowship World Ministries headed by Bishop James Greenleaf (Keith David, "Enlisted" and "Community") and Lady Mae Greenleaf (Lynn Whitfield, "The Josephine Baker Story") and how Bishop Greenleaf manages both the church and his family life, which is more sinister than godly. Winfrey also has a key role in the series as Mavis McCready, Lady Mae's sister.
Despite the soap opera-like drama and explicit content that could cause some within the church community to be upset, Winfrey isn't too concern and instead shared about her church background.
"I grew up in the black church. I wouldn't be who I am without it," said Winfrey.
"My speaking to the writers room on the very first day and my conversations with Craig were all about, 'look this is not just a church, it's the nurse, doctor, lawyer, psychologist, our therapy, nurturer, support, it's our rock."
She went on to add, "It's everything and so everybody who's writing about it has to understand and know that."
Craig Wright ("Lost," "Six Feet Under") was the driving force behind the story that Winfrey asked him to create out of a desire to further explore the black church through the lens of a primetime drama. Outside of being a television writer, Wright was a minister while creating "Six Feet Under" who Winfrey tapped to view her docu-series about faith, "Belief."
The writer recalled the initial conversation he had with Winfrey about bringing the series to life.
"Over the years, I always wanted to do something about religion. But when you look at the history... at white churches on T.V., it always kind of degenerates into either satire or sanctimony. Either you have 'Touched By An Angel' or you have 'Good Christian (expletive)'," Wright said at the "Greenleaf" screener. "A lot of what made this conversation really appealing to me is that by starting this conversation with Oprah and learning more about the black church and learning from the writing staff and actors, and all of the people that we interviewed and stuff, we got to come up with a show about people whose faith is real."
With the success of the hit FOX primetime drama "Empire" centered around a prominent black family in society, Winfrey wanted to take a similar formula for her OWN network where she could help bring forth a unique type of family drama. Wright was up for the challenge.
"Obviously 'Empire' existed at the time and we were talking. The thought was wouldn't it be fun to do a big brash but grounded one-hour drama about a black megachurch," Wright recalled. "The conversation just grew from there."
While Wright was once a minister, Winfrey sought to educate him about the cultural differences between a black church like those that she grew up in and the white churches he was a part of. For the media maven, it is important to showcase diverse stories on television which she believes can do far greater things than just entertain people.
"For me what I'm most interested in creating are stories that feature people of diversity. People of color, black people of color that allow us to be real," Winfrey said. "I think the way you break down barriers in a society that doesn't see you as fully human is to show your humanity."
While some may question the situations that Wright and his team use to showcase that humanity, the writer insists he does not compromise Christianity with the new show that has already been renewed for a second season.
"The show doesn't treat the faith as satire, it treats it with respect. That doesn't mean you can't tell stories with meaty turns and juicy soapy stuff in it," he said. "It takes the faith of the people really seriously and doing a show about a black church made that possible."
For more information about Greenleaf, visit the OWN network website. The show will premiere Tuesday, June 21 at 10 p.m. ET/PT and Wednesday, June 22 at 10 p.m. ET/PT in a two-part special.