Oregon Umpqua Community College Shooting Latest News Update: 13 Dead, 20-Year-Old Shooter Dead, Name Still Not Released
**UPDATE: Latest reports claim at least 13 people were killed in a school shooting at Oregon Umpqua Community College on Thursday afternoon. The gunman is reportedly dead, and has been described as a 20-year-old lone male shooter.
Ellen F. Rosenblum, the Oregon attorney general, said, "We are just heartbroken here in Oregon that an act of this magnitude has occurred in our state,"
-----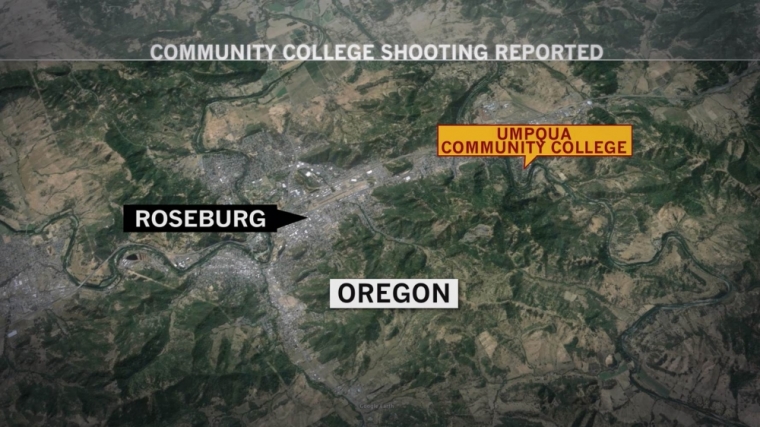 Thirteen people are dead and scores more wounded after a shooter went on the rampage at Oregon Umpqua Community College on Thursday afternoon, October 1, 2015.
Oregon State Police have confirmed that the shooter has been taken into custody and that the incident is now over, although they have also confirmed that at least 13 are dead in the mass school shooting.
Initial reports had claimed that 10 had been killed in the attack, but that number was later revised to 13, with many more reported wounded and seriously injured.
The shooter at Umpqua Community College in Roseburg was "down," a Douglas County fire official has reported, although the Douglas County commissioner told CNN that the shooter had been taken into custody.
At least one of the wounded was a female who had been shot in the chest, various reports are stating.
"Active shooter scene is code 4. Multiple casualties all pt's transported," the Douglas County Fire Department said in a tweet. Multiple ambulances were reported to be on scene.
The Portland Oregonian newspaper reported that officers responded at around 10:40 a.m. local time to reports of a shooting at the college.
Umpqua is a two-year school with an estimated 3,300 full-time students and 16,000 part-time students. Roseburg is a city of about 20,000 people some 260 miles (418 km) south of Portland.
The Oregon Umpqua Community College shooting is just the latest in a spate of school and public mass shootings to hit the United States in recent years.
More details to follow.