Over 1,000 Children Killed, 1.5 Million Wounded for Life as World's Silence Encourages Bloodshed in Syria, Says Human Rights Group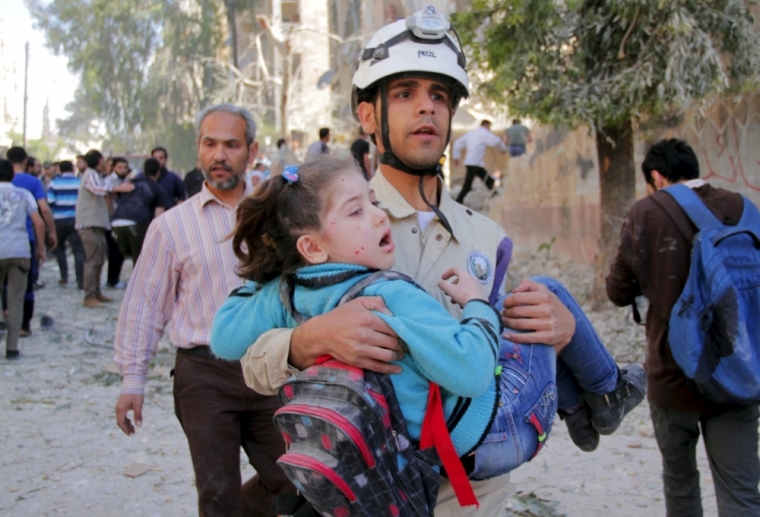 The Syrian Observatory for Human Rights reports that more than 1,000 children have been killed in airstrikes carried out by the Syrian government in the ongoing civil war. The watchdog group adds that 4,879 civilians in total have died in aerial bombardments by warplanes and helicopters, with a U.N. envoy deriding the "unprecedented levels of destruction" Syrians are suffering.
SOHR is keeping records on the civilian casualties in the civil war, which is being waged between the government of President Bashar al-Assad, various rebel forces, and terror group ISIS.
All sides have been accused of causing mass civilian casualties, though SOHR has pointed out that the barrel bomb attacks by the government on cities and towns has been especially deadly to civilians trapped in the cross fire.
Staffan de Mistura, the U.N. envoy to Syria and Iraq, told Reuters that new government airstrikes had caused "unprecedented levels of destruction and many deaths among the civilian population" in the city of Zabadani.
Assad's forces, backed by close to 3,000 Hezbollah soldiers, have been looking to recapture the rebel-held city, which is near the border with Lebanon. Rebel forces, which include the al-Qaeda affiliated groups of Jabhat al-Nusra and Ahrar al-Sham, have retaliated by firing rockets and heavy mortar shells on several villages.
"In both cases, civilians are tragically caught in the middle of the fighting," Mistura added.
Children are especially vulnerable in the conflict, with the BBC documenting another major barrel bomb attack in May in the northern province of Aleppo, which left children and other victims "burned beyond recognition."
"The use of barrel bombs must stop," Mistura stated back then. "All evidence shows that the overwhelming majority of the civilian victims in the Syrian conflict have been caused by the use of such indiscriminate aerial weapons."
The airstrikes have also caused widespread public and private property damage, forcing millions to fee as refugees or become internally displaced throughout Syria.
In June, SOHR reported that the total death toll from the civil war since March 2011 has passed the 320,000 mark, and over 1.5 million people have been wounded.
The human rights group has been highly critical of what it says is the international community's continued silence on the issue, which it blames for encouraging more bloodshed.
"The silence of the International community for the war crimes and crimes against humanity committed in Syria encourages the criminals to kill more and more Syrian people because they have not found anyone that deter them from continuing their crimes that cause to wound more than 1,500,000 people; some of them with permanent disabilities, make hundreds of thousands children without parents, displace more than half of Syrian people and destroy infrastructure, private and public properties," SOHR said in June.