'Overwatch' Latest News: New Mercy, D.Va PTR Abilities, Changes a Bit Overpowered?
The dev team of "Overwatch" is bringing new changes to some of their characters, and so far, none of the other tweaks can measure up to the revamp that Mercy and, to a lesser extent, D.Va has gone through.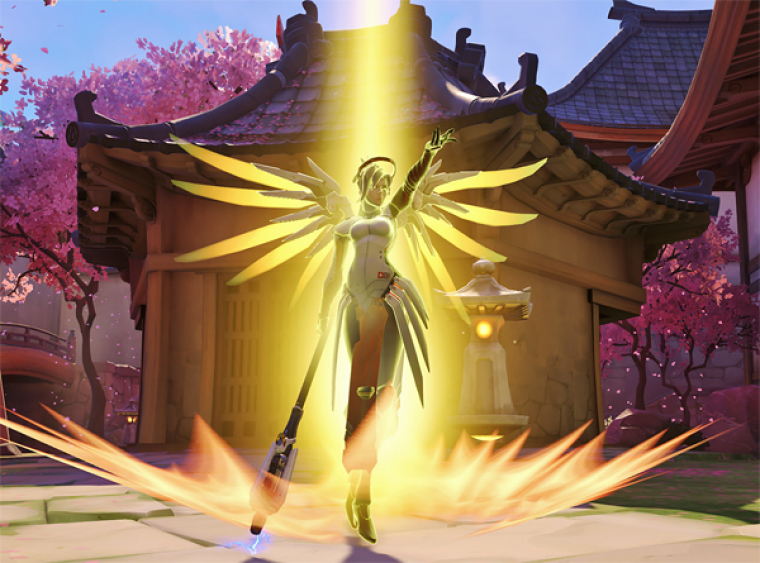 Mercy, best known as a benign presence in the field, may need a name update as well following the changes that went live to the "Overwatch" Public Test Realm announced via a blog update.
The support hero's ability to revive her allies just took a serious blow. Her signature ultimate, Resurrect, is now reduced to a single-target aid that has to be aimed carefully due to its piddling radius of five meters. What's more is that Mercy is no longer invulnerable while this ability is in effect.
Her new ultimate, Valkyrie, may give more than a counterbalance to her Resurrect nerf. She gets right around the issue of her allies dying by sweeping up the enemy team. With no enemies around, there is no need to revive allies — problem solved.
Using her ultimate, which lasts for 20 seconds, Mercy's Caduceus Blaster now has increased damage, faster fire rate, and infinite ammo. She is also able to hover and fly freely, faster, and heal at an increased range. Her regeneration can no longer be interrupted by damage as well.
In this mode, Mercy can also heal multiple allies near her target from longer ranges and can Resurrect every 10 seconds. This ultimate, when used with other offense buffs like Ana's Nano Boost, makes her a nearly unstoppable, highly mobile flyer with infinite ammo, rapid fire rate and amazing range.
Speaking of flyers that can fire at will, D.Va also received a few perks that make her mech even deadlier. Her twin Fusion Cannons can now be fired while flying, and the devs saw it fit to add the new Micro Missiles ability on top of that.
The new ability fires a barrage of rockets that deal damage in a radius as they explode, and they can launch even while flying, shooting, or running.
The video below shows Mercy, not exactly living up to her name, after the changes implemented in "Overwatch" went live in the game's Public Test Realms. The clip was posted by Reddit user Blue-Cloud.