Overweight people more likely to die from COVID-19; lockdowns made things worse: study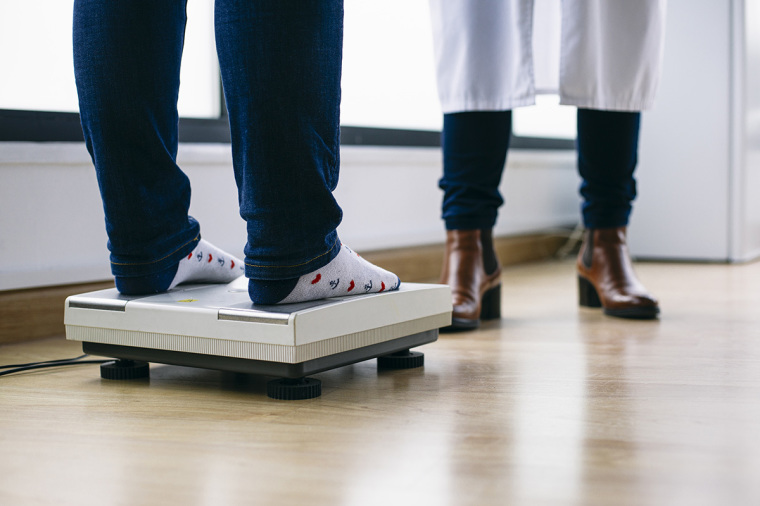 Overweight people are more likely to die or become hospitalized as a result of COVID-19 and lockdown restrictions on treatments for obesity, such as physical activity, made health outcomes worse for people struggling with the disease, according to a new report from the World Obesity Federation.
The report, released this month, highlighted data from several countries ringing the alarm on the risks associated with being overweight, including studies conducted in China, the U.S., U.K., Spain, France, Sweden, Italy, Kuwait, Brazil and Mexico.
"As we show in this report, increased bodyweight is the second greatest predictor of hospitalization and a high risk of death for people suffering from COVID-19. Only old age rates as a higher risk factor. The unprecedented economic costs of COVID-19 are largely due to the measures taken to avoid the excess hospitalization and need for treatment of the disease," President of the World Obesity Federation, John Wilding, and Chief Executive Johanna Ralston wrote in a foreword for COVID-19 and Obesity: The 2021 Atlas.
"Reducing one major risk factor, overweight, would have resulted in far less stress on health services and reduced the need to protect those services from being overwhelmed. We show that in those countries where overweight affects only a minority of the adult population, the rates of death from COVID-19 are typically less than one tenth the levels found in countries where overweight affects the majority of adults. We also show that the drivers of overweight – especially high levels of consumption of processed foods – are associated with mortality from COVID-19," they added.
As of Wednesday morning, Johns Hopkins University & Medicine Coronavirus Resource Center reported more than 117 million coronavirus cases globally. Of the nearly 2.6 million deaths caused by the virus, the U.S. reportedly leads the world with more than 525,000, followed by Brazil which has almost half the number of deaths in the U.S., with just over 265,000. 
"This report shows that in countries where less than half the adult population is classified as overweight, the likelihood of death from COVID-19 is a small fraction – around one tenth – of the level seen in countries where more than half the population is classified as overweight. Of the 2.5 million COVID-19 deaths reported by the end of February 2021, 2.2 million were in countries where more than half the population is classified as overweight," the researchers behind the report said.
The public health advocates from the World Obesity Federation called for overweight to be recognized "as a major risk factor for infectious diseases including respiratory viruses."
"To prevent pandemic health crises in future requires action now: we call on all readers to support the World Obesity Federation's call for stronger, more resilient economies that prioritize investment in people's health," they said.
Researchers cited data from the International Monetary Fund showing that COVID-19 will cause a loss of at least $10 trillion in global output over the period 2020-2021, and accumulating to $22 trillion over the period 2020-2025.
"Based on the U.K. experience, where an estimated 36% of COVID-19 hospitalizations have been attributed to lack of physical activity and excess body weight (Hamer, Kivimati, et al 2020), it can be suggested that up to a third of the costs – between $6 trillion and $7 trillion over the longer period – might be attributable to these predisposing risks," the report said.
It was noted that data collected over the last two decades on the impact of MERS, H1N1 influenza and other influenza-related infections show worse outcomes linked to excess bodyweight when compared with COVID-19.
"An overweight population is an unhealthy population, and a pandemic waiting to happen. In anticipation of the next novel infectious disease, we urge governments and health service providers to adopt the policies outlined in our ROOTS Call for Action," the report said.
It called for the development of obesity prevention strategies to be developed, tested and implemented across the life course, from pre-conception, through childhood, and into older age, including: "primary and secondary obesity prevention efforts to be continued and enhanced for all without discrimination, as a critical means to increase population resilience to pandemics; co-creation and implementation of policies to reduce childhood obesity, working with young people and acknowledging that, for many children, COVID-19 control measures have increased risk; and equity-based obesity prevention strategies focusing on populations most affected by the systemic interactions between COVID-19, poverty and race."
During the height of the COVID-19 pandemic in 2020, preliminary data released by New York City showed the coronavirus killed black and Latino people at twice the rate that it killed white people. Nationwide data also reflected a similar trend.
Researchers urged treatment of obesity through various interventions including, "behavioral, pharmacological, digital, nutritional, physical activity based and surgical interventions." They also called for, among other things, "routine obesity treatment and management services not to be restricted during COVID-19, but instead invested in and prioritized to enhance equitable access."
Various studies show that many people gained weight while enduring lockdowns amid the pandemic. In a King's College London and Ipsos MORI survey of 2,254 people, for example, 48% of respondents said they gained weight during lockdown, and a similar percentage reported feeling more anxious or depressed than usual. Some 29% reported drinking more alcohol.