Paige Patterson Withdraws From Giving Sermon at Southern Baptist Convention in Dallas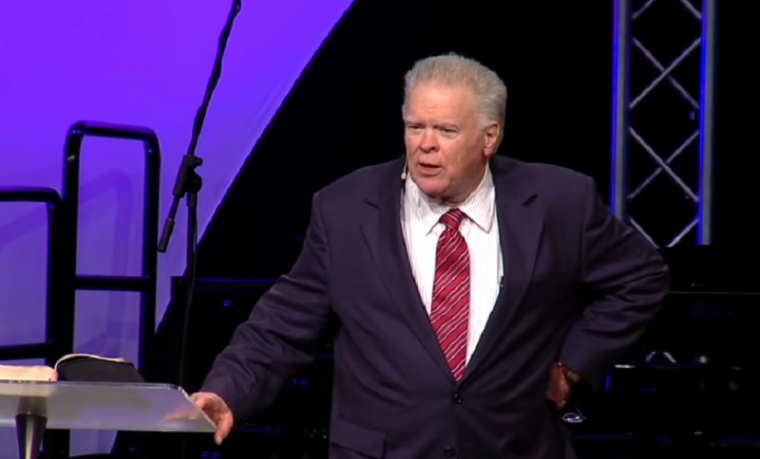 Former Southern Baptist Convention President Paige Patterson, who was recently terminated as president emeritus of the Southwestern Baptist Theological Seminary, has decided to withdraw from giving the sermon at the denomination's annual meeting next week in Dallas, Texas.
The news that Patterson was stepping away from the convention's sermon was announced Friday morning by Scott Colter, his former chief of staff at SWBTS.
"Paige Patterson has announced his kind withdrawal from the convention sermon and evangelism report at #SBC18 in an effort to bring harmony to the Southern Baptist Convention," tweeted Colter.
In a letter sent to SBC President Steve Gaines, Patterson explained that he was recusing himself from delivering the sermon following a lot of "soul-searching before our God" and to "contribute to harmony within the Southern Baptist Convention."
"All of this I do with a heart full of confidence in our God and with the hope that He will favor the Convention and her churches with the benediction of heaven," wrote Patterson, whose full letter was posted by the Baptist Press.
"To those of you who have supported me with love, prayer, and encouragement, in addition to the reasons shared above, please understand this decision as an effort to protect my family as much as I can. Forever I am a debtor to all of you. May our Lord in heaven comfort your hearts and bless your every step."
Kie Bowman, senior pastor of the Austin, Texas-based Hyde Park Baptist Church, will deliver the convention sermon in place of Patterson.
Patterson also noted that he will be resigning his position as chairman of the Evangelism Task Force; vice chair Adam Greenway will give the task force's convention report in his place.
Patterson was terminated on May 30 as president emeritus. Last Friday, Kevin Ueckert, the chair of the SWBTS board of trustees, argued that Patterson had failed to report a rape allegation by a female student in 2003 to local law enforcement when he was president of Southeastern Baptist Theological Seminary in Wake Forest, North Carolina (1992–2003), and when he was later asked about it, he lied.
Ueckert also noted that a female student at SWBTS reported to Patterson that she had been raped in 2015. "Police were notified of that report. But in connection with that allegation of rape, Patterson sent an email to the Chief of Campus Security in which Patterson discussed meeting with the student alone so that he could 'break her down' and that he preferred no officials be present."
Patterson's attorney, Shelby Sharpe of Fort Worth, Texas, said in a media release on Monday, "No reasonable reading of" correspondence from Patterson's personal archives suggested that the student, Megan Lively, "reported a rape to Dr. Patterson" in 2003 [when he was president of North Carolina's Southeastern Seminary] "and certainly not that he ignored" such a report, "as is alleged."
While Lively told The Washington Post that she met with Patterson and a few other seminarians and was asked to provide details of the rape to them, Patterson has said he doesn't recall meeting with her.
Sharpe added, "Patterson first learned of the charges that he allegedly did not report a rape at SEBTS during the May 22 board meeting" of Southwestern's trustees. "Patterson's response was that he had no recollection of a rape being reported to him."
Sharpe further alleged that Lively had "confessed to consensual" sexual conduct and "referred to it as a sin on her part."
On May 23, Patterson stepped down as president of Southwestern Baptist Theological Seminary amid various controversies, including the release of an interview he did in 2000 in which many believed he was advising women not to seek a divorce from the husbands, even if they were being physically abused, after he was asked whether wives should submit to their husbands, even when they are abusive.
"It depends on the level of abuse to some degree. I have never in my ministry counseled that anybody seek a divorce, and I do think that's always wrong counsel," said Patterson in the audio recording.
"There have been, however, an occasion or two when the level of the abuse was serious enough, dangerous enough, immoral enough that I have counseled temporary separation and the seeking of help. I would urge you to understand that that should happen only in the most serious of cases."
The recording generated much backlash, with many SBC leaders and women taking issue with his comments and eventually demanding his resignation as president of SWBTS.
Evangelist Beth Moore, founder of Living Proof Ministries, denounced the idea that divorce was not a remedy for spousal abuse.
"I'm pro marriage. Nearly 40 years of ups and downs to back that up. But when we as a church culture demonize divorce as the worst possible outcome — the sin of all sins — we truly have no clue on this ever loving earth what some people are enduring. We do not submit to abuse. NO," tweeted Moore.
Other comments from Patterson began to surface, including one made in January 2014 in which he recounted that two teenage boys had described a 16-year-old girl as "built" in front of their mother who scolded them for the comment. But Patterson defended the boys' reaction to the mother, saying they were being "biblical."
Patterson later apologized, saying, "I wish to apologize to every woman who has been wounded by anything I have said that was inappropriate or that lacked clarity. We live in a world of hurt and sorrow, and the last thing that I need to do is add to anyone's heartache. Please forgive the failure to be as thoughtful and careful in my extemporaneous expression as I should have been."