Paige Patterson's Attorney Says Comments Cited by SWBTS Board Member Are Being Misconstrued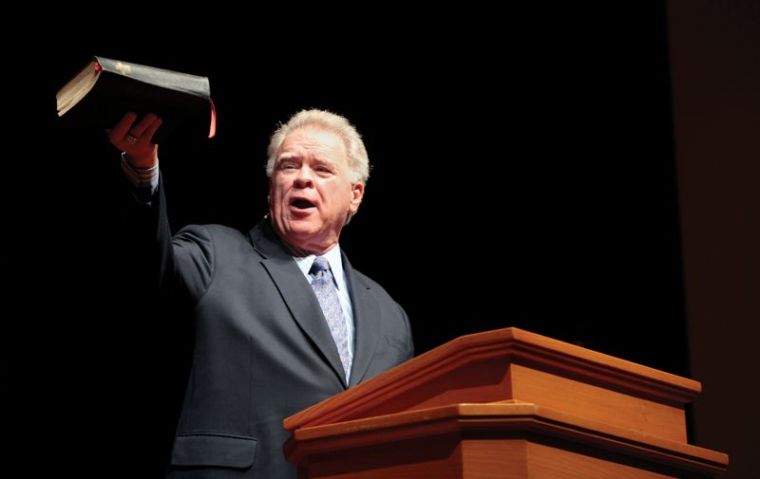 An attorney for Paige Patterson, a Southern Baptist seminary leader who was recently terminated as president emeritus over his alleged handling of and comments on sexual assault victims, has called the allegations a "wide-spread misrepresentation and misinformation."
Patterson, former president of Southwestern Baptist Theological Seminary in Ft. Worth, Texas, was terminated on May 30, and later Kevin Ueckert, the chair of the SWBTS board of trustees, argued that Patterson had failed to report a rape allegation by a female student in 2003 to local law enforcement when he was president of Southeastern Baptist Theological Seminary in Wake Forest, North Carolina (1992–2003), and when he was later asked about it, he lied.
Ueckert also noted that a female student at SWBTS reported to Patterson that she had been raped in 2015. "Police were notified of that report. But in connection with that allegation of rape, Patterson sent an email to the Chief of Campus Security in which Patterson discussed meeting with the student alone so that he could 'break her down' and that he preferred no officials be present."
Patterson's attorney, Shelby Sharpe of Fort Worth, Texas, said in a media release on Monday, "No reasonable reading of" correspondence from Patterson's personal archives suggested that the student, Megan Lively, "reported a rape to Dr. Patterson" in 2003 [when he was president of North Carolina's Southeastern Seminary] "and certainly not that he ignored" such a report, "as is alleged."
While Lively told The Washington Post that she met with Patterson and a few other seminarians and was asked to provide details of the rape to them, Patterson has said he doesn't recall meeting with her. 
Sharpe added, "Patterson first learned of the charges that he allegedly did not report a rape at SEBTS during the May 22 board meeting" of Southwestern's trustees. "Patterson's response was that he had no recollection of a rape being reported to him."
Sharpe further alleged that Lively had "confessed to consensual" sexual conduct and "referred to it as a sin on her part."
The attorney said he did not get the approval for the media release from Patterson. "I did not ask him for any input whatsoever."
Southeastern Baptist Theological Seminary also released a statement on Monday, saying, "At this time there has been no evidence discovered that disputes or discredits our former student's account."
It added, "As public conversation has continued, correspondence regarding the matter has surfaced which were not in any files possessed by SEBTS. Such correspondence should be held in student files under protection of federal privacy laws regarding education records. It is our express desire to acquire these documents as well as any others that should be held by SEBTS."
Sharpe said in the release, "While confident that no SEBTS documents were taken, Dr. and Mrs. Patterson are glad for SEBTS to have copies of any appropriate correspondence that they are unable to locate."
Stuart Cochran, an attorney of the 2015 victim, has also claimed that Patterson told her it was a "good thing" she had been raped and that her future husband wouldn't care if she was a virgin or not, the Star-Telegram reported last week. "He threatened to sic lawyers on her (mother) for questioning his leadership at the school when she asked why the assailant was allowed on campus."
In an interview with the Telegram on Tuesday, Sharpe admitted what Cochran said was true, but sought to defend Patterson. "Would he have said something like good can come out of a bad situation? He might have said that. But he would never abuse those words or anything like that."
Patterson was also accused of encouraging women who are abused by their husbands not to divorce but to pray instead. During a Q&A in 2000, Patterson said he never counseled couples to get a divorce even in abusive situations, but stressed that there were cases in which he advised a temporary separation due to the danger of abuse. He said he even received threats at one point when he helped an abused woman leave her husband.
"... on an occasion during my New Orleans pastorate, my own life was threatened by an abusive husband because I counseled his wife, and assisted her, in departing their home to seek protection. In short, I have no sympathies at all for cowardly acts of abuse toward women," Patterson added.
In an April 29 statement about the controversy surrounding his past comments, Patterson said: "I wish to apologize to every woman who has been wounded by anything I have said that was inappropriate or that lacked clarity. We live in a world of hurt and sorrow, and the last thing that I need to do is add to anyone's heartache. Please forgive the failure to be as thoughtful and careful in my extemporaneous expression as I should have been."
He added: "I would also like to reiterate the simple truth that I utterly reject any form of abuse in demeaning or threatening talk, in physical blows, or in forced sexual acts. There is no excuse for anyone to use intemperate language or to attempt to injure another person. The Spirit of Christ is one of comfort, kindness, encouragement, truth, and grace; and that is what I desire my voice always to be. ..."