8-Y-O Christian Girl Beaten, Left Naked on Street by Muslim Family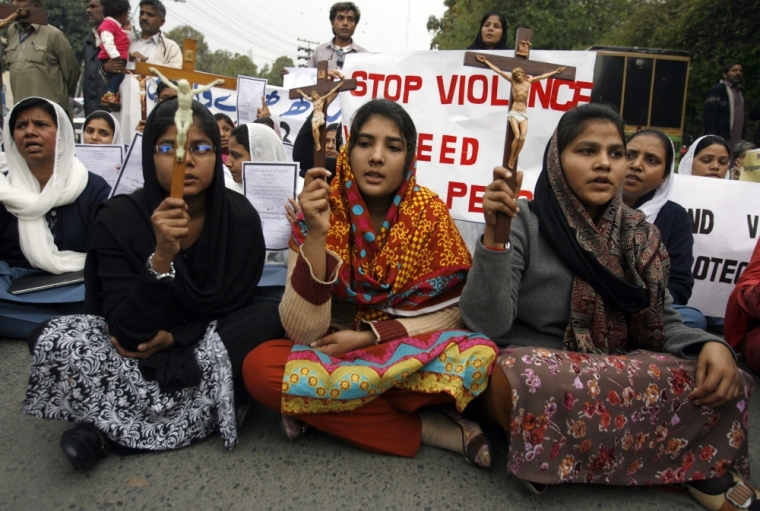 A law group in Pakistan is pressing criminal charges against a Muslim family that allegedly beat and left naked on the streets an 8-year-old Christian girl, in order to punish her uncle.
The American Center for Law and Justice said the affiliated Organization for Legal Aid in Pakistan is preparing the charges, which revolve around a feud the girl's maternal uncle, Iftikhar Masih, is involved in.
According to reports, Masih broke Pakistani taboo due to his relationship with his Muslim girlfriend. The girlfriend's Muslim family was allegedly furious at the interreligious relationship, and decided to punish the 8-year-old Christian girl as retribution.
The Muslim family reportedly kidnapped the Christian girl, named Parwasha, on her way home from school, after which she was stripped naked and beaten.
When the girl ran home to her family, they sought help from the village elders, but did not receive any. The family then went to the local police station, only to find out that the Muslim family had already filed a complaint against the entire Christian family for shaming Masih's Muslim girlfriend.
"Our legal team in Pakistan visited the village and gathered the facts. We are now preparing a petition, seeking an order from the court directing the police to file criminal charges against the assailants," wrote ACLJ Senior Litigation Counsel Shaheryar Gill.
"If our petition is accepted, the charges will be filed under section 354-A of the Pakistan Penal Code, which severely punishes assaults and the use of criminal force against a woman resulting in stripping her and exposing her to public view. We request your prayers for justice for Parwasha and her family," he added.
Young Christian girls and women often face violence that goes unpunished in Pakistan. Earlier in November, the British Pakistani Christian Association revealed that a 13-year-old Christian girl had been abducted, raped, and forced into Islamic marriage.
"Sadly these cases go to Shariah Courts where Christian lawyers are not allowed to defend victims and Muslim lawyers notoriously provide shallow prosecution services meaning Sana is more than likely going to remain in an abusive relationship for the rest of her life," said Wilson Chowdhry, Chair of the BPCA, referring to the 13-year-old girl.
"The majority of the girls abducted in this way are around 12 years of age, so laws regarding the legal age of consensual marriage could save a large proportion of victims; however, failures by the government to enforce these laws suggests that passion for justice is non-existential," he added.
Gill told The Christian Post in a later interview, however, that while a rule does indeed exist that requires lawyers appearing before the Shariah courts to be Muslim, there is an exception in the same rule that says a non-Muslim lawyer may appear if his client is non-Muslim.
Gill added that such cases do not go to Sharia courts anyway, since cases of rape, forced-marriages, kidnapping, blasphemy, assault, communal attacks, murder, are heard by regular courts.
In a separate case, a group of Muslims who gangraped two teenage Pakistani Christian sisters at gunpoint last year were recently acquitted of the charges, after a key witness was allegedly bribed into changing his testimony.
The sisters and their father had been warned against pressing charges, and Muslims attackers fired gunshots at their house after they did so, but without managing to wound anyone.