Pakistani Christian Girl Kidnapped, Raped After Family Refused to Convert to Islam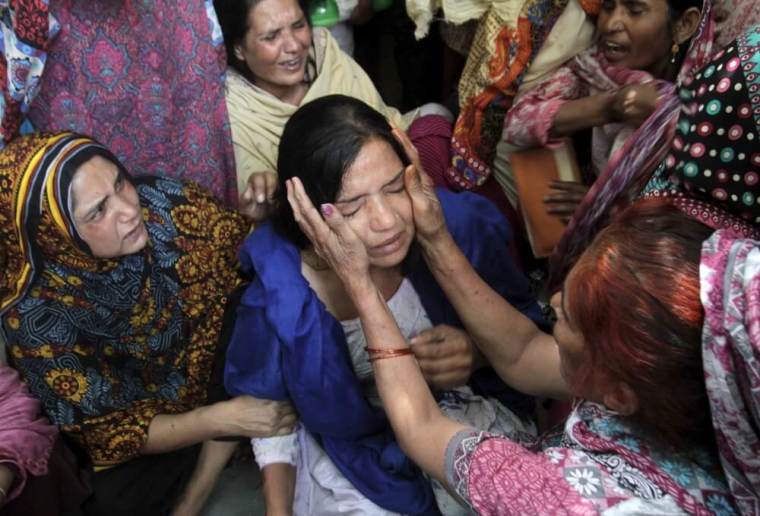 A Pakistani Christian family was tied up and beaten by a group of Muslims who stormed their home last month looking to force the family to convert to Islam. But when the family refused to renounce their faith, their youngest daughter was abducted, raped and has yet to return home.
The London-based charity British Pakistani Christian Association has come to the aid of the Masih family, a family of 10 Christians caught in the grips of bonded labor (modern day slavery) near the city of Kasur in Eastern Pakistan.
According to BPCA, the family lived in a small home made of mud and had been constantly pressured by local Muslims to convert to Islam, as they were the only family in the neighborhood who hadn't embraced Islam.
On the night of Sept. 15, a group of six Muslim men and a Muslim woman stormed the family's home with guns, sticks and metal rods and severely beat members of the Christian family.
The group of intruders hoped that the family's pain and suffering would cause them to reconsider their prior refusals to convert to Islam. Despite the pain, the family again refused to deny Christ and convert to Islam.
After the family refused to convert, the Muslims grew enraged and tied up and blindfolded all but two of the family members.
As the family consists of six daughters and two sons, the Muslims dragged the family's 17-year-old daughter, Jameela, and 20-year-old son, Arif, and threw them into the back of a van parked outside of the home.
Arif, who was eventually able to escape out an open door while no one was looking, told BPCA that he and Jameela were taken to an unknown building in an unknown location that he later figured out was a mansion of some sort.
Arif explained that when they arrived at the mansion, they were both tortured separately. Despite the torture, Arif again refused to convert to Islam. While he could hear the screams of his sister, one of the captors told Arif that other Muslim men were taking turns raping his sister and that all he had to do to save his her was embrace Islam. However, he again refused to renounce Christ.
As the sun rose the next morning, Arif took advantage of an opportunity to escape when his blindfold slipped and he noticed that the door was left open with no one around monitoring him.
It took hours for Arif to return home, as he had to walk most of the way before he caught a ride on a rickshaw.
Having been taken so far from home, Arif is not able to recall the location of the mansion that he and his sister were taken too. He also believes that his sister was taken to another location because he did not hear her screams before he escaped the mansion.
The family is now living in a safehouse sponsored by BPCA in Pakistan. That is the same safehouse that another Christian family trapped in bonded labor stayed at while BPCA worked to secure their emancipation.
"This family is deeply traumatized but safe now. We will now begin the arduous task of helping them rebuild their lives in an atmosphere of safety," BPCA Chairman Wilson Chowdhry said in a statement. "However, the captured daughter Jameela may well never be found and her malicious kidnapping is causing great anguish and despair. [For] Muslim despots [to be able to] kidnap Christian girls with such impunity is a blight on Pakistan's international reputation."
According to a 2014 report by the NGO Movement of Solidarity and Peace, as many as 700 Christian girls in Pakistan are kidnapped and forced into Islamic marriages every year. Many times, the police fail to take action and claim that the child left home and entered into Islamic marriage of her own will.
After the attack and kidnapping, the Masih family first went to their Muslim landlord, who not only told them to talk to the police but ordered them to go back to work the day after. The family attempted to file charges with the police. However, local police in Kasur refused to register the family's case.
The police department was even pressured by Pakistani Sen. Kamran Michael to register the police report, however, Deputy Superintendent Abdul Qayoom Gondal refuses to register the case.
BPCA has hired a lawyer to take on the Masih's case. According to BPCA, the lawyer was able to reach an agreement for the police to do a preliminary investigation. Thanks to corroborating witness statements, it is likely that a First Information Report will eventually be filed.
According to an application for a FIR, the perpetrators involved in the beating and kidnapping are Ghulam Muhamad, Ilyas Muhamed, Irfan Muhamad, M. Boota, M. Ashraf, M. Haroon and Umraan Bibi, all of whom are relatives.
BPCA reports that the assault on the Christian family occurred after the mother, 50-year-old Mumtaz Masih, was recently harassed by Muslim women in the neighborhood who were again looking to convert her and her family to Islam.
Irritated by the fact that her family kept getting harassed, Mumtaz and the women got into a heated exchange in which Mumtaz allegedly insulted the Muslim women, which could have triggered the violent attacks.
BPCA has launched a petition calling on the Pakistani government to end "the mass abduction, rape and forced marriage of Christians and other minority women, through tougher laws and stronger policing protocol."
Additionally, BPCA is accepting online donations to aid persecuted Christians like the Masih family.