Pakistani Christian Teen Imprisoned Over Allegedly Burning Pages of Quran, Could Face Death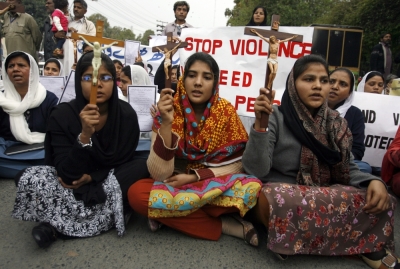 Correction appended
A 16-year-old Christian in Pakistan has been arrested and imprisoned for allegedly burning pages of the Quran, the Islamic holy book, and could potentially face the death penalty under the country's strict blasphemy laws.
Al Jazeera reported on Sunday that police in Jam Kayk Chattha village in central Punjab province arrested Asif Stephen on the night of August 12 on blasphemy charges.
Local police official Pervaiz Iqbal told AFP news agency: "When the police took the suspect into custody and brought him to a police check-post, a crowd of around 200 men gathered outside ... demanding the culprit be handed over to them."
"We then secretly moved the culprit to the police station in Wazirabad where he was interrogated and confessed to his crime."
Stephen allegedly tore off pages of the Quran outside a shrine, which under section 295-B of Pakistan's penal code, could mean the death penalty.
The United States Commission on International Religious Freedom has said that there are 40 people on death row or serving life sentences for blasphemy in Pakistan.
USCIRF ranked Pakistan among the top five countries with the strictest blashpemy laws in the world in a report last week, but warned that such laws are often used to target religious minorities.
"Advocates for blasphemy laws may argue that they are needed in order to protect religious freedom, but these laws do no such thing. Blasphemy laws are wrong in principle, and they often invite abuse and lead to assaults, murders, and mob attacks. Wherever they exist, they should be repealed," USCIRF Chairman Daniel Mark wrote.
Al Jazeera noted that since 1990, at least 71 people in Pakistan have been killed by hardline vigilantes and mobs that have taken blasphemy laws into their own hands.
The cases included one instance in November 2014, when a Christian couple was burned to death by a mob after they were accused of having desecrated the Quran, though the claim was later proven to be false.
Pastors have also reportedly been arrested and tortured in prison. Nawab Bibi, the wife of pastor Zafar Bhatti, revealed in May that her husband is being tortured every day while serving out a life sentence due to blasphemy.
"There have been numerous attempts to kill my husband — he is bullied everyday and he is not safe from inmates and prison staff alike. Every day I worry that I will receive word that he is dead, this worry is making me age very quickly," Bibi told the British Pakistani Christian Association at the time.
Mehdi Hasan, chairman of the Human Rights Commission of Pakistan, has also called on blasphemy laws to be changed or abolished.
"This law is being misused by people to take revenge against their opponents, and it is very easy to charge anyone for blasphemy," Hasan said.
Correction: An earlier version of this story incorrectly stated that the Christian in Pakistan who was arrested is 18 years old. He is 16, according to the British Pakistani Christian Association. The teen's name is Asif Stephen (taking his father's first name rather than last name as his surname), not Asif Massih.