Pakistani Christian Women Suffers Miscarriage After Being Beaten Following Argument With Muslim Women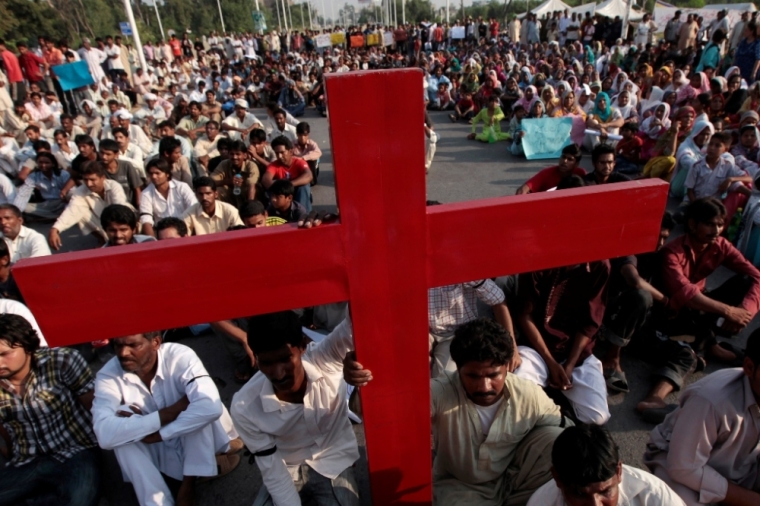 A pregnant Christian women living in Pakistan is no longer expecting her baby after suffering a miscarriage that resulted from being stripped naked and beaten by two Muslim men earlier in November.
Twenty-eight-year-old Christian Elishba Bibi, who was three months pregnant at the time, was stripped naked and beaten by two Muslim brothers, Muneeb and Mobeel Gondal, after she allegedly had an argument over her faith with the brothers' mother and sister on November 16 in the Sheikhupura district in the Punjab province.
UCANews reports that Bibi told police that after she had an argument with the two muslim women, the two brothers proceeded to beat her with iron pipes, stripped out of her clothing and then dragged her into the street, where she later fell unconscious. She additionally reported that the two men also robbed her of her cellphone, gold necklace and the equivalent of about $10.
Although Bibi told authorities that she was rescued after fellow Christian neighbors called the police, the British Pakistani Christian Association (BPCA), a Pakistani Christian advocacy group, reports that a local group of Muslims gathered around to watch the beating and to also mock "the disgraced Christian."
The BPCA report further stated that the group of Muslims "felt no remorse or pity" and even threw stones at Bibi as she walked home and tried to cover her-half naked body with what little was left of her clothing.
"This disgraceful attack was compounded by the further humiliation and hatred meted out by other members of the Muslim community, in a town with a history of violence against Christians," BPCA Chairman Wilson Chowdhry said. "Asia Bibi underwent a similar degrading attack only miles away from this poor victim and the situation seems to be getting worse."
Aslam Pervaiz Sahotra, the chairman of Human Liberation Commission of Pakistan, claims the attack against Bibi was clearly motivated by her Christian faith. Sahotra told UCANews that the Muslim family had attempted to persuade Bibi to convert to Islam.
Sahotra was critical of the police, who he claims have only conducted a "half-hearted" investigation and still haven't arrested the two brothers even though the attack happened over two weeks ago.
Last week, Christian activists staged a protests outside of the Lahore Press Club and the local police station where they demanded that the Gondal brothers be held accountable for their actions. But Chowdhry claims that the protest had no effect because the police "tried to bully the Christians into ending their peaceful protest."
Although a number of Christians have filed lawsuits against the Gondal brothers, Sahotra notes that Christians who have filed lawsuits are being threatened with mob violence.
"We are now receiving reports that Christian families are being told to withdraw the case or face mob violence on false blasphemy charges," Sahotra said.
Bibi's beating is the latest incident in a long line of blasphemy-related Human Rights abuses against religious minorities in Pakistan, which consists of 97 percent Muslims. Pakistan's modern public trend of religious intolerance has caused hundreds of religious minorities to be jailed, many to be killed and religious institutions to be burned and destroyed.
Bibi's incident comes just three weeks after a Christian couple was beaten by a mob of 1,500 Pakistani Muslims and were later burned alive inside a brick kiln because they had allegedly torn pages out of the Koran. The family of the Christian couple claims that they too have been threatened with violence and bribed to drop their lawsuit.
Two days after the murder of the Christian couple, a Shiite Muslim was chopped to death by a Pakistani police officer wielding an axe after allegedly making a blasphemous remark about the companions of the Prophet Muhammad.