Pakistan's 'Pro-Taliban' Gov't Encourages Violent Muslim Attacks Against Christians, Fmr. Parliament Member Says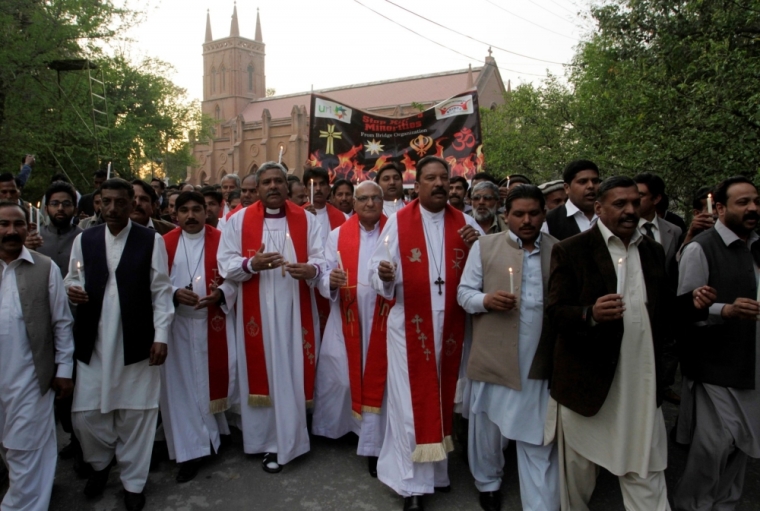 Human rights activist Pervez Rafique, who's also a former minority member of parliament representing the Pakistan People's Party in Punjab, said it will be hard to change Pakistan's blasphemy laws, which he said are upheld by an Islamic government that has "strong relations" with Muslim extremists.
Such blasphemy laws are often used to persecute minorities, and Christians in the country have been facing a growing wave of violence, with a Protestant church destroyed and six Christians beaten by armed men in Chakwal in Punjab in an incident on Thursday.
Rafique told The Christian Post in an email interview on Thursday that those presently in power in Pakistan are known for having a "pro Taliban, pro Islamic ideology" and said that they have "strong relations with Muslim extremist organizations."
He pointed out that 80 percent of blasphemy accusations against Christians have occurred in Punjab, where Christians have been violently attacked on a number of occasions.
Fides News Agency reported that the latest attack occurred in Chakwal, when pastor Suhail Masih and five other members of the Protestant church were beaten by armed men who stormed the house of worship. Reports have said that Masih and the other church members were being accused of "proselytism and conversions of Muslims," while the attack is believed to have been instigated by a local imam.
While Christians in the community protested and called for police to take actions against the attackers, so far only two men were arrested but later released by authorities.
Some Christians in Pakistan, such as human rights lawyer Sardar Mushtaq Gill, have said that blasphemy laws, which Muslim mobs sometimes take in their own hands, need to be abolished.
Nasir Saeed, director of the NGO Center for Legal Aid Assistance and Settlement, told Fides: "No one should be allowed to take the law into their own hands. Mass attacks against entire communities show that hate against Christians is growing. The blasphemy law is widely used for revenge, but the government has not yet managed to take steps to stop the misuse of the law and ensure security for Christians. If those responsible are not punished, those who attack with impunity Christian neighborhoods and churches are encouraged."
Rafique revealed in his interview with CP that back in December 2010 he was the only parliamentarian who submitted a bill at the Punjab assembly aimed at stopping the misuse of blasphemy laws. The bill was never taken up, however, and instead he received threats and warnings from the law minister at the time.
"It's hard to change or relax the laws," he said, "especially the Blasphemy law 295-A-B-C of Pakistan's penal code." He noted that although to change or abolish laws the parliament needs only simple majority, but to amend the constitution or any article of the constitution it needs two third majority. The present government that supports these blasphemy laws has enough support to continue upholding them.
The former minority parliament member identified several reasons for why he doesn't believe the blasphemy laws will be relaxed soon, and said that there is a "lack of political will and religious fear and mindset," alongside the "presence of an Islamic ideology council," which "will never ever allow changes in the blasphemy laws."
He said the problem is also in civil society, where media and progressive-thinking people are afraid "to take bold stands against the blasphemy laws," which he called a "naked sword on Christians and other communities."
As an example Rafique gave former Pakistan Minister Shahbaz Bhatti and Punjab Governor Salman Taseer, who he said were "close friends" of his who spoke out against the blasphemy laws, but were both assassinated for their opposition in separate incidents in 2011.
He said that in the present situation and circumstances, "there is no way" that Christians and human rights defenders will be able to "bend the government to abolish or amend the blasphemy laws."
Rafique said, however, that the international community has an important part to play in influencing the government, and said that it might even be the "only hope for persecuted communities in this bleak situation."
The human rights activist offered that the United Nations needs to remind Pakistan that it is a signatory of the universal declaration of human rights, and therefore "is bound to grant and protect the fundamental rights of its religious minority citizens," as stated in the declaration.
He said that sanctions need to be imposed on Pakistan if it fails to remove clauses and laws that do not conform with the U.N. charter of human rights and the rule of a truly democratic society.
Rafique added that the United States and the European Union especially should reconsider how they provide financial aid to Pakistan's government, and ask it to "protect the lives of innocent Christians and other religious minorities."
He suggested that the international community will furthermore need to demand that Pakistan's government takes strong actions to "curb the religious terrorism" and "ban extremist Muslim organizations from the country."
Rafique said that the international community needs to "support and encourage Christian and progressive leadership in Pakistan" in the mission to to build a "progressive and liberal country" that is free from the theocratic state.
He also called for a special refugee quota for Pakistani Christians and other religious minorities who have suffered religious persecution, he asked other governments to pile diplomatic and political pressure on Pakistan, and said that people should offer prayer for the troubled country.