'Palau the Movie' to Showcase Importance of Mentors in Life of Legendary Evangelist Luis Palau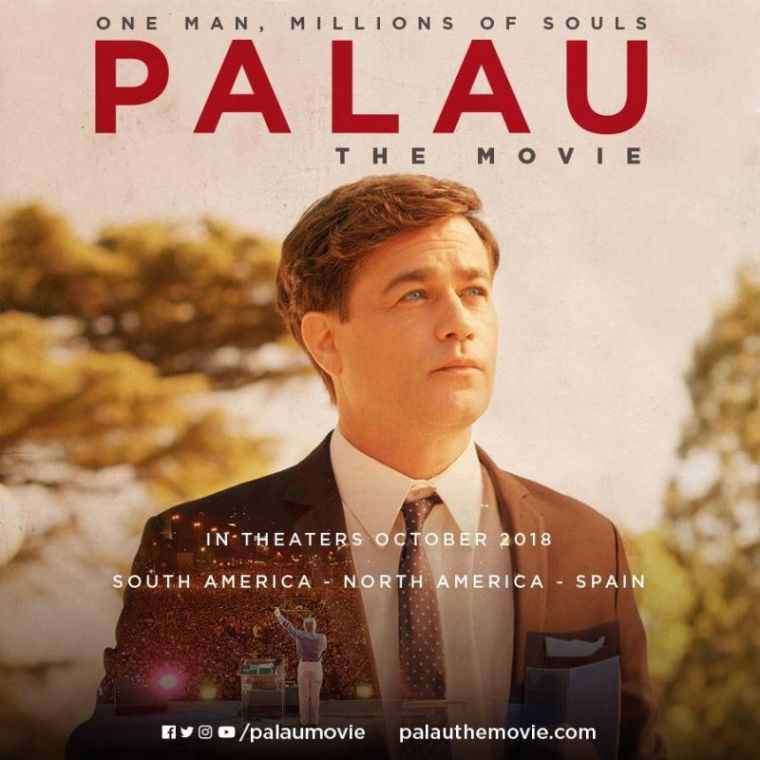 NASHVILLE — Actor Scott Reeves, actor Daniel Roebuck and minister Andrew Palau spoke with The Christian Post about the upcoming film "Palau the Movie," and the influence that discipleship and mentors had on the life of one of the greatest evangelists of our time, Luis Palau.
The film began production before the shocking announcement that beloved world-renowned evangelist Luis Palau was diagnosed with stage 4 lung cancer earlier this year. It's the autobiographical film of Palau's life, which began in Argentina when he was discovered as a young street preacher who would go on to impact the world for Jesus.
In "Palau the Movie," Reeves ("Nashville") plays Palau's mentor, Ray Stedman. The late evangelical Christian pastor of Peninsula Bible Church in Palo Alto, California, found Palau on that street corner in Argentina. He saw something special in Palau and offered him a pathway to the United States where he would later attend Dallas Theological Seminary.
"Luis has fire and that was apparent from a young age and Stedman knew that if that was channeled in the right way then he could do great things and become who he is today and reach the amount of people he reached," Reeves told CP of Stedman's influence on Palau's life.
Andrew Palau, one of Palau's two sons and an evangelist in his own right, added, "Pastor Ray Stedman mentored hundreds of men that same way, he was a real man's, man and he was such a kind, loving guy."
Reeves, Andrew and Roebuck described Palau's mentor as someone who really lived up to his name because he was in fact very "steady."
Roebuck ("Lost," "The Fugitive") plays the character of another strong male figure in Palau's life, Fred Roddick.
"Like Ray Steadman, the character I play to Luis is someone to help guide his temper," Roebuck said. "Everybody's really a person. We're doing this movie about this guy, who's really a guy!"
They admitted that it's not often men come together to help other men out because of pride and ego.
According to statistics by WACMM, "90 million men are not involved in any kind of discipleship. Only 6 million men are involved in discipleship — 1 out of every 18 men. More than 90 percent of American men believe in God, and five out of six call themselves Christians. But only two out of six attend church on a given Sunday."
In addition, "Fewer than 10 percent of U.S. churches are able to establish or maintain a vibrant men's ministry and fewer than 1 percent of churchgoing men participate in any sort of ongoing men's ministry program."
However, Palau's influence shows what can happen when men come together to build each other up as they share the Gospel with the world. Another popular evangelist who was influential in Palau's life after others poured into him was the late Billy Graham.
In 1934, Mordecai Ham, a Kentucky-born Baptist revivalist inspired Graham to give his life to Jesus after hosting a revival in Charlotte, North Carolina. Later, Graham's mentor and academic dean, John Minder, gave Graham the scope to preach his first sermon during a Baptist conference center in Palatka, Florida. Those moments were part of the great legacy Graham leaves behind because he would later become the most renowned evangelist of his generation and even lend his voice to inspire Palau as well.
"Mr. Graham, we honor him, we're rejoicing with him, he's there (in Heaven) and it's for this very reason that we preach. I'm a preaching evangelist now and doors are open but we have these great examples not just for me but all of us," Andrew maintained. "We see that God can take even a fatherless boy in Argentina with zero, but with God's call and with friends that are willing to sacrificially serve — the thing that Ray Stedman and friends did for dad, it's amazing — that dad would find men that would help him focus on the principles of the Bible."
He added, "One of the great things that I love about the film is the way that Mr. Graham did influence my dad. He's just a picture of so many of the tens of thousands he impacted."
When asked what advice Reeves, Roebuck and Andrew would give other men trying to break the walls of pride and division which work hard to keep men from connecting, they all admitted it's something that is difficult but so necessary.
"I think that we're here to work in concert with one another," Roebuck said. "It's not about an individual, we gotta work together to be fully human. I mean, we're actors and we have egos, but sometimes you gotta get out of yourself. The purpose of this (movie) is that we all work together and bring God's light."
The longtime entertainer said when he trains actors in Hollywood he often asks them whether they go to church or not because it's always an indication of how open they are to be working together with others.
"It's a community that you belong to where you are reminded that you are not the center of the world. That is hugely important, I think," he stated.
Reeves interjected: "It takes me back to iron sharpening iron and you have to come together as men to do that. I think it's so important, you know, it is hard for men because we're also put in a position of having to be a certain way and having to lead and the fleshly side of us as men sometimes could get the best of us and before you know it, you start to think pretty highly of yourself, individually, it is a struggle constantly."
Roebuck added: "It is interesting, we live in a world where they're saying, 'We're all the same.' And as a father, I say, 'We're not the same because if you hear a noise downstairs I get up and I go take the first bullet. While you're dialing 911 I'm gurgling my last breath.' That is what we do, that is what we're called to do!"
"A mother nurtures and a father protects. So we need to realize we're nurturing, too, we have to be nurturers of each other, remove our ego and just remind people that God's path is the path, not our own. So if we just keep pushing each other back toward that goal, I think our whole world's going to be better," he concluded.
"Palau the Movie" will be released in Latin America and the U.S. in October. For more information, visit the film's Facebook page or PalautheMovie.com.