Parade magazine claims Jessa Duggar had 'life-saving abortion' after TV star suffered miscarriage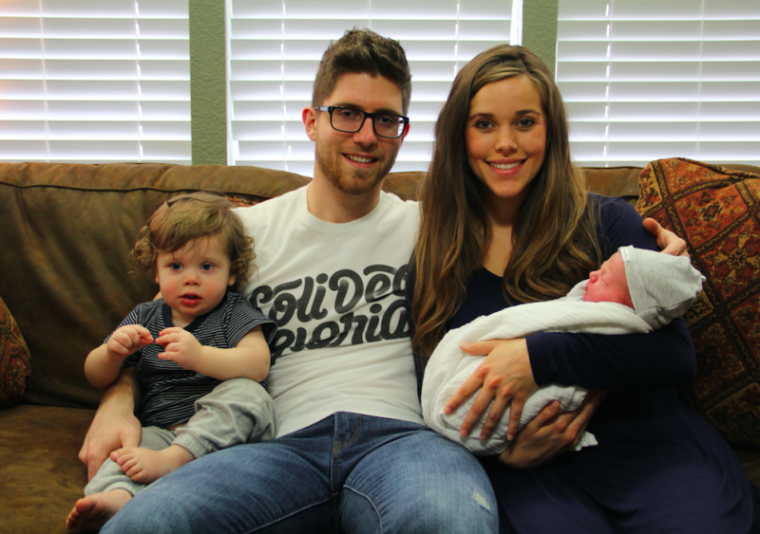 A popular entertainment magazine that initially claimed reality TV star Jessa Duggar Seewald had a "life-saving abortion" has changed its headline after pushback over the conflation of miscarriage management and elective abortion. 
The former cast member of "19 Kids and Counting" revealed in a Friday YouTube video titled "Heartbreak Over the Holidays" that she had undergone a dilation and curettage to remove tissue from the uterus. Duggar miscarried her fifth child and had to have the procedure to remove the baby's remains.
When Parade first reported on the story Sunday, its online headline read, "Jessa Duggar Reveals She Had a Life-Saving Abortion in Emotional New Video." As of Wednesday, the headline reads "Jessa Duggar Reveals She Had a Miscarriage in Emotional New Video." 
In addition to Parade, the far-left outlet, Jezebel, reported Monday that the Christian celebrity and mother of four had an abortion but refuses to say the word.
"I hope Duggar Seewald finds support and solace for her abortion story. I hope she also realizes the family of abortion-havers she's joining, including those who believe in a higher power, too," Jezebel journalist Caitlin Cruz wrote. 
Parade did not immediately respond to The Christian Post's request for comment about the reason for the alteration before press time. 
In the video, the 30-year-old Duggar, whose family is known for its staunchly conservative Christian beliefs, said she visited the doctor after noticing that she started bleeding. After reviewing the ultrasound, a doctor informed the Christian reality star that the "sack looks good, but the baby does not."
"Nothing could have prepared me for the weight of those words in that moment," Jessa said. "At that moment, I was just in complete shock. I didn't have words. I just immediately started crying." 
The baby died three weeks before Duggar had the dilation and curettage procedure, something that is known as a "missed miscarriage." This is when the unborn child dies, but a woman's body does not recognize the loss or expel the pregnancy tissue, which can lead women to continue experiencing pregnancy-related symptoms. 
Due to her history of hemorrhaging, the doctors determined that the dilation and curettage was medically necessary. Medical professionals worried that letting Duggar pass the baby at home could lead to health complications. 
"I was thinking of Job and how when he lost everything that he held dear — his kids, everything — in that moment, he was still able to say 'God is good,'" Duggar said. 
In a statement to CP, Dr. Ingrid Skop, an OB/GYN and senior fellow and director of affairs for the pro-life research organization Charlotte Lozier Institute, urged Parade to apologize to Duggar publicly.
Skop has delivered over 5,000 babies and supported thousands of women who have experienced pregnancy loss. 
"Parade chose to misrepresent Jessa Duggar Seewald's tragic pregnancy loss and in doing so rekindled the hurt, sadness and grief experienced by thousands of women, their partners, and their families every year. Parade's decision places the online media outlet's pro-abortion ideology over basic human empathy," Skop wrote. "There is nothing pro-woman about their coverage." 
The OB/GYN emphasized that not only has she spent over 30 years supporting women experiencing similar tragic circumstances, but she has also lost a child to a miscarriage. 
"I understand intimately the pain of her loss and pray for her emotional healing," Skop stated.
"Jessa's video clearly describes a spontaneous, or natural, miscarriage. Parade equated that tragedy with an induced abortion, which is the intentional killing of an unborn child," the doctor wrote. "Although the procedures for treating a miscarriage and performing an induced abortion are often the same, most Americans know that the two actions are vastly different morally, psychologically, and emotionally."
Chuck Donovan, president of Charlotte Lozier Institute, also criticized Parade and other media outlets for their "gross insensitivity." 
"Even as Parade conflates the heartbreaking loss of a miscarriage with the intentional violence of an induced abortion, nearly 3,000 community-based pro-life pregnancy centers nationwide are showing what it means to actually support women, providing incredibly effective and meaningful resources to women facing challenging pregnancies and challenging circumstances," Donovan stated.
The activist called on mainstream media outlets to visit pregnancy centers and "witness genuine human empathy in action." 
As CP reported, the American Association of Pro-Life Obstetricians and Gynecologists (AAPLOG) released a memo refuting the claim that abortion bans outlaw medical treatment for miscarriages and ectopic pregnancies, an argument that gained more focus following the overturn of Roe v. Wade last summer. 
"The difference between a miscarriage and an elective abortion is clear. In a miscarriage, the baby has already died and therefore any treatment of a miscarriage would not be an abortion. The procedures and treatments used for miscarriage management are not prohibited by abortion restrictions," the fact sheet explained.
"An ectopic pregnancy requires removing an embryo to save a mother's life so that both lives are not lost. This life-saving treatment is not prevented by any current law restricting or banning abortion."