Religiously diverse parents sue Maryland school district for right to opt kids out of LGBT lessons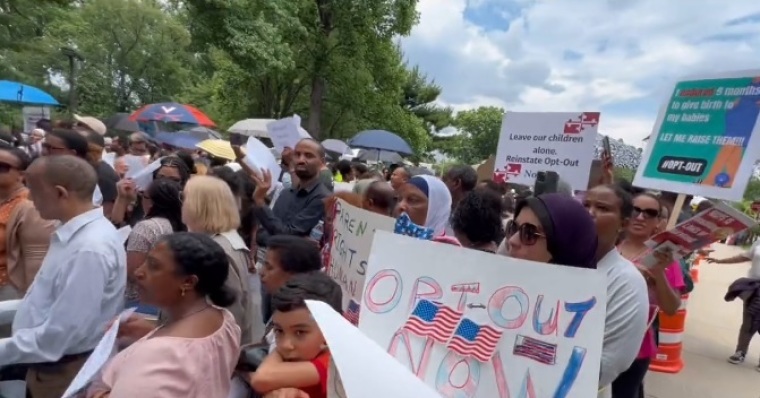 A group of interfaith parents rallied together as oral arguments began as part of a lawsuit seeking to restore their right to shield their children from sexual LGBT materials after a Maryland school district said they could not opt their children out of lessons they find offensive and inappropriate for elementary school aged children.
Parents from Christian, Muslim and Jewish backgrounds have accused Montgomery County Public Schools (MCPS) of denying them the right to determine the religious upbringing of their children. The parents are concerned that certain books allowed in the schools expose their children to controversial ideas about identifying as the opposite sex and sexual experimentation. 
Eric Baxter, vice president and senior counsel for the Becket law firm, told The Christian Post that books at the center of the lawsuit were for students in Pre-K and elementary-school levels. According to Baxter, two of the books parents object to include Pride Puppy and Uncle Bob's Wedding. 
Becket filed a federal lawsuit in May in the U.S. District Court for Maryland on behalf of parents' right to decide the types of materials their children are exposed to and make the choice to opt them out of such lessons. The parents sued MCPS Superintendent Monifa McKnight and school board members over a decision not to notify or allow parents to opt their children out of LGBT materials in class.
The reason why the district decided parents cannot shield their children from certain content, according to Baxter, is that some may find it "hurtful" if these students are allowed to opt out. 
Baxter noted that Maryland requires parents to be notified or have the option to opt their children out of lessons on family life and human sexuality if the parents feel the subject matter is inappropriate. The attorney said that the district is arguing that the requirement only applies to health classes, not English or language arts. 
The Becket attorney disagrees with this analysis, asserting that schools cannot just define materials on gender and sexuality as part of an English lesson to work around the requirement. 
"The law says any family life and human sexuality objectives," he said. "And there's no question that the objective is to promote a specific ideology of gender and sexuality."
Montgomery County Public Schools did not immediately respond to The Christian Post's request for comment.
Oral arguments for the case began Wednesday, with members of Kids' First, an association of parents and teachers that support parental rights, holding a rally in the parking lot outside the court beforehand.
"It's an important case for respecting the right of children to have the guidance of their own parents, and school boards don't have the right to cut children off from their parents," Baxter told CP. 
The attorney also emphasized the importance of religious diversity in the United States, noting that Montgomery County is a reflection of that diversity, citing the different faith backgrounds of the parents involved in the lawsuit. Baxter argued that there must be acknowledgment and respect for diversity by providing religious accommodations, even if the beliefs are controversial.
"You know, there's going to be some difficult issues where people feel strongly," he said. "But that's the point of the First Amendment, which is to say we're required to respect the religious beliefs we don't like or agree with, and that allows the parties to feel like they are part of our democratic system."
Baxter explained that Becket asked the judge to reinstate the opt-out option throughout the course of the lawsuit, and has asked the judge to release a decision about that accommodation by Aug. 28, the start of the 2023-'24 school year. Regarding how long litigation might take before the case is decided, Baxter indicated it could take four to five years.
The attorney also clarified that these parents are not advocating for the banning of LGBT books, they just want to have the right to shield their children from content they believe is inappropriate.
As CP reported last month, a group of interfaith parents demonstrated in Montgomery County to demand that the district restore its parental opt-out option. Zainab Chaudry, director of the Council on American-Islamic Relations in Maryland, told CP the district introduced the LGBT books last fall. 
While MCPS initially honored parents' requests for their children to be excused from studying certain books, the district started requiring all students to participate in LGBT-inclusive lessons in March.  
"It's deeply troubling on many levels because it sets a very dangerous precedent when it comes to religious freedom for all communities," Chaudry said. "This is not a Muslim issue; this is not a Jewish issue or a Christian issue. This is an issue for any student of any faith who chooses to be opted out of content that conflicts with their religious beliefs," she continued.
"This sets a very dangerous precedent for that, and it's actually fuel for more bigotry in some cases because, unfortunately, people feel that the school system is not receptive to their voices."