Passion 2016: Apologist Ravi Zacharias Says American Song Led Him to the Bible in India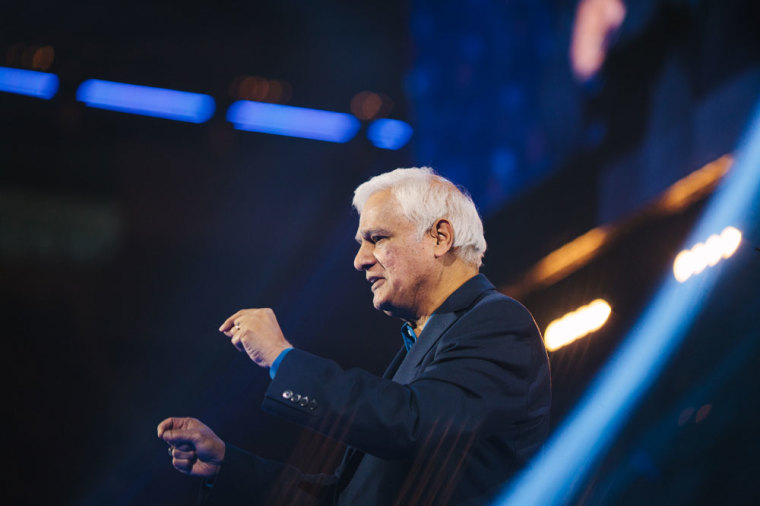 Apostles Peter, Thomas and Paul saw the Risen Christ, which transformed their lives, and they sacrificed their lives for Him, he said.
He then recited a poem written by an American soldier in Vietnam in the early 1970s:
"Lord God, I have never spoken to you, / but now I want to say how do you do? You see God they told me you didn't exist, / and like a fool I believed all this.
"Last night from a shell hole I saw your sky, / I figured right then they had told me a lie. Had I take time to see the things you made, / I would have known they weren't calling a spade a spade.
"I wonder God if you'll take my hand, / somehow I feel that you'll understand. / Funny how I had come to this hellish place, / before I had time to see your face.
"I guess there really isn't much more to say, / but I'm sure glad God that I met you today. I guess zero hour will soon be here, / But I'm not afraid since I know you're near. / The signal, well God I'll have to go, / I like you lots, I want you to know.
"Look now this will be a horrible fight, / who knows I may come to your house tonight. Though I wasn't friendly to you before, / I wonder God if you'd wait at your door. Look I'm crying, I'm shedding tears,
I'll have to go now, God, goodbye. / Strange now since I met you, / I'm not afraid to die."
Zacharias also shared excerpts from Will Durant's book, The Story of Civilization:
"There is no greater drama in human record than the sight of a few Christians, scorned or oppressed by a succession of emperors, bearing all trials with a fierce tenacity multiplying quietly, building order while their enemies generate chaos, fighting the sword with the Word, brutality with hope, and, last defeating the strongest state that history has known. Caesar and Christ had met in the arena, and Christ had won."
He concluded with a quote by a British journalist, Malcolm Muggeridge:
We look back upon history, and what do we see? Empires rising and falling. Revolutions and Counterrevolutions. Wealth accumulated and wealth disbursed. Shakespeare has written of the rise and fall of great ones, that ebb and flow with the moon.
I look back upon my own fellow countrymen, once upon a time dominating a quarter of the world, most of them convinced, in the words of what is still a popular song, that the God who made them mighty, shall make them mightier yet.I've heard a crazed, cracked Austrian announce to the world the establishment of a Reich that would last a thousand years.
I have seen an Italian clown say he was going to stop and restart the calendar with his own ascension to power. I've heard a murderous Georgian brigand in the Kremlin, acclaimed by the intellectual elite of the world as wiser than Solomon, more humane than Marcus Aurelius, more enlightened than Ashoka. I have seen America, wealthier and in terms of military weaponry, more powerful than the rest of the world put together, so that had the American people so desired, they could have outdone a Caesar, or an Alexander in the range and scale of their conquests. All in one lifetime, all in one lifetime, all gone. Gone with the wind.
England part of a tiny island off the coast of Europe, threatened with dismemberment and even bankruptcy. Hitler and Mussolini dead, remembered only in infamy. Stalin a forbidden name in the regime he helped found and dominate for some three decades. America haunted by fears of running our of those precious fluids that keeps their motorways roaring, and the smog settling, with troubled memories of a disastrous campaign in Vietnam, and the victories of the Don Quixotes of the media as they charged the windmills of Watergate. All in one lifetime, all in one lifetime, all gone. Gone with the wind.
The focus of the Passion Conference, founded in 1997, is to unite "students in worship and prayer for spiritual awakening in this generation." The theme verse is from Isaiah 26:8: "Yes Lord, walking in the way of Your truth we wait eagerly for You, for Your name and renown are the desire of our souls."
"While we host large gatherings, Passion is more than a conference. More than an event. More than a feeling. Passion is you and me saying goodbye to lesser things and saying yes to Jesus, the One whose name is above every name," the Passion Conference says on the event's website.