Pastor, Convert Drown During Baptism at Dam Where Several Others Have Died Performing Christian Rite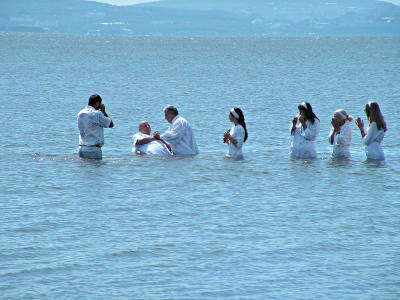 A pastor and a recent convert he was attempting to baptize drowned before 200 witnesses this week at a dam in Eastern Uganda. According to local news reports, at least seven other deaths have occurred at the same dam, also while baptisms were being performed.
Several media outlets in Uganda have reported that a Pentecostal pastor of Redeemed Gospel Church lost his life along with a woman while performing her baptism before hundreds of other church members in the dam on Tuesday evening. Conflicting news reports list the pastor's name as either Julius or Wilber Mukisa, and the female victim as Farida or Jennifer Mugolofa.
The Mugoya Dam, located in Nakalama village in the Iganga district, is reportedly a popular choice for Christian baptisms, despite other believers having lost their lives in its waters performing the same rite.
NewVision.com reports that witnesses saw a "huge mass of water" overtake Pastor Mukisa and Mugolofa during the baptism, and were forced to watch as the pair struggled and succumbed to the waters. Another pastor, Joseph Akwasibwe from Kampala, identified in the Daily Monitor as Mukisa's lead pastor, had been helping with the baptism ceremony when the massive wave hit.
"The lead pastor was standing on the shoreline as his colleague went on with the baptism ceremony. He (Pastor Mukisa) held the head of the woman and as he pushed her into the waters for the third time, he lost grip and the two drowned," Abbas Zikulabe, an eyewitness, is quoted as telling the Daily Monitor.
Local residents claim seven other people have died in the dam during full emersion baptism ceremonies over the last two years. Officials were investigating the latest drowning deaths.
Ugandans learning of the news on social media expressed remorse over the deaths of Pastor Mukisa and new believer Mugolofa.
While many simply wrote "R.I.P" or "rest in peace," one commenter offered a prayer.
"They died in faith. May the Almighty Father in heaven grant them a safe place with Him in Jesus name I pray. Amen," the commenter wrote.