Pastor Donnie McClurkin 'Uninvited' From MLK Memorial Concert Over 'Ex-Gay' Testimony?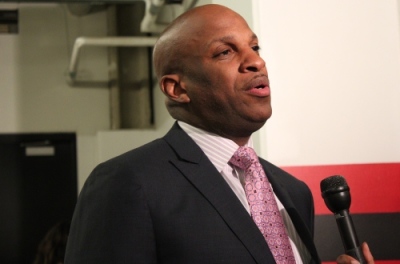 Donnie McClurkin, award-winning and internationally celebrated gospel recording artist and Christian minister, has claimed that he was uninvited from a MLK Memorial concert on Saturday in Washington, D.C. because Mayor Vincent C. Gray heeded the demands of gay rights activists who wanted him dropped from the event marking the 50th anniversary of the March on Washington. McClurkin has previously shared that he believes God delivered him from the "sin of homosexuality" and that people with unwanted same-sex attractions can change.
McClurkin, pastor of Perfecting Faith Church in Freeport, N.J., stated in a Socialcam video: "The mayor of D.C. uninvited me from a concert that I was supposed to headline today in the Washington (National) Mall commemorating...this 50th anniversary of the Civil Rights Movement. I was asked not to attend although I'm considered the headliner of the concert, and advertisements had been circulated and the churches as well as the community are prepared to come out by the tens of thousands into the Washington Mall (area)."
The New Jersey minister went on to reveal that he had received a phone call while on his way to the airport the night before the event and was told that he was "not welcomed and uninvited," according to promoters who had reportedly received word from Mayor Gray's office.
The mayor's office, on the other hand, has told reporters that it was McClurkin who decided not to perform at the "Reflections on Peace: From Gandhi to King" event that was scheduled to take place at 8 p.m. Saturday, Aug. 10. The free event was to feature "sacred classical music, time-honored Sri-Lankan and Indian Sacred Songs, traditional hymns and African-American gospel songs."
"The Arts and Humanities Commission and Donnie McClurkin's management decided that it would be best for him to withdraw because the purpose of the event is to bring people together," Doxie McCoy, a spokeswoman for Gray, told The Washington Post. "Mayor Gray said the purpose of the event is to promote peace and harmony. That is what King was all about."
McClurkin's version of discussions with Mayor Gray's office discount the suggestion that he had agreed to withdraw.
He claimed in his online video that promoters tried to have his act go on as scheduled and even rallied local D.C. pastors to put pressure on the mayor. "The mayor's office systematically and continually shut it down..." claimed McClurkin.
Mayor Gray "refused to concede," even after some pastors asked to alleviate the city of the bill, McClurkin added.
Controversy over McClurkin's presence at the Martin Luther King Jr. Memorial concert stemmed from the Christian minister's remarks about sexuality, including his own.
McClurkin has previously shared his story about childhood molestation and struggling with same-sex attractions in books like Eternal Victim, Eternal Victor and the DVD "The Donnie McClurkin Story: From Darkness to Light."
"I've been through this and have experienced God's power to change my lifestyle. I am delivered and I know God can deliver others, too," McClurkin, 53, has stated about overcoming homosexuality.
The Washington Post spoke with Phil Pannel, a local gay rights and civil rights advocate who said he shared his objections about McClurkin's participation Saturday with the mayor's office. Pannel reportedly said McClurkin's comments on homosexuality were not in the "spirit of the 'beloved community' about which King spoke."
"I take no joy that he is not performing. I really admire Donnie McClurkin's artistry, but this is a situation where a political polemic obscured his artistry," said Pannel.
Pannel previously told the Washington Blade, when he apparently first received word of McClurkin being added to the concert lineup, that he found the gospel singer's statements on homosexuality "just vile."
The concert's promoter, Nolan Williams, seemed to disagree with McClurkin being dropped from the event.
"Even in Tiananmen Square, they were singing 'We Shall Overcome.' The fight for human rights is a global fight that has to bring us together. That has to bring us together whenever there are differences of opinions or differences in views. We still need to find a place to come together even when we don't agree," he said.
Others, such as blogger Alvin McEwen, have suggested that McClurkin might have been dropped from the MLK Memorial concert because the main organizer of the March on Washington was Bayard Rustin, a close advisor to Martin Luther King Jr. and who was openly gay. Rustin, who died in 1987, was recently posthumously awarded the Presidential Medal of Freedom by President Barack Obama. Rustin reportedly faced discrimination within the ranks of the Civil Rights Movement due to his sexuality, and McEwen suggests that having someone who is anti-homosexuality as a participant in the memorial celebrating the March on Washington would be a dishonor the civil rights trailblazer.
Mayor Gray, a Democrat who took office in 2011, said this past June during LGBT Pride month, "For me, ensuring that LGBT people enjoy equal rights has always been an issue of basic fairness and justice."
McClurkin stated in his Socialcam video over the weekend that he feels as if his civil rights have been violated, and plans to "rectify the situation."
"This is unfortunate. It is intolerant. These are bully tactics simply because of stances that I took. Never ever demanding, never ever derogatorily addressing any, any lifestyle. But this is a civil rights infringement situation," he said.
"There will be further dealings with this and I cannot let this go undone," added McClurkin. "Pray for me as I go further in rectifying the situation and try to make sure that this does not happen to anyone else. There should always be freedom of speech as long as it's done in love and as long as it's done peaceably. But for others to believe in politics that they can punish someone for having the freedom of speech in love, well that kind of intolerance...that kind of action should be taken to another level."
Watch McClurkin's video statement on his canceled participation in the MLK Memorial concert: