Pastor Greg Laurie: 5 Reasons Why God Allows Suffering in Believers' Lives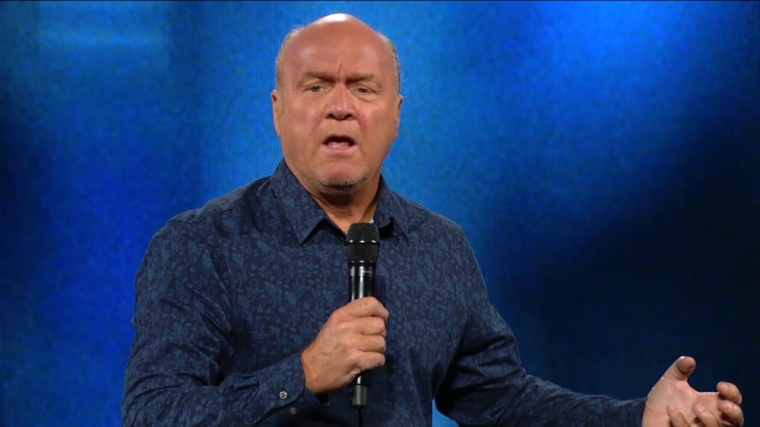 It's true that sometimes things seem hopeless, even to believers, but the Bible offers clarity and perspective as well as tells us the purposes and reasons for the trials in our life, Pastor Greg Laurie of the California megachurch Harvest Christian Fellowship explained to his congregation in a sermon.
If you want to be a growing Christian, you should read, study and love God's Word; you need to have a prayer life; and you must be actively involved in the church, Laurie told the congregation as he began his message, "Why Does God Allow Trials in the Life of the Believer?"
Laurie preached these three essentials of Christian growth in his previous sermon series, called, "What Every Growing Christian Needs to Know."
Taking the series forward, the pastor said it takes time to grow spiritually. "It doesn't happen overnight." And sometimes, you come to a point where you don't feel God's presence as you felt it earlier, he added.
But "why do we go through trials and emotional lows?" he asked.
To explain, he quoted James 1:2-4, which says, "Consider it pure joy, my brothers and sisters, whenever you face trials of many kinds, because you know that the testing of your faith produces perseverance. Let perseverance finish its work so that you may be mature and complete, not lacking anything."
Laurie said there are five reasons why God allows trials.
One, God allows trials in our lives so that we will grow up spiritually, he said.
Laurie explained that he goes to the gym, although he doesn't like to workout, so that he can grow physically. You break down your muscles to build them up, and so is true in our spiritual lives as well, he added. "Trials are God's gym where you're broken down to be built up. … You won't like it, but you will like the results."
The pastor also said that God rarely announces trials ahead of time, He just lays them on us. But trials take our faith from the realm of theory to reality, he said.
When trials come in our lives, we want to hang on to the Lord, and learn the lessons He is seeking to teach us, he stated. "The testing of your faith produces spiritual toughness, heroic endurance."
Remember that trials are "not intruders, but friends," Laurie said.
Two, even when things look bleak, all things work together for God's glory and your good, the pastor shared.
He quoted Joseph as saying in Genesis 50:20: "You intended to harm me, but God intended it for good to accomplish what is now being done, the saving of many lives."
There are no accidents, there's only providence, Laurie said, adding that God allows us to be tested, but never more than what we can handle, because even the devil can sometimes serve the purposes of God.
A believer will emerge stronger after the trials, unlike non-believers, who may turn away for God. "Trials can determine if you're really a Christian," he said.
Three, God's ultimate purpose for us is that we might be conformed into the image of Jesus, the pastor stressed.
Laurie suggested that Romans 8:28 should be read together with verse 29.
"And we know that in all things God works for the good of those who love Him, who[a] have been called according to his purpose. For those God foreknew he also predestined to be conformed to the image of his Son, that he might be the firstborn among many brothers and sisters," (Romans 8:28, 29).
Predestination simply means that God determined your salvation before you were alive, to be conformed into the image of His own dear Son, he explained.
We go through bad things in life, but in a turn of events they can turn into something good, Laurie told the congregation. But there are things in life that are bad, and stay bad, and they are always bad, he clarified. For example, tragedies are not good, although something good can come out of it.
Besides, he added, the benefits of certain trials we are going through cannot be discovered until we go to Heaven. "Just know that God is at work."
Laurie then quoted 2 Corinthians 4:17-19, which reads: "For our light and momentary troubles are achieving for us an eternal glory that far outweighs them all. So we fix our eyes not on what is seen, but on what is unseen, since what is seen is temporary, but what is unseen is eternal."
Four, suffering can bring glory to God.
We can glorify God by remaining faithful to Him and continuing to trust Him despite difficulties and trials, Laurie said. And there are also times when God is glorified through His intervention, he added. God still does miracles today.
A disability can become an ability when placed in the hands of God, he said, giving the example of Nick Vujicic, known as the "Limbless Evangelist" and who was born with a rare disorder characterized by the absence of all four limbs, and Joni Eareckson Tada, who suffered a fracture between the fourth and fifth cervical levels and became a quadriplegic, paralyzed from the shoulders down. Both have led thousands to Christ, and strengthened believers with their testimonies.
Five, suffering can be used by God to prepare us for a special task, Laurie said, explaining that God is getting us all ready for something. "When you've gone through something in life, and have survived it, you can be a great comfort to someone who's going through it."
In conclusion, the megachurch pastor shared 2 Corinthians 1:3-5: "Praise be to the God and Father of our Lord Jesus Christ, the Father of compassion and the God of all comfort, who comforts us in all our troubles, so that we can comfort those in any trouble with the comfort we ourselves receive from God. For just as we share abundantly in the sufferings of Christ, so also our comfort abounds through Christ."