Pastor Greg Laurie: 6 Truths About Temptation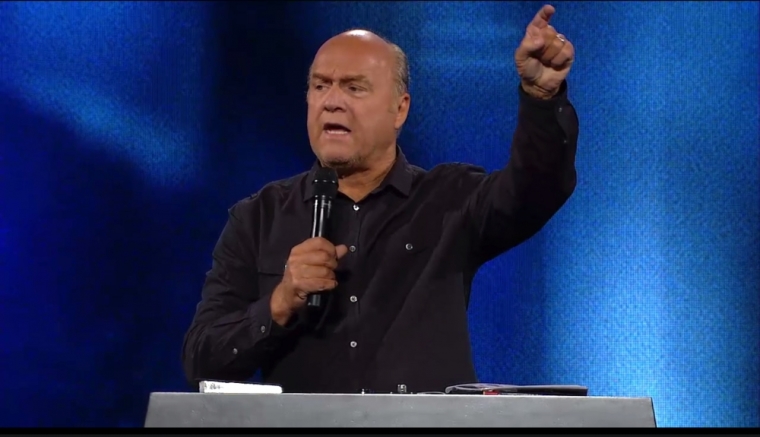 Pastor Greg Laurie of California's Harvest megachurch says while everyone gets tempted, it is possible to overcome it, just as Jesus did, and shared six things a Christian should know to be able to resist it.
"Temptation doesn't make sense. ... What possible good can come out of it?" Laurie asked, as he began his message, "Why Does God Allow Temptation in the Life of the Believer?" which was part of a series called, "What Every Growing Christian Needs to Know."
Every Christian who is growing spiritually is "a bona fide threat" to the devil's kingdom, and will be targeted by him, the pastor told the congregation.
Even Jesus was tempted before He began His public ministry at the age of 30, as mentioned in Luke 4, the pastor said.
Jesus being God could not be tempted, but He did feel "the pressure and the presence of temptation," he explained. And, therefore, Jesus knows what it feels like to be tempted, and He sympathizes with us, Laurie said, referring to Hebrews 4:15-16.
Jesus also faced temptation to help us know how we can take it. "He gives us a template to follow the next time we come under temptation."
It's a horrible thing to be under temptation, but it toughens you as a Christian, Laurie said, and read James 1:12, "Blessed is the man who remains steadfast under trial, for when he has stood the test he will receive the crown of life, which God has promised to those who love Him."
This passage tells us that temptation can be endured, there is a reward for the person who endures it, and you'll be a happy person if you resist it, he explained.
The megachurch pastor then shared six things Christians need to know about temptation.
One, where temptation comes from. We play a key role in our temptation, he said.
We are tempted by our own desires, as James 1:14-16 says, Laurie told the congregation. We begin to enjoy the thought of it in the mind, due to which we, under its power, begin to enjoy the experience. We are then hooked and act on it. Then the deadly effects of sin kick in.
We often wrongly shift the blame when we are tempted, but James 1:13 states, "Let no one say when he is tempted, 'I am being tempted by God,' for God cannot be tempted with evil, and he himself tempts no one," Laurie added.
Two, when does temptation generally come? "After times of great blessing," he said. Don't think you won't be tempted because you went to church or had a great spiritual experience. "You'll be tempted more," he warned.
The best way to deal with this is, be ready for it, Laurie said. Don't think it won't happen to you. "Remember that pride goes before our fall," he cautioned.
Three, how does temptation come? "It comes from the doorway of our mind," the pastor said. But you can draw the line in your mind, to deal with it, he suggested. "Get behind me, Satan."
Four, who temptation comes to. It comes to every Christian, he stressed.
Five, where is the best place to be when it comes? "In the will of God," Laurie said.
"Far too often we are out of the will of God, bringing temptation upon ourselves. We hang out with the wrong people, in the wrong places, and end up doing the wrong thing," Laurie explained. But when we're tempted, "keep your priorities in order, stand your ground and use the Word of God."
Sin makes you stupid, intoxicates you, makes you not think properly, he warned.
Six, what is the primary weapon we should use to resist it? "The Word of God," Laurie said, quoting Ephesians 6:17, "And take the helmet of salvation, and the sword of the Spirit, which is the Word of God."
We all have a Bible, but the best place to carry the Word of God is in your heart, he added, and encouraged the congregation to quote God's Word out loud when Satan says something contrary to what's written.
Laurie shared that when his son died, the thought that he will never ever see him again haunted him. But he said he quoted the Bible to himself, saying whoever believes in Him shall never die and that there is afterlife.
He concluded with a warning. "If you're not a Christian, the devil can offensively have his way with you," he said, explaining that the devil can take you deeper and deeper in sin until you are demon possessed. But you can let Christ live in you and then there will not be any place left for the devil to live in you, Laurie said.