Pastor Greg Locke tells congregants 'take them stupid masks off' during Easter service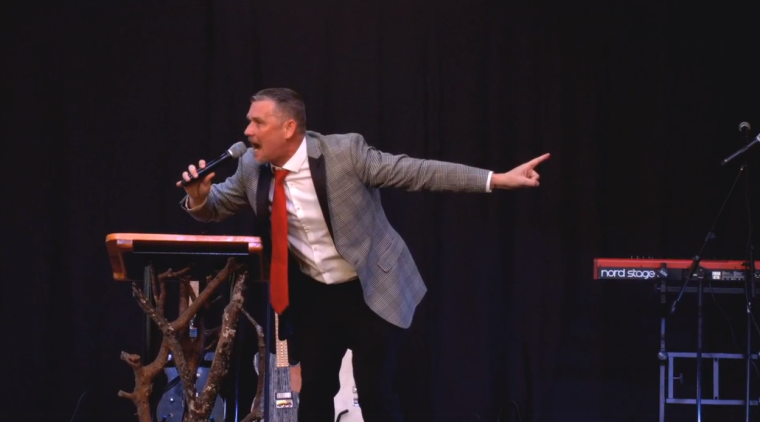 Despite federal guidance urging the wearing of masks to control the spread of COVID-19, popular internet personality Greg Locke, who leads the Global Vision Bible Church in Tennessee, mocked some of his congregants for following that advice "like sheep" on Easter Sunday before telling them to "take them stupid masks off!"
"Unless you're under a doctor's orders — and a few of you are — take them stupid masks off when you come to Global Vision! There, I said it on Easter. Take them stupid masks off," Locke declared during his Holy Week sermon. "Call me crazy? You come, pull up in the parking lot wearing two masks in a car by yourself. Call me crazy? That's crack-smoking crazy is what that is."
His shot at his mask-wearing attendees came after he referenced Isaiah 53:6, which says: "All we like sheep have gone astray; we have turned everyone to his own way; and the Lord hath laid on him the iniquity of us all."
"It's interesting God calls us that [sheep]. Not much has changed, has it? You remember this time last year?  This time last year, they were like, 'Oh my goodness! You cannot have resurrection service; you will kill everybody. You are going to kill everybody within 250 miles.' We ain't killed nobody yet, by the way," the pastor said. 
"And so the media started infusing us with fear tactics. You see, they know this verse, apparently. They know that people that are ignorant of Scripture willfully will obey any ridiculous mandate that the media gives them because it makes them feel better about themselves."
While some churches chose to close during the pandemic, he praised other churches, like his, that stayed open.
"Since we're a year in, I just want to verifiably say, thanks be to God for other churches that opened, that reopened, and thank God for churches that decided that they weren't going to close at all. They saw through it. We've never closed yet. We've never closed one single time during all this COVID debacle," Locke said.
With his congregation cheering him on, Locke added that it would have taken the "entire United States military" to shutter his church.
"They will roll up in tanks. They will drop down from helicopters. And I promise you, it won't be a dozen police out there from Wilson County and from Mt. Juliet," he declared. "It's going to take the entire United States military to roll up into this parking lot and tell us, 'Hey, we can't worship Jesus, and that we got to shut our church down, and that we can't preach, and we can't pray …' You have lost your mind if you think I've given in to that! You have lost your mind if you think I'm giving into that mess! We are staying open forever! Forever!" 
Locke has remained consistent in his opposition to mask mandates and gathering restrictions to limit the spread of the coronavirus, which has infected more than 30 million people across the U.S.
More than 550,000 people have also died from COVID-19 related illnesses, according to the U.S. Centers of Disease Control and Prevention. This includes former Republican presidential candidate Herman Cain, who also publicly eschewed wearing masks.
The outspoken pastor stood his ground on the issue even when former President Donald Trump, who contracted the virus, called for mask-wearing last summer.  Locke had referred to masks as "idols." 
"These have become idols. These don't do anything whatsoever. They are the dumbest thing to have ever been created by humanity," Locke declared last summer. "They are scientifically proven to do Jack sprat! But I'll tell you, religiously, what they've done, they've divided the body of the Lord Jesus Christ. These things are so dumb."
According to the CDC, masks are primarily intended to reduce the emission of virus-laden droplets. Masks are especially relevant for asymptomatic or presymptomatic infected wearers who feel well and may be unaware of the risk they pose to others. They are estimated to account for more than 50% of transmissions. Masks also help wearers reduce inhalation of these droplets.
In his sermon Sunday, Locke also revealed he had several media interviews scheduled but would give up his next 50 media interviews for just five minutes on ABC's "The View" with co-host Whoopi Goldberg.
"Five minutes on 'The View' with Whoopi Goldberg. That's all I want," he said. "That's it! I'd give up CNN. I'd give up NewsMax. I'd give up Fox. I'd give up all. Man, me and Whoopi got some stuff to talk about on TV. Just one time can one of us preachers say 'Jesus Christ is the only way to the Father.'"