Pastor Jamal Bryant Explains Why Donald Trump Needs to Meet With Black Lives Matter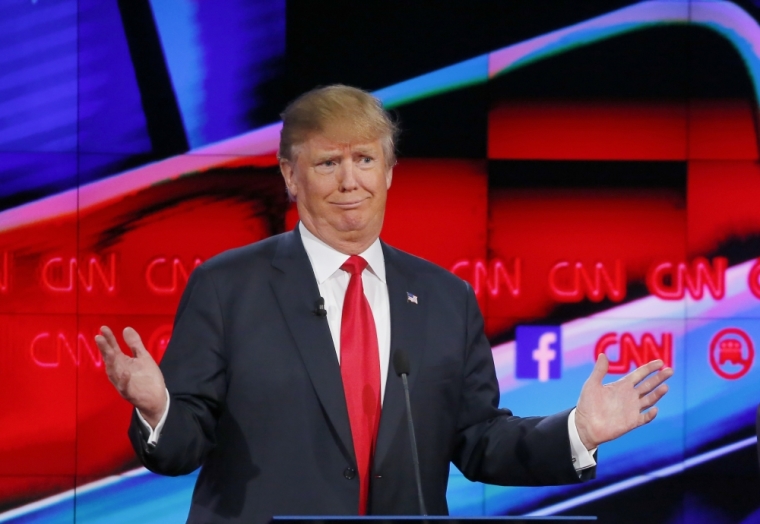 In a New York Times op-ed Monday, writer Donovan X. Ramsey, highlighted that it wasn't just Donald Trump who wasn't doing a good job of engaging black millennials who have been raising their voice through the Black Lives Matter movement.
"Instead of really engaging black millennials where we are, the leading Democratic presidential candidates [Hillary Clinton and Bernie Sanders] are relying on stale outreach strategies. They're visiting historic black churches, making public appearances with civil-rights-era black leaders and failing to engage in real substantive debate on potential policy solutions to issues of racial injustice," noted Ramsey.
And Bryant agrees with the assessment.
"By and large, it is assumed that the Church is no longer viable, or a part of the dialogue, where no other time in black American history that that has ever been said or even published. And I think that underscores our state of emergency, Mr. Ramsey's opinion. It's why we've got to get thrown back into the fray, from the sidelines right to the frontlines," he said.
Come January, Bryant will be hosting an event at Howard University in Washington D.C. called "Black Church Matters." It is described as an emergency call to action of black clergy and Bryant says he wants to help pastors connect with disengaged black millennials.
"I think there is a real emergency when it comes to the black church and activism," he said.
"Historically, the black church has been the center and the heartbeat of the Civil Rights Movement, but it seems as if now we are on the fringes and not really a part of the narrative and the dialogue. And I think that we are losing a whole generation of millennials because the Church continues to be out of touch and disconnected. And so this is an attempt to engage 300 pastors, primarily young adult pastors from around the country, and give them some training and insight as to how it is they can mobilize in their local areas," said Bryant.
The Black Church Today
Asked to describe the black church in America today, Bryant said: "I think that it is a kaleidoscope, many different shapes and sizes.
"Within that you have nine Mainline denominations: From AME, CME, National Baptists, Progressive Baptists, Church of God in Christ, Pentecostals, Assemblies of the World, Full Gospel and now what would probably be the largest black denomination which is independent churches," he said.
Independent churches, however, are "not myopic in scope."
"You have some who practice and preach liberation theology and then you have others who practice and preach a westernized assimilated gospel that is devoid of any political inclination. We have a full wide range that is not labeled under any one particular prism," he explained.
So why after describing this wealth of diversity in the black church would Bryant be upset by some members choosing to support Donald Trump?
"Because [not] one of them could point to a policy of Mr. Trump's that would undergird the African-American community. … I could not see one principle, of what it is that they were [supporting] other than they are thinking he's a nice guy. And that, for me, was very dangerous considering that Mr. Trump won't meet with any of the young people in Black Lives Matter but said that he would in fact meet with these clergy who [are] disconnected from the pulse of what's happening within the community," said Bryant who felt the actions of the black pastors were "reckless, if not irresponsible."
"I was holding that into accountability, these 100 had not been active in the fight for advancement of our people. But ran to Trump Tower to make this endorsement without the agreement, without any covenant, without any commitment. And so still two, three weeks later they have not come back with what is the policy agenda set out by Mr. Trump that speaks to how it is that our community would be improved and impacted," said Bryant.
On Racial Reconciliation
And how does Black Church Matters affect the latest push for racial reconciliation among a growing group of clergy?
"I think that the reconciliation meetings are very healthy and are needed, but I do not think it gives you diplomatic immunity from activism and the call to activism while still in that process," said Bryant.
"When you dealt with the reconciliation summit that happened in South Africa post-apartheid, it was very healthy in order for healing to take place but it did not exempt prosecution from taking place from those with blood on their hands. I think reconciliation is one piece of the puzzle but it is not the sum total," he continued.
"I think that [the concept of] one church is absolutely good but we don't have one community or one reality. A fact that many black churches and white churches don't have an accurate portrait description of what Jesus looked like is [a reflection of that]," he said.
"Evangelicals cannot be against abortions and then remain silent on Head Start programs. You want the babies to be here and when they arrive you don't want to champion the funding and financing of public schools. I think there is a whole lot of dialogue and discussion that has to happen much further beyond which is just symbolic," said Bryant, who believes the white church has a big role to play in reconciling the Church.