Pastor John Gray on Why He Didn't Change His Preaching Style for Joel Osteen's Megachurch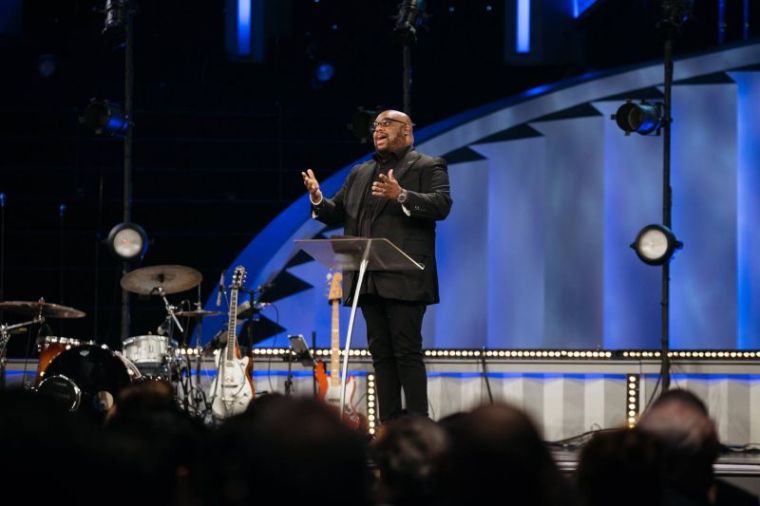 There's a reason Pastor John Gray didn't change his boisterous preaching style to mirror that of Lakewood Church Senior Pastor Joel Osteen who he now preaches under.
While Osteen's soothing voice and calm approach to preaching has made him a popular televangelist with the largest congregation in the United States, Gray doesn't feel the pressure to mimic the Houston, Texas-based megachurch pastor's method of preaching because he wants to remain authentic.
"This is who I've been. It's just that God chose to put me on that platform," Gray told ABC affiliate ABC 13. "But the platform doesn't make you, it just exposes you. So, whoever you are will come out wherever you are."
The pastor who preaches at the church on Wednesday nights said he believes people will be able to spot if he's being phony or true to himself when trying to preach.
"People are more discerning than they let on. They can spot a phony a mile away," he said. "I think that's the reason they come out: because they know I'm real. I may not always be perfect, and I'm not."
Even though he isn't striving to be perfect, Gray says, "I'm always gonna be real."
The pastor, husband and father stars in the OWN network docu-series, "The Book of John Gray." Even though he is staying true to himself while preaching at Osteen's church, he also understands that his assignment is to be an extension of his leader.
"Since he's the leader, my job is to extend his heart and filter that through my ability to communicate," Gray said. "So even though my approach, my methodology, and my expression are different, my heart is not."
In a previous interview with media tycoon Oprah Winfrey on her "Super Soul Sunday" series, Gray revealed why he was honored to be the first black pastor at Osteen's church.
"I don't even know how to describe it, but to be the first African-American to literally be on staff and just to weekly speak into the life of the church is a high honor. ... I'm this fiery loud kind of boisterous guy and he's the sweetest guy in the whole world," Gray told Winfrey. "The reason why we connected is because we have different expressions but the same heart."