Pastor John Gray Discusses Battle With Diabetes, Mixing Faith With Reality in New TV Show (Video)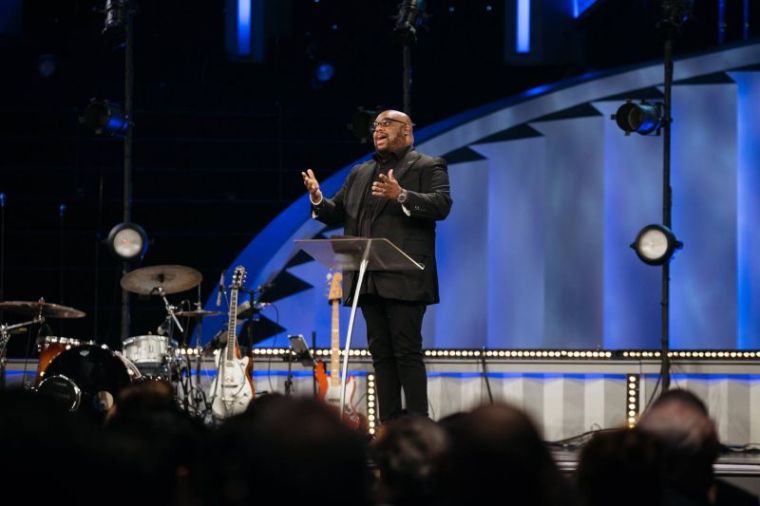 Lakewood Church Associate Pastor John Gray opened up about his battle with diabetes and the importance of mixing reality with faith in the new OWN network docu-series, "The Book of John Gray."
During a recent sit down on "The Real," Gray and his wife Aventer were interviewed about their TV program and Gray opened up about his battle with diabetes.
"I think a lot of times people of faith incorrectly assume that everything can go away with one prayer. There are some things that don't need a miracle, they need discipline. So diabetes is an invitation to discipline. It's something that I can change, that I can control," he told the ladies on "The Real."
Gray went on to explain that it's one thing to cry out to God for healing when in need, but another thing to ask God for healing while continuing to eat badly and not taking care of yourself.
"You can't ask for a miracle when you can actually be a part of the miracle by making better decisions," he said.
"Diabetes is something that is really disproportioning the African-American community and it was important for me to be honest because a lot of people think faith is separate from reality but our show is about the intersection of faith and real humanity."
When asked what he hopes for viewers to take away from his "dramedy," the Ohio native is looking to inspire people.
"I want them to see very normal people trusting a supernatural God. That we use whatever gift we have to let people know that God loves them no matter where they are, no matter who they are. They all have equal value and Jesus loves you regardless of your broken places," Gray stated.
He said he believes it's important to see a show featuring an African-American family that is building up a legacy.
"I didn't have that growing up so to be able to do something to honor this beautiful woman (pointing to his wife) and to raise my kids, we need to see that," he noted.
The OWN series features both drama and comedy as the cameras follow Gray's ministry efforts along with his family life.
With success, the Gray family is also gearing up for any negative feedback they might receive from critics.
"I told my wife, you can't respond (to internet trolls) because the moment you respond, you bring them to your platform and give them a microphone they never had," Gray told Eurweb in a past interview. "What I've learned from this experience is, I'm enough. I didn't become anything for this show to happen, I was me. Whatever that means people are going to see it."
His wife echoed that she and Gray are remaining focused on pleasing God more than the critics of the show.
"As long as the Lord is pleased with me and my husband, He is pleased with me," she said. "We do care how people perceive our family but we feel like God has breathed on us and He will continue to ..."
In the meantime, Gray will continue to preach to people who come out every Wednesday night to Lakewood Church, which is led by Joel Osteen.
Follow Jeannie Law on Twitter:
@jlawcp