Pastor Kennon Vaughan makes first public statement after being lone survivor of plane crash
Credits tragedy with giving him a 'greater longing for Heaven'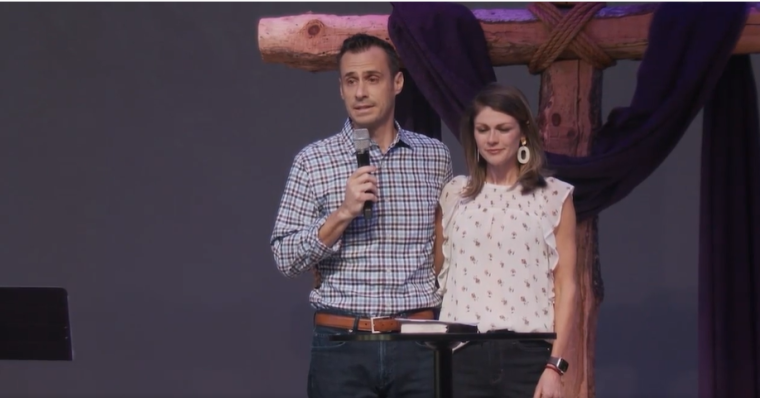 A pastor who emerged as the lone survivor of a plane crash credits the experience as providing him with a "greater longing for Heaven" and one day reuniting with the four church members who lost their lives in the accident.
Kennon Vaughan, the senior pastor of Harvest Church in the Memphis suburb of Germantown, Tennessee, addressed his congregation for the first time Sunday since surviving a Jan. 17 plane crash that killed four other senior members of the church. Speaking arm-in-arm with his wife, Kathryn, an emotional Vaughan described his survival as a miracle of God's "sovereign goodness that He saved me from the crash site. He also described the surgeries he underwent and his recovery. 
Vaughan expressed sympathy for the family members of the four church members who died in the plane crash and praised the victims as "four men that are so dear to me." They "are with the Lord," he added, expressing his unwavering assurance of their salvation. 
"What an honor it was to be with them the moment before they met Jesus," he said. "That will be a grief we bear for years together, and I know will tether us to those family members, and we just have so much love for them."
After vowing to give eulogies for each of the four victims, Vaughan thanked church staff and elders for "the way they have led in crisis and in tragedy." He recognized the "strength and courage and compassion of their leadership" as being "such a blessing" that has "helped us to draw nearer to God and nearer to one another during this time."
"He's impressed so deeply on my heart a greater longing for Heaven," Vaughan proclaimed. "Part of that is the practical reality that four of my friends that weren't there are there now, and I long to laugh with them and be with them and worship with them, and I know that day is coming, but not until I'm there. And so, there's a deeper longing."
Noting that his wife has "not left my side," Vaughan pointed to Kathryn as the personification of "the Lord's kindness and what marriage is meant to be." "I've always looked up to her in that, but it's never been more clear."
Vaughan said his wife slept in a wooden chair for 10 days as he remained in the hospital. "When I wouldn't be able to sleep, I would just stare at her and think of the Lord's faithfulness that I was experiencing through her presence."
"I've never been through anything like this," Vaughan said. "When there's trauma to your innards, healing's a slow process."
Vaughan addressed his recovery process, stating that he was "unbelievably grateful at how far the Lord's brought me and knowing He's brought me this far to bring me all the way." At the same time, he acknowledged that he was unable to resume his pastoral responsibilities.
Vaughan thanked the audience for their prayers, recalling how "when I was on the way from the crash site to a smaller hospital in Victoria, and I was in a lot of pain and there was just … two men and a gal in the ambulance. I never saw them. I never opened my eyes. But I could hear them, and one of them called my wife. He had me squeeze his fingers so he would know her number and he called her. At that point, I had this sense that the word was about to obviously get out."
"I had this image of you guys storming the gates of Heaven just with prayers," he told the congregation. "It was the most peaceful thing and I had no idea in those moments if I was going to survive. But I knew that the prayers of the saints were going up and the Lord's will would be done, and it just gave me great rest."
While characterizing the past 10 weeks as "the deepest suffering of my life," he found peace in the fact that "the Lord's drawn nearer than He's ever drawn, and I know that the fellowship of sharing in Christ's suffering is what accelerates the process of Him conforming us into the image of Christ and just insofar as that allows me to be a better husband and a better father and a better pastor, then even in this, to God be the glory."
He concluded with a prayer thanking God for "a church that is a family at its core," noting that "this sense of family runs deeper now than it ever has."
Vaughan's appearance before his congregation Sunday comes nearly two-and-a-half months after the single-engine Piper PA-46 plane carrying the passengers crashed south of the Yoakum Municipal Airport in Texas. The victims were Bill Garner, the church's executive vice president, church elder Steve Tucker, and Tyler Patterson and Tyler Springer.
The church has compiled a memorial wall for each of the four victims on its website. Garner left behind a wife, four children, three stepchildren, nine grandchildren, a father and stepmother and two brothers and sisters-in-law. Tucker is survived by his wife, daughter and son-in-law, in addition to his mother-in-law, brother, two brothers-in-law, two sisters-in-law and several nieces and nephews.
Those mourning the loss of Patterson include his wife and two young children as well as his grandmothers, an aunt and uncle, in addition to several nieces, nephews and cousins. Springer's surviving relatives include his parents, brothers, a sister, a brother-in-law, sisters-in-law, a grandmother and several nieces and nephews.