Pastor Kong Hee, Facing Prison Sentence, Prays Over Thousands of Bottles of Oil for Miracle Healing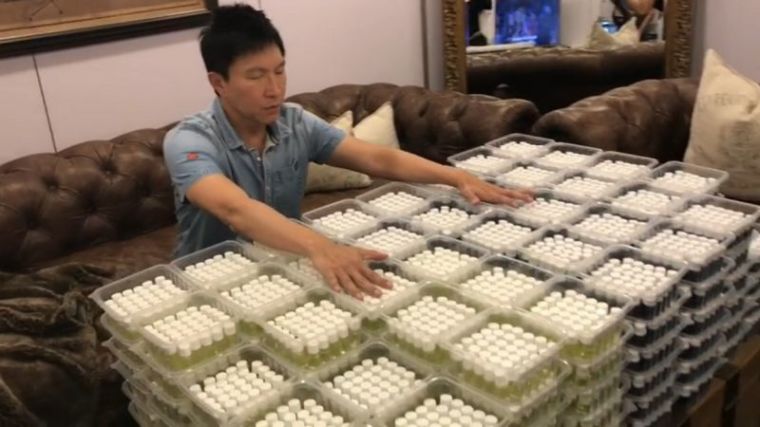 Singapore megachurch pastor Kong Hee, who is facing an eight-year prison sentence for misappropriating $35 million of church funds, has posted a video of himself blessing thousands of bottles of oil, which he says will bring about healing and deliverance.
"I believe these bottles of anointing oil, coupled with your effective, fervent prayer will avail much in bringing healing & deliverance," Kong said in a Facebook video on Saturday, which already has over half a million views.
He quoted from Mark 6:12-13 in the Bible, and added:
"So they went out and preached that people should repent. And they cast out many demons, and ANOINTED WITH OIL many who were sick, and healed them."
In a follow-up post on Sunday, he thanked all the City Harvest Church staff and City Harvest School of Theology students who helped him prepare the bottles of anointing.
"I pray that the POWER of God will start flowing through your prayers of faith as you anoint the sick and oppressed with the oil of the Holy Spirit! 'Is anyone among you sick? Let him call for the elders of the church, and let them pray over him, ANOINTING him with OIL in the name of the Lord' (James 5:14)," he wrote.
Kong and five other CHC members were convicted in November 2015 of misusing millions of church funds to benefit the popstar career of fellow CHC pastor Sun Ho, who is Kong's wife, though she herself was not trialed.
Kong received the harshest punishment of eight years in prison, though he continues to claim his innocence.
Kong, who is CHC's founder, pleaded in September 2016 for the prison sentence to be overturned. His lawyer, Edwin Tong, argued that CHC used money to support the church's mission through Ho's music.
Tong claimed that the effort was supported by virtually the entire congregation.
"It is beyond question that the accused believed wholeheartedly that they were using church funds for an approved church purpose," Tong said, referring to the church's Crossover Project.
Kong has claimed that the guilty verdict against him was "erroneous," and urged his supporters for prayers.
"I sincerely need your prayers during this process for a favorable outcome. The road ahead is long and arduous, but God's grace is sufficient for me," he declared in 2015.
The CHC senior pastor preached about miraculous healings in Jesus' name throughout his tour of South East Asia in 2016, leading prayer and healing events aimed at restoring people's health.
Just last week he announced another healingm which he said was done in Christ's name.
"Sam, the man with the tie, was in a very dire health condition 6 months ago. Sun and I, with Lillian and Nicholas, prayed for his healing in Jesus name! He is totally healthy today --- strong and fit! Jesus heals," he wrote, while sharing a photo of the man in question on Facebook.