Pastor Kong Hee's Suspension Delayed; Wife Sun Ho Can Resume Executive Duties
City Harvest Church Members Accused of Mishandling Funds Prepare to Head to Court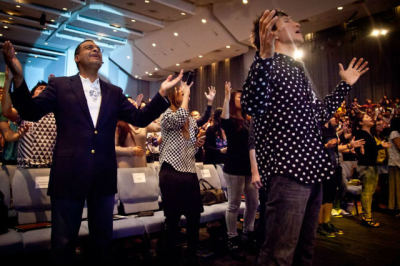 Singapore's Commissioner of Charities(COC) has given City Harvest Church Pastor Kong Hee and seven of his staff more time to submit official protests against a proposal to have them permanently removed from the ministry's board. The COC has also lifted its suspension of Kong's wife, Sun Ho, allowing her to resume her executive duties at the church. The news comes just two days before Kong heads to court to fight charges related to the mishandling of church funds.
In a statement shared with supporters on City Harvest Church's Facebook page and website Monday, Executive Pastor Aries Zulkarnain revealed, "This morning, Sun, wife of our senior pastor Kong Hee received a letter from the Commissioner of Charities. In the letter, COC informed Sun that the suspension of her status as an Executive member of City Harvest Church has been lifted. The suspension of her executive powers has also been lifted.
"Both suspensions have been lifted with immediate effect. Sun is once again able to exercise her executive powers for City Harvest Church. She is once again an Executive member of the church she co-founded."
Sun Ho addressed the City Harvest Church community: "I am very thankful to Jesus that I can resume my executive duties at such a crucial time for City Harvest Church. I am truly glad that I have been fully vindicated. God's grace abounds and His faithfulness truly never ends! I want to thank the members of CHC for always standing with our church and our leaders. Your unceasing prayers are moving mountains and are so important to us in the days to come."
The statement also revealed that Pastor Kong and seven other City Harvest staff members had been granted a two-month extension to submit representations to the Commissioner of Charities, as the original deadline was Monday, May 13, 2013.
After the deadline for written statements of support from the public was closed last month, the COC revealed Monday that it was giving the following individuals, also members of City Harvest Church, until July 13, 2013, to make their submissions challenging their removal from the ministry board:
Kong Hee (as executive member)
Lam Leng Hung (as chairman and trustee)
Tan Ye Peng (as vice-chairman and trustee)
Kelvin Teo Meng How (agent, employee and executive member)
Tan Shao Yuen Sharon (as executive and employee)
Serina Wee Gek Yin (as employee; former finance manager)
Tan Su Pheng Jacqueline (as employee and executive member)
Chew Eng Han (as agent and executive member)
Calling its decision to extend the deadline a "goodwill gesture," the COC added that it will consider all representations received by the deadline "fully and fairly" before deciding on whether to pursue the affected individuals' removal.
Pastor Kong, 48, and the other seven members of City Harvest Church were initially requested to temporarily remove themselves from the ministry's board and employ after a two-year investigation led to allegations of mismanagement of funds meant for the megachurch, which functions as a charity. Kong's wife, Sun Ho, was not among those charged, although she was also suspended.
In a report of its findings, the Commissioner of Charities alleged that $18 million ($23 SGD) collected by City Harvest Church was used "with the purported intention of financing (Sun) Ho's secular music career to connect with people" and that board members were complicit in funneling church funds, meant for a new building project, for this purpose.
The case, made public last summer, has its first court date on Wednesday, May 15 and will reportedly run through May 23, with prosecutors expected to lay out their arguments first. Pastor Kong has said that he is confident he will be cleared of any wrongdoing.
"This is a very challenging time for our eight Church leaders and members, their families, and our Church. Please continue to pray ceaselessly for them and for the Church," CHC Executive Pastor Aries Zulkarnain said in a previous statement.
Pastor Kong and his wife gained notoriety in Singapore after they founded City Harvest Church in 1989, an evangelical nondenominational congregation of 30,000. The ministry, which celebrated its 24th anniversary last week, recently launched its first U.S. campus, City Harvest Church USA in Irvine, Calif.