Pastor Levi Lusko Preaches at Fellowship Church; Shares Four Ways to Deal With Pain and Suffering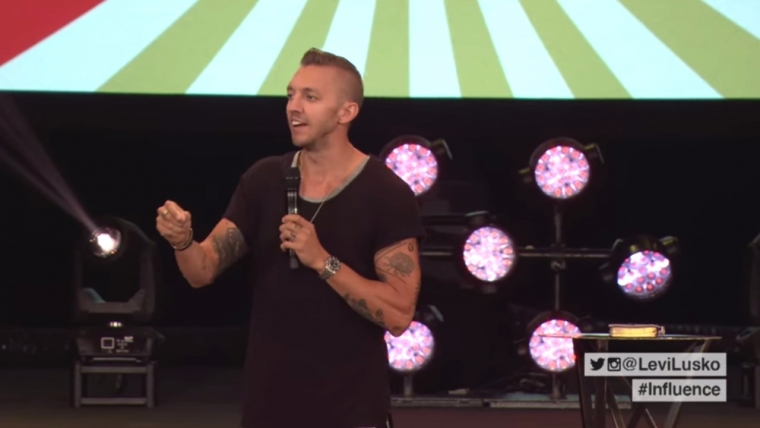 Pastor Levi Lusko of Fresh Life Church in Montana was the guest speaker at Pastor Ed Young's Fellowship Church in Grapevine, Texas, on Sunday, and he shared four ways of dealing with suffering, just as he and his wife, Jennie, dealt with the death of their 5-year-old daughter, Lenya.
"Suffering in life is not an obstacle to being used by God, it's an opportunity to be used like never before," Lusko, the author of Through The Eyes of a Lion, told the congregation as he began his message, which was first of the three-part series, Influence, that Fellowship Church has started.
"The influence of Fellowship Church has reached far beyond our walls and stretched across the globe," the megachurch says about the series. "It is a picture of what God has in store for all of us when we tap into His plan and purpose for our lives."
Lusko's message was based on 2 Timothy 1:10, which reads, "But it has now been revealed through the appearing of our Savior, Christ Jesus, who has destroyed death and has brought life and immortality to light through the Gospel."
The pastor told the congregation that on Dec. 20, 2012, their second daughter, Lenya Avery Lusko, suddenly had an asthma attack. They thought she would respond to medicines, but it got worse. Soon, she stopped breathing. They begged for God to intervene and save her. But she died.
They wondered what her tombstone should say. And they came up with these words: "Jesus has destroyed death. He has brought life and immortality to light through the Gospel."
Lenya died days before Christmas, but "death was the reason why there is Christmas in the first place," Lusko said.
He quoted Hebrews 2:15, "And free those who all their lives were held in slavery by their fear of death."
"Christmas exists so that there could be Easter, so that we could live with hope so that we could die without fear," Lusko said.
However, a hurt is a hurt, he cautioned. "Hurting with hope still hurts." Even God grieves when we go through pain and suffering, though there's hope, he added.
It's okay to cry and feel terrible, but Jesus defeated death by dying and then rising to life, Lusko said.
He shared how he and his wife were able to hold their daughter's hand with one hand and raise the other to heaven to pray for her as she was dying. They said they knew they were not alone.
You are not alone when you lose a loved one or a job or anything that hurts, the pastor said. "He will walk beside you."
Lusko said most Christians find themselves in the same situation as Jesus' disciples the day after His death on the cross. Jesus was crucified on a Friday and rose on a Sunday, and Saturday was the time of trial for His disciples. A promise had been given but not fulfilled yet. The question is, he said, how do we live on "Saturday."
There are four ways to turn off the dark in your heart, he told the congregation.
One, don't rely on the naked eye, Lusko said. "Things are not as they seem. We walk by faith, and not by sight."
You can rely on what you've heard, he explained. Faith comes by hearing, and hearing of the Word of God, so don't just see what you see but believe what He has said.
Two, train for the trial you're not yet in, the pastor went on to share. "You and I have two Google calendars … one that we've put together and we have one that's really gonna be."
We can plan, but we can never be sure what the future holds, he explained.
What you've done before the trial matters more than what you do in the midst of it, he said.
Three, let God use your pain, he said, adding that it's an honor to be trusted in trials.
"God trusts His most difficult assignments to His most trusted soldiers. … He puts to use everything He puts us through," the pastor said.
God allows us to go through pain with a definite plan. "Pain is a passport that would take you to places where you would never have been otherwise," he stated.
Four, you can cue the eagle, the pastor said, quoting Isaiah 40:30-31, "Even youths grow tired and weary, and young men stumble and fall; but those who hope in the Lord will renew their strength. They will soar on wings like eagles; they will run and not grow weary, they will walk and not be faint."
He reminded the listeners, "Anytime you need, and as often as you need to, all you need to do is call on the name of the Lord, and you can receive new strength."
Pray and ask for God's strength when you think you're failing, he encouraged, quoting Psalm 73:26, "My flesh and my heart may fail, but God is the strength of my heart and my portion forever."