Pastor and Pregnant Wife Beaten by Hindu Radicals Disguised as Christians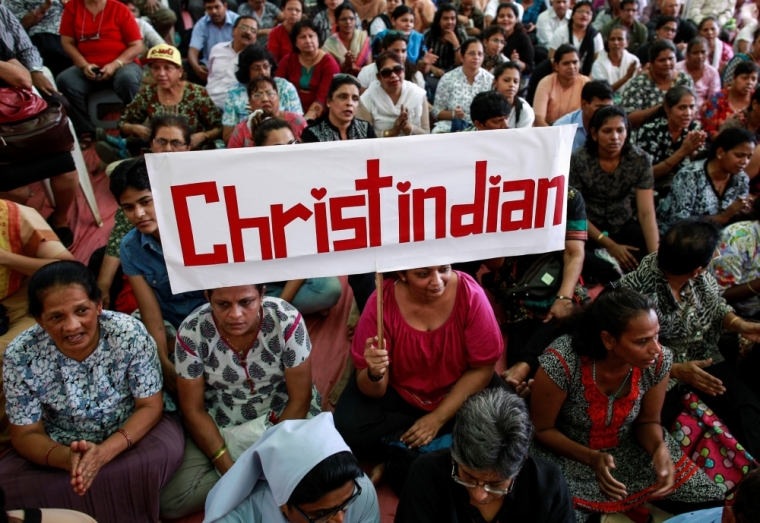 A pair of suspected Hindu radicals attacked and beat a pastor and his pregnant wife at a church in Chhattisgarh, India, and then set a Bible and other articles inside the church on fire.
PTI reported that the men had initially identified themselves as members of another Christian denomination, and were allowed inside the Bastar church due to their desire to pray on Sunday night. After they came in, however, they beat the pastor and his wife before pouring inflammable liquid on the Bible, setting it and other religious material ablaze.
Arun Pannalal, president of Chhattisgarh's Christian Forum, claimed that the two attackers, armed with a knife, hammer, and sword, are members of a radical Hindu organization.
"This was third attack on the religious premises of Christian community in the region. It was carried out by the goons of Bajrang dal. Police are trying to cover it up," Pannalal said.
The pastor, identified as Deenbandhu Sameli, managed to escape with his wife, Meena, though the attackers poured petrol over them as well and tried to set them on fire.
A Bastar city official insisted that the culprits will be found and arrested.
"As per the written complaint of Pastor Deenbandhu Sameli, an FIR has been lodged in this connection. Continuous patrolling is being done in the region to nab the attackers. We are pretty sure that the culprits will be arrested soon," Bastar SP RN Dash said.
Dash also claimed that police immediately arrived at the scene after the attack was reported.
"After getting information about the incident, we immediately rushed to the spot and deployed a policeman for security throughout the night," he added.
Athough still a distinct minority in India, the country's Christian population has been steadily rising, which has prompted attacks from radical elements of the Hindu majority.
There have been several reported attacks on Christians this year, including a mass beating earlier in March again in Chhattisgarh state, when a group of extremists attacked and beat 60 Christians worshiping at a Pentecostal church.
Witnesses to the attack claimed that the radials also beat and stripped Christian women, and destroyed various church property, including bibles.
As in a number of other cases of attacks, the Hindu radicals claimed that the Christians have been forcefully trying to convert Indians to their religion.
Christians have called for the central government to do more to protect religious minorities in the country from such targeting.
John Dayal, spokesman for the United Christian Forum, told International Christian Concern at the time: "The vandalizing of the church [in Chhattisgarh] comes as the entire nation of India is debating the role of [radical Hindu nationalism] and the government in exacerbating an environment of hate and intolerance against civil society, the intelligentsia, and, above all, religious minorities such as Muslims and Christians."