Pastor Robert Jeffress: Every Pastor, Christian Must Be Involved in Politics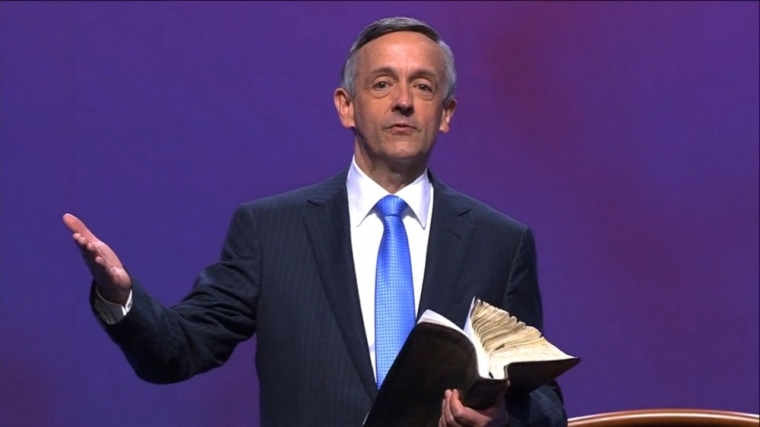 Pastor Robert Jeffress, leader of the influential 12,000-member First Baptist Church in Dallas, Texas, said every Christian and pastor must get involved in politics, and that "whenever there was a need for a great change it was pastors who led the way" in America.
"Many people think that pastor should not get involved in politics, that their responsibility is only to preach the Gospel of Jesus Christ," said Jeffress on his program, "Pathway to Victory," after telling the viewers that many people have ask him why he is getting so involved in politics, especially in this political cycle.
"When you look at American history, whenever there was a need for a great change, it was pastors who led the way," he said. "It was pastors who led the way with the American Revolution, the Black Robe Regiment. It was pastors who led the way for the abolition of slavery. And it was pastors who were at the forefront of the civil rights movement."
He asked what if pastors back then had said, "I'm not getting involved?"
"We would not have a country today. You know, it's always pastors who are involved in calling for change and I believe right now it's time for great change in America," he continued.
"I believe the only way we're going to have lasting change in our country is when Americans' hearts are changed and no government power can do that. Only Jesus Christ can change a person's heart and that is my role as a pastor to proclaim the Gospel, the life-changing Gospel of Jesus Christ."
Jeffress said God has also ordained government to accomplish certain functions in today's society, citing 1 Timothy Chapter 2, in which Paul said, "Let us pray for kings and all those in authority that we might lead quiet and tranquil lives in all godliness and dignity."
"It's interesting, Paul didn't say pray for government, that government would lead a spiritual revival," the pastor said. "When Paul wrote those words, Nero was the Roman Emperor. And Paul didn't expect Nero to lead a great Christian revival. What Paul said was, pray that government would keep us safe and leave us alone to practice our faith. But remember, when Paul wrote those words, that's all we could do at that time, is to pray for our government leaders. But today, we have the opportunity to actually select our leaders."
He added: "I think we have a responsibility as Christians to select leaders who will do what God has ordained government to do and that is to keep us safe as a nation and to give us liberty to practice our faith I believe we're at a critical time in America's history."
He said he thinks Christians are soon facing the loss of their religious liberty. "I think we are facing great external threats from radical Islamic terrorism. And as a pastor, I'm going to spend the bulk of my time proclaiming the Gospel of Jesus Christ, but I am not going to shirk my God-given responsibility to do everything I can to elect rulers, leaders in this nation, who will keep us safe and who will keep our religious liberty alive, and that's why I am urging every Christian to get involved in this year's election."
He acknowledged that there are no perfect candidates. "There are no perfect politicians, just like there is no perfect pastor either,"
In March, Jeffress said that Republicans who had vowed never to support Donald Trump if he becomes the Republican presidential nominee were "fools." "It is absolutely foolish to do anything that would allow Hillary Clinton to become the next President of the United States … at least Donald Trump has voiced a belief in a pro-life movement, he has at least talked about religious liberty as he did last Friday, you don't hear either things coming from the lips of Hillary Clinton," he said.
On his program, Jeffress concluded, "But I believe we need a president this election cycle who will vow to keep this country safe and who will uphold our religious liberty and that is why I'm getting involved in this election."