Pastor Ron Carpenter: Wife Hope Carpenter 'Sorry for Causing Pain' in Wake of Infidelity Disclosure
Redemption World Outreach Center Leader Thanks Supporters, Shares Wife's Message of Love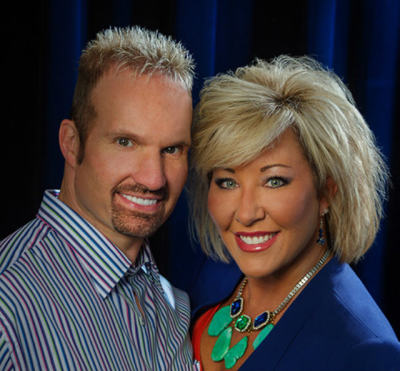 Ron Carpenter, pastor of Redemption World Outreach Center in Greenville, S.C., has taken to Facebook after denying that he had "gone into hiding," to thank supporters for their outpouring of well-wishes. He also relayed a message from his wife, Pastor Hope Hilley Carpenter, whom the Pentecostal preacher said "has asked me to speak on her behalf and in deep brokenness."
"Hey guys...first of all let me say that our family is completely overwhelmed by the kindness, love, grace, and mercy demonstrated by everyone," Carpenter wrote online Wednesday. "I now know what it means to 'bear one another's burdens.'"
He went on to say the he and his family "feel" the love from his supporters and that he was grateful "beyond measure."
"I braced for the worst as I (knew) many would try sensationalize the story and turn it into something it's not," Carpenter continued. "It's tragic and it's sad...however the church community couldn't have been any kinder."
The megachurch pastor shared that both the Carpenter and Hilley families spent time talking with Mrs. Carpenter Tuesday for 45 hours and that his wife asked him to relay a message.
"She made me promise to let each of you know that she is sorry for any pain she may have caused and she received great joy in my assuring her of y'all's great love for her. I love each of you dearly and CAN NOT WAIT to see you... One day at a time..," read Carpenter's message from his wife.
It was during the worship service on Sunday, Oct. 13 at Redemption World Outreach Center that Pastor Carpenter informed the 13,000-member church and those watching the live broadcast online that Hope Carpenter had voluntarily admitted herself in a one-year rehabilitation clinic and was under psychiatric observation. He informed the church that his wife, with whom he has three children, had been involved in multiple affairs over the last 10 years and had been carrying on a "whole other dual life" as far as he understood it. Carpenter went on to emphasize that Mrs. Carpenter was sick, did not need their wrath, and that the situation was not about "just sin."
"She needs prayer, she needs support and she needs miracles," said Carpenter. He also made it known that he was firm in his decision to refrain from attempts to restore their marriage.
Since his Sunday disclosure about his wife's illness and infidelities, Pastor Ron and his family have been showered with words of support and prayer by Christian ministers and even those previously unfamiliar with his ministry and church.
Read about those messages and watch Carpenter's full message here: Ron Carpenter's Confession of Wife's Illness, Adultery Prompts Prayers, Debate Over Privacy.
When asked by The Christian Post Tuesday about the church community's response to Carpenter's revelation, Redemption World Outreach Center Executive Director Travis Hayes indicated that there was a united front of support for their pastor.
"The congregation at Redemption, of course, was extremely shocked and disappointed [about] the information that was released by Pastor Ron on Sunday," said Hayes. "It's [a] pastor's desire to never put the congregation in a position where they feel like they have to defend its leadership."
He added, "The outpouring of grace, mercy and love from the congregation has been absolutely overwhelming. It's actually helping with the recovery of Pastor Ron and his children and just bringing everybody closer."
Hayes also commented on questions on whether it was wise for Pastor Carpenter to disclose his marital problems so publicly.
"You know, I think it's definitely just like Pastor Ron," said Haynes. "He said in his statement on Sunday that he spent the last 10 years covering and protecting, and all of this was done in his time. I guess the time that he felt like the Lord had led him to believe that was the right time to do it. I definitely can't speak for Pastor Ron and his timing. I think nothing speaks better than the actual message that he gave on Sunday, so I would direct people to definitely take the time to listen to the message that he gave."
As for Hope Carpenter, Hayes described the Redemption World Outreach Center co-pastor and founder in glowing terms.
"She is a vibrant, very outgoing, outspoken individual who loves God, loves her family and is just always the life of the party and always a delight to be around," he said.
During his Sunday sermon, Pastor Carpenter said he had no qualms about any members who felt like leaving the South Carolina church due to his family's present challenges, but according to Hayes, no one has really expressed an interest in taking him up on that offer.
"It's been just the opposite. There was not one rear end that left a seat that afternoon (of Carpenter's message). It's been just the opposite," Hayes said. "It's been an outpouring of love and support for Pastor Ron and his family, well-wishes and prayers for Pastor Hope. Matter of fact, we've heard from people who had moved on or transitioned from Redemption years ago that have sent their well-wishes and their prayers to Pastor Ron."
Hayes also shared that the congregation was dealing with the controversy through prayer and "moving forward one day at a time, focusing on healing the family."
"This is a large international ministry, and I think those that follow us through our television networks whether it's partners or online or social media, will see Pastor Ron continue to conduct himself in a Christ-like manner," added Hayes. "People will see that Jesus is working in his life and we'll move forward through this one day at a time."
According to his ministry website, Pastors Ron and Hope Carpenter founded Redemption World Outreach Center in 1991. The megachurch is affiliated with the International Pentecostal Holiness Church, of which Mr. Carpenter's father served as general superintendent until his resignation in July 2012, months before his death.