Ron Carpenter's Confession of Wife's Illness, Adultery Prompts Prayers, Debate Over Privacy
Pastor of Redemption World Outreach Center Tells Megachurch Congregants of Marital Woes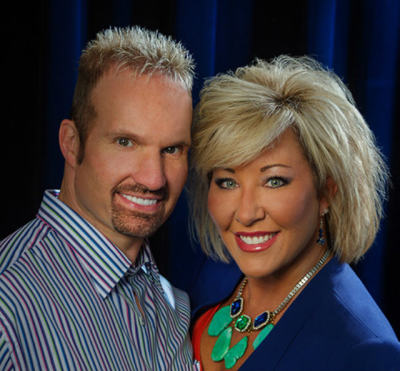 After Pastor Ron Carpenter, Jr. of Redemption World Outreach Center confessed to his congregation over the weekend that his wife, Hope Hilley Carpenter, had been placed under psychiatric observation after carrying on multiple affairs during their two decades of marriage, members of the Christian community have showered the grieving father and husband with prayer. However, others have questioned the Greenville, S.C., minister's wisdom in publicly divulging his family troubles.
A nine-year female member of Redemption World Outreach Center who declined to be named told The Christian Post via phone Tuesday that there has been a "very good, heartwarming response" to Pastor Carpenter's Sunday remarks, and that members of the public have been sending flowers and cards to the church.
As Pastor Carpenter told congregants at the church and those watching the Internet livestream, Mrs. Carpenter has voluntarily checked into a one-year rehabilitation clinic where she has been put in isolation for evaluation. Admitting during his remarks on Sunday that he did not exactly know what was ailing his wife, Pastor Carpenter nevertheless shared that he had been informed by a therapist "that it was the worst case they had ever seen."
While acknowledging his efforts to hide his wife's noticeably "erratic behavior" many times at the church, Carpenter insisted that her issue was not "just sin" in regard to extramarital affairs in the past 10 years, but that Mrs. Carpenter "was not well."
"There is a sickness, there is a whole nother dual life that I am finding out that has been created," Carpenter told the Redemption World Outreach Center congregation. "Hope is not well. You need to know that. We don't know what's wrong, but these are not the actions of anybody that is right."
Carpenter, who shares three children with his wife, added during his emotional remarks, "She does not need wrath [or] anger. She needs prayer, she needs support and she needs miracles."
Many Christian ministers from around the country, such as T.D. Jakes, Ed Young, Dharius Daniels and Steven Furtick, have offered prayers and words of support for the 45-year-old pastor. Members of the Redemption World Outreach Community have also been lifting up their pastor in prayer, with many taking to the megachurch's Facebook page and Carpenter's own page to offer words of comfort.
"Praying for you pastor. When life is dark , Jesus is your light. You just keep preaching, keep pushing, keep on you[r] journey. And know that we are praying," wrote one of Carpenter's supporters on Facebook.
Another person wrote, referencing Bishop Ronald W. Carpenter, Sr., former general superintendent of the International Pentecostal Holiness Church (IPHC): "Keeping you and your family in prayer. Your dad taught years ago on the sustainability of God and I know that God can make that message real in your life today."
However, amid the outpouring of condolences were also questions about Pastor Carpenter's intent in sharing his troubles with his megachurch and on camera for television and online viewers to also watch.
"Many good things have already been said," wrote one CP reader. "I think it is an internal church matter and they should have turned the cameras off and not put the video on the Web. I hope he and his wife's Pentecostalism will not impede her getting sound psychiatric help including proper medications if she is indeed suffering from some type of mental illness."
Another reader seemed eager to hear more concerning Mrs. Carpenter.
"Was it really necessary for him to reveal his wife's adultery? Something does not feel right about this whole thing and I have a feeling we are only hearing one part of the story," the person commented.
The Christian Post called Redemption World Outreach Center Tuesday morning to speak with a church representative or spokesperson, and was directed to Executive Pastor Rick Smith. Messages left with Pastor Smith and the receptionist's desk were not responded to by press time.
Hope Hilley Carpenter, an apostle in the International Pentecostal Holiness Church, which claims more than 2 million members worldwide, co-founded the Redemption World Outreach Center with her husband in 1991 and served as its co-pastor. The church is home to about 13,000 members.
Mrs. Carpenter also led the South Carolina megachurch's Women of Hope Ministry and the annual Women of Hope conference, which took place this year Sept. 12-14. Participants of this year's women's conference, which was themed "I Am Woman," lauded Mrs. Carpenter on Twitter and shared many of her quotes from the opening night's presentation while also tagging her in their tweets.
In addition to the Women of Hope Ministry Twitter account, users also tagged what appeared to be the Redemption World Outreach Center co-pastor's personal Twitter account. Although the personal Twitter account has since been deleted, some acquaintances and supporters were still tagging it to send Mrs. Carpenter and her family words of love and encouragement.
The last message from Mrs. Carpenter's apparent personal Twitter account, tweeted last week, reads: "I'm asking people to pray for me and my precious family. The darkest time in my life. I need God to come to my rescue! And your love/support." The Twitter account, while unverified, links to other various social media profiles that also appear to belong to Mrs. Carpenter.
During his remarks on Sunday, which he categorized as a "family discussion," Pastor Carpenter said he would do everything in his power and spare no expense to ensure that his wife received the best care and "made whole." He made it clear, however, that he was not seeking to restore their marriage, as he had tried to do in 2010 before learning of further infidelities and things "escalated and deteriorated."
"My pursuit is not trying to restore her to ministry, it's not trying to restore her to a union. I'm trying to help her, save her life," said Carpenter, noting that his position regarding their union was "solid."
A video of Pastor Carpenter's message was made available online.