Pastor Saeed Abedini Claims Franklin Graham Used Him, Offered Little Help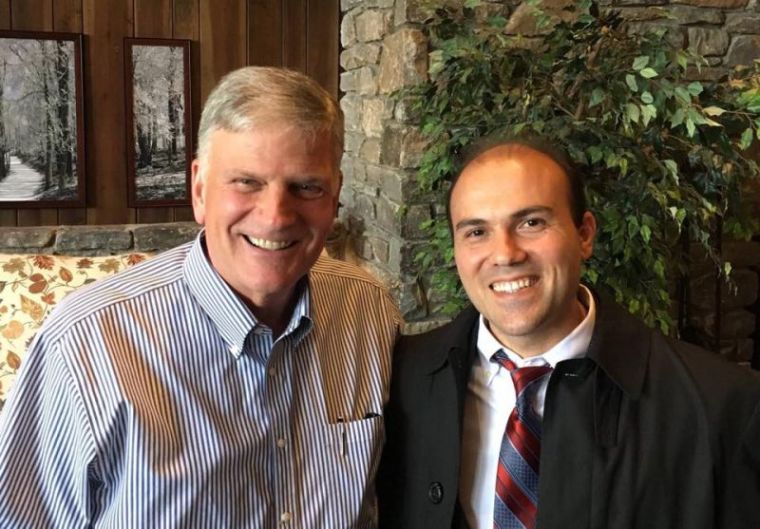 For more than three years, he was the face of Christian persecution while imprisoned for his faith in Iran, but Pastor Saeed Abedini is now jobless and struggling a year after being released to much fanfare in Christendom.
Abedini, whose wife Naghmeh filed for divorce last year, revealed his current circumstance in a recent post on Facebook, alleging that leading religious figures like Franklin Graham, president and CEO of the Billy Graham Evangelistic Association and Samaritan's Purse, exploited his story to raise funds for their own operations but have done very little to help him since his release.
"We as persecuted church and Christian always have been used with famous and rich Pastors and Preachers who used us for fundraising and recently because of special media attention on me some of them tried to show themselves as saviors of the persecuted churches and me which it wasn't true and right but their own benefit," Abedini wrote in a Facebook post last Saturday.
"One of these pastors is Franklin Graham who has about 1000,000 $ salary and so many planes and private jets and every time he flies his gas price is just 10,000$...," he wrote before painting Graham as a hypocrite.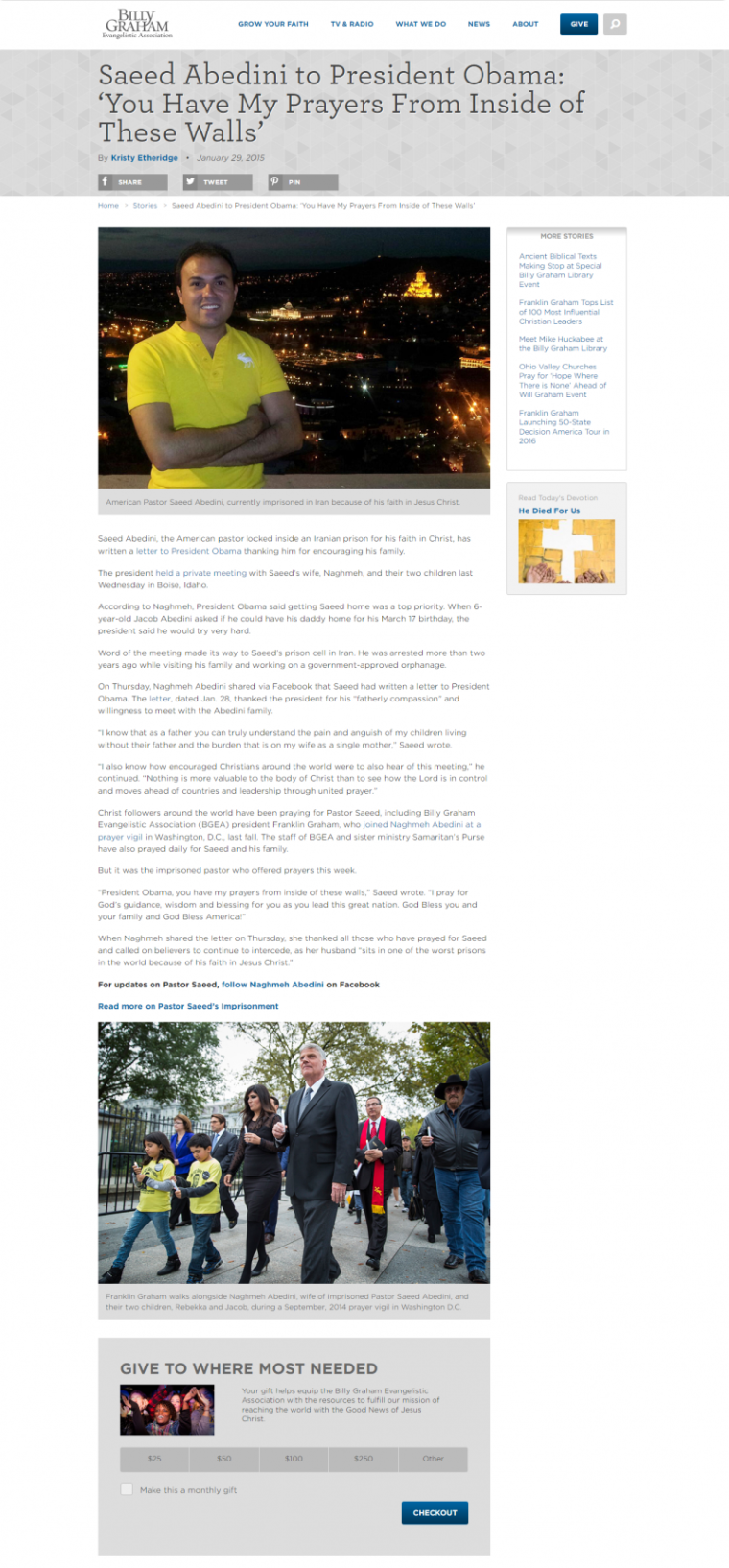 Graham was criticized in a 2015 report for his annual compensation of $880,000 for his work with Samaritan's Purse and the Billy Graham Evangelistic Association. Samaritan's Purse also has its own airplanes to carry out the mission of the organization. Graham, who will turn 65 in July, has said he wants to make enough money to be able to work for free when he turns 70.
Abedini claimed that his experience with Graham has been disappointing.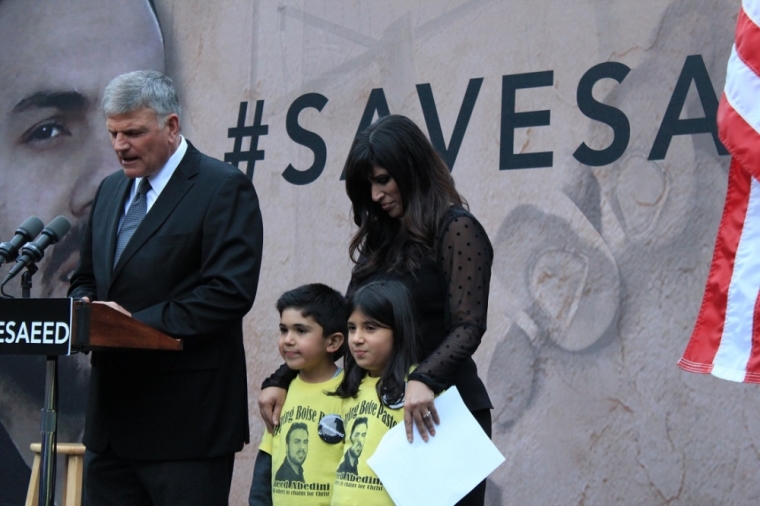 "He tries to show he is helping persecuted a lot and he has some speech about them but this kind of life style shows he doesn't have any idea of life of persecuted churches. This kind of people ask others to come to repentance nationally but first themselves needs to start the real repentance which starts with changing their life style," he asserted.
Read Franklin Graham's Response to Saeed Abedini's Claims
During his imprisonment in Iran, Abedini's wife, Naghmeh, who was in Boise, Idaho, with their two children, campaigned heavily in the U.S. for his release. But shortly after his release from jail last January, Naghmeh accused her husband of physical, emotional, psychological, and sexual abuse in the marriage and filed for separation.
Saeed Abedini has denied the accusations as completely false and alleged on his Facebook page that there was a campaign involving his wife and others to discredit him. Graham had expressed support for the pastor, saying, "I can tell one thing for sure — not everything that has been reported in the media is true."
But in his recent post, Abedini said Graham did very little to help him after he was released from prison despite all the high-profile appearances. He was forced, he claimed, to beg Graham help to pay his rent.
"A week after I got released and Franklin Graham welcomed me home (because of the huge international media attention on me he badly wanted to be involve) he knew I don't have any place to go but he left me alone in Boise until I was forced to call him to ask money to rent a place," he said.
"When all cameras and social media attention were gone in my life, all the famous pastors and lawyers were gone too, and just a week after my freedom, I saw myself so alone with my family while still news were talking about me," he explained.
He said he asked Graham to help him find a job so he could pay his bills but "he didn't and he always gave me the worse and lowest he could."
"Until today, still I couldn't find a job, and myself financially stable yet, all these that I have been witness stumbled me by knowing his relationship and financial situation and his shows on media as a close friend to me," he added.
Abedini further noted that he even asked Graham to help him meet President Donald Trump since he used his platform to support him during the 2016 campaign season, but said Graham told him that there was "no need" even though he went on to participate in the presidential inauguration.
"Subject of persecuted church is always hot in media and make people's heart melt to give financially and it gives all these kind of famous rich pastors a good social media to represent and keep themselves up on the stage, T.V. News and platform, which gives them power, fame and money and so much success," said Abedini.
"Some others pastors who has a large church or ministry they think the tides (sic) or gift of their supporters and church belongs to them and they don't think these money is for God's kingdom and reaching unreached and even for persecuted churches and poor countries," he lamented.
The Christian Post reached out to both Samaritan's Purse and the Billy Graham Evangelistic Association for comment Monday and was told that Franklin Graham was traveling.
A spokesperson for Graham said Monday he would deliver a response as soon as the evangelist was available.
The disillusioned Abedini said he feels America is ready for a revival but "church leaders and pastors are the first group [that] should start repenting and at this time they are stopping the true and biblical revival."